News
Matt Damon & John Krasinski Team for Marc Rich Biopic
Matt Damon and John Krasinski team for a biopic on Marc Rich, the renegade oil trader who Bill Clinton pardoned from 65 indictments.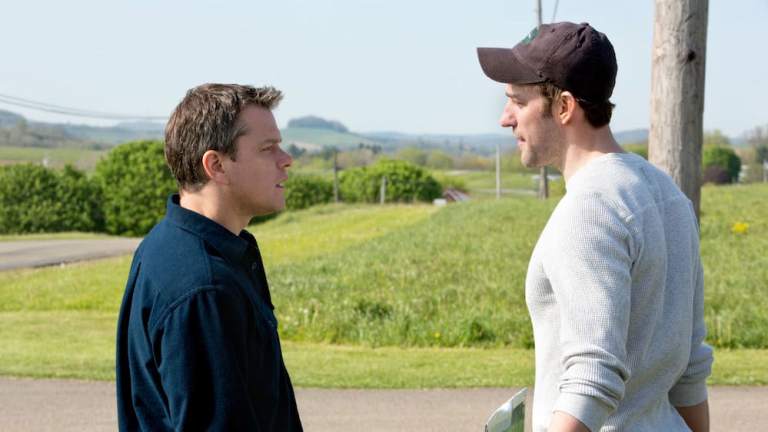 Matt Damon and John Krasinski are further cementing their professional relationship by likely teaming on a film that sounds a lot more cynical than the previous movies they've worked on together. Indeed, the pair who produced the tragic but humane Manchester by the Sea together, and co-wrote Promised Land, are poised to re-up for The King of Oil at Universal, a biopic about the numerously indicted oil trader who was infamously pardoned by President Bill Clinton during the chief executive's last day in office.
The news comes out of Deadline, which reports that Damon is in talks to star in the film as Marc Rich at Universal, which is setting up the film with Krasinski's production company Saturday Night Productions. In the likelihood they work the deal out, there is even the possibility Krasinski could direct the film after previously finding tremendous success this year in his directorial debut, the crowd-pleasing horror pic, A Quiet Place. While that development sounds a bit less certain at the moment, the movie, even without officially confirmed screenwriters, appears to be a pretty done deal, complete with a screenplay being penned by Joe Shrapnel and Anna Waterhouse, who previously wrote 2016's Race.
The King of Oil will be an adaptation of Daniel Ammann's The King of Oil: The Secret Lives of Marc Rich, which highlights how Marc Rich went from Holocaust survivor to the most powerful and wealthy of oil and commodities traders in the 20th century. Rising to the top of international finance—including with business dealings in Iran during the Iran Hostage Crisis of 1979 and 1980—Rich lived up to his name until he was indicted in 1983 on 65 counts of criminal activity, including tax evasion. During the last day of Bill Clinton's presidency in 2001, the president gave Rich an eyebrow-raising pardon. However, even so, Rich has still not stepped foot back in the United States.
In Switzerland during his indictments in '83, Rich remained abroad and outside the reach of American law enforcement until his death in 2013.
The film has all the makings of a plumb starring role for Damon, with equal parts tragedy-survivor and Wolf of Wall Street malfeasance. We presume it is also something that Krasinski would find enticing if he is not too busy developing Paramount's forthcoming sequel to A Quiet Place.