News
Mary Poppins Returns Looks Like Nostalgic Delight
Star Emily Blunt and director Rob Marshall gave fans a spoonful of sugar at D23.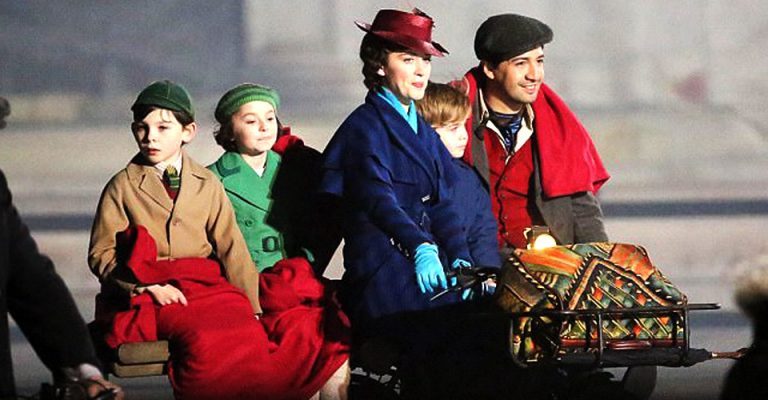 Scheduled for release a year from this Christmas, Mary Poppins Returns is an official sequel to the 1964 Disney classic and based on one of the seven other books that author P.L. Travers wrote about the wonderful, magical, acerbic and eccentric nanny from the sky. Star Emily Blunt — filling the very large shoes of Julie Andrews — and director Rob Marshall (Into the Woods) turned up at Disney's D23 Expo to speak about the film and introduce a trailer that was accompanied live by the Disney Orchestra under the direction of composer Marc Shaiman.
Marshall said that Shaiman and lyricist Scott Wittman have created a whole new collection of songs for the movie, which Blunt described as a "big old musical" with "enormous" musical numbers woven seamlessly into the narrative. Set 25 years after the first film, the sequel finds the Banks children, Jane (Emily Mortimer) and Michael (Ben Whishaw) now adults and dealing with grown-up issues, including money and the widowed Michael raising three children of his own. Cue the arrival of a certain domestic and her parrot-handled umbrella…
The trailer was, I have to say, impressive: it looked like they started filming the day after the original movie finished. The sets have been lovingly recreated and the look of the costumes, the characters and the visuals seemed to pay homage to the original in a sweetly nostalgic fashion. "The entire crew felt protective of the story and the legacy," said Marshall.
The sparking cast also includes Colin Firth as the cruel bank manager Wilkins, Lin-Manuel Miranda as Lamplighter Jack, Angela Lansbury as the Balloon Lady, Meryl Streep as Mary's cousin Topsy and, in a nice nod back to the original, Dick Van Dyke as bank chairman Mr. Dawes.
Said Blunt about taking on the iconic title role, "I tried to approach it was I would any other part…I wanted to pay homage to Julie and then carve out my own niche and do my own version of her."
Mary Poppins Returns on Christmas Day, December 25, 2018.