News
Marvel Would Consider All Female Superhero Movie
Thor: Ragnarok star Tessa Thompson throws down the gauntlet and Kevin Feige responds: why not an all-female Marvel movie?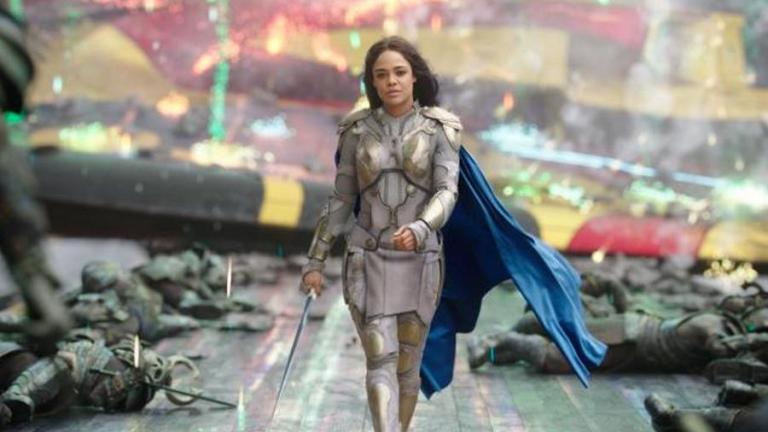 During the recent press junket for the upcoming Thor: Ragnarok, actress Tessa Thompson — who is one of the movie's highlights as Valkyrie — mentioned being at the head of a group of Marvel stars who approached studio president Kevin Feige about the idea of doing an all-women Marvel movie. Think an Avengers-style picture starring Black Widow, Captain Marvel, Scarlet Witch, Valkyrie, Gamora, Mantis, Wasp, Pepper Potts, and perhaps Sharon Carter — hell, let's get Lady Sif back too!
When we had a chance to sit down one-on-one with Feige a little later, here's what he said about the moment and the idea:
"We were on the lot at Pinewood in Atlanta, and yes I got tapped on the shoulder and I turned around and there was almost every great actress that we were working with. Of course that's something we'd consider. It would have to be after Avengers 4 and in that new canvas that I talked about, but it's a very impressive thing to see all of those powerful characters together, just standing there in person. It would be amazing."
Presumably this happened during the filming of the next two Avengers movies, since just about everyone who's ever been in a Marvel film is showing up for those. And it's true: while the MCU is still two years away from its first standalone woman-led superhero movie (Captain Marvel), the studio has steadily and quietly built a tremendous roster of female characters. It would be pretty damn cool to see the ladies take complete charge as their own team. What do you think?
Watch for more from our interview with Kevin Feige in the days ahead. Thor: Ragnarok is out November 3.
Read the full Den of Geek NYCC Special Edition Magazine right here!