News
Marvel Rising to Feature Ms. Marvel, Squirrel Girl and More!
Marvel Entertainment is launching a new animation universe with actors like Chloe Bennet, Tyler Posey, and Ming-Na Wen.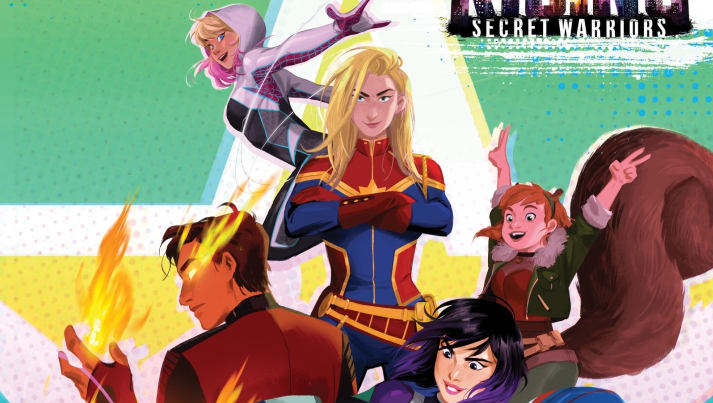 Marvel Entertainment just announced an exciting new project: Marvel Rising. The animation franchise, set to launch in 2018, will feature some of Marvel Comics' most exciting, diverse superheroes, including Ms. Marvel, Squirrel Girl, Quake, Spider-Gwen, Lockjaw, and America Chavez.
"We wanted to show the world that these heroes are important to the Marvel Universe, that there is a character for every kind of Marvel fan out there," said Sana Amanat, Marvel's Director of Content & Character Development in a video announcing the project.
The franchise will begin with six, four-minute digital shorts focusing on Spider-Gwen, under the guise of Ghost-Spider, introducing fans to the new on-screen universe.
Marvel Rising will then continue with a feature-length animated film called Secret Warriors that will follow some of Marvel's newer, most exciting characters. Here's the official synopsis:
Powered teens Ms. Marvel, Squirrel Girl, Quake, Patriot, America Chavez, and Inferno join forces as an unlikely, but formidable crew of aspiring heroes. When a threat no one could have expected bears down on the Marvel Universe, this ragtag, untrained band of teens have no choice but to rise together and prove to the world that sometimes the difference between a 'hero' and 'misfit' is just in the name.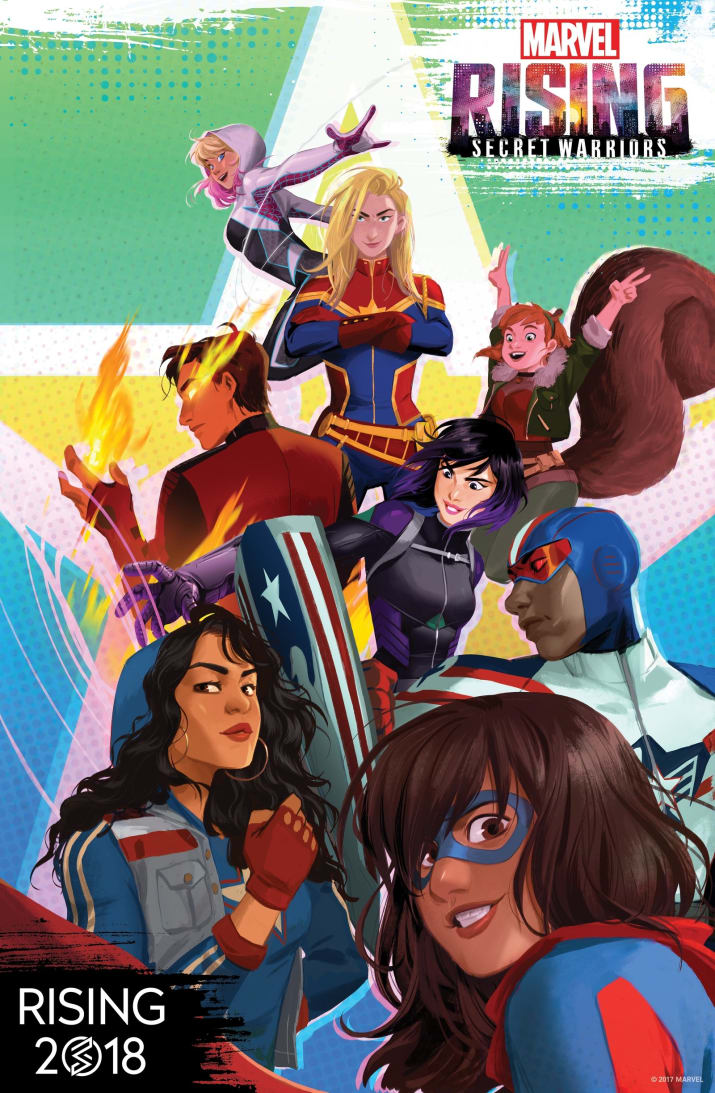 Marvel Entertainment has gathered quite a group of talented actors to voice the characters, including Agents of SHIELD stars Chloe Bennet as Quake, Dove Cameron as Ghost-Spider, and Ming-Na Wen as the villainous Hala. Kathreen Khavari will voice Ms. Marvel.
The Fosters' Cierra Ramirez will voice America Chavez. Milana Vayntrub is Squirrel Girl. Teen Wolf's Tyler Posey is Inferno. Kamil McFadden will voice Patriot. Kim Raver is Captain Marvel. Booboo Stewart will voice Exile. Dee Bradley Baker will voice Tippy Toe and Lockjaw. The always delightful Steven Weber will be voicing Captain George Stacy.
It seems worth noting that Marvel Entertainment hired actors who could also play these characters in a live-action format.
Marvel Rising: Secret Warriors is executive produced by Joe Quesada, Dan Buckley, Cort Lane, and Eric Radomski. It is being co-executive produced by Stan Lee, Sana Amanat, and Marsha Griffin. The film and shorts were written by Mairghread Scott, with Alfred Gimeno serving as supervising director.