News
Marvel Cinematic Universe Skrulls Revealed in Captain Marvel
Shape-shifting alien baddies, the Skrulls, will make their cinematic debut in Captain Marvel. And they look great.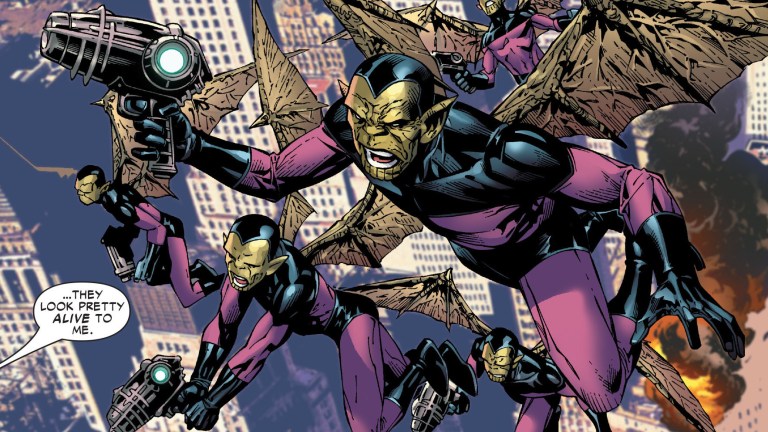 The Skrulls are finally coming to the Marvel Cinematic Universe. The oldest alien race in Marvel's stable have been strangely absent from all of their live action endeavors over the years, but that will finally change with the Captain Marvel movie. 
How important are the Skrulls to the Marvel Universe? They first appeared in Fantastic Four #2 by Stan Lee and Jack Kirby in 1962, and returned to bedevil the FF throughout the Lee/Kirby run and beyond. They arguably had their greatest moments as wider Marvel Universe and Avengers villains, though, and that's where Captain Marvel comes in.
And no, I don't mean "that's where Captain Marvel comes in to punch a sweet old lady."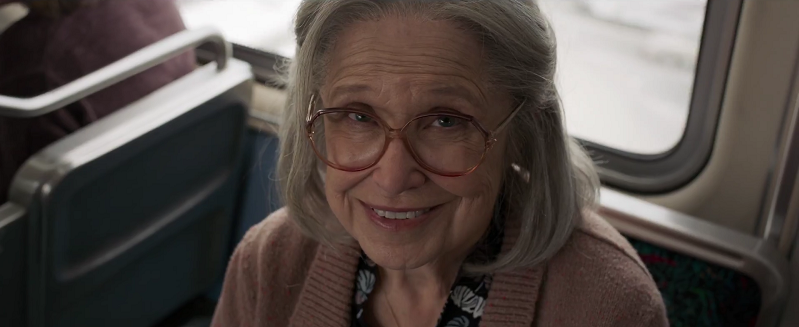 That moment in the trailer is almost certainly because Granny here is actually a green, scrotum-chinned, pointy-eared, no good Skrull. Maybe. I hope. You see, the Skrulls are a shape-shifting alien race and a bunch of devious jerks.
Here's what they really look like…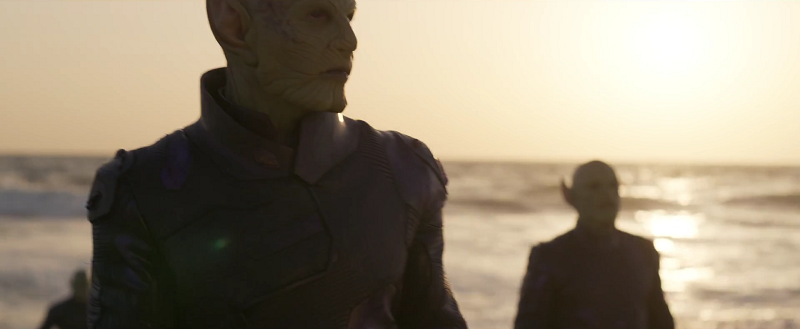 Here's another, from Entertainment Weekly that shows off their snazzy purple duds a little better…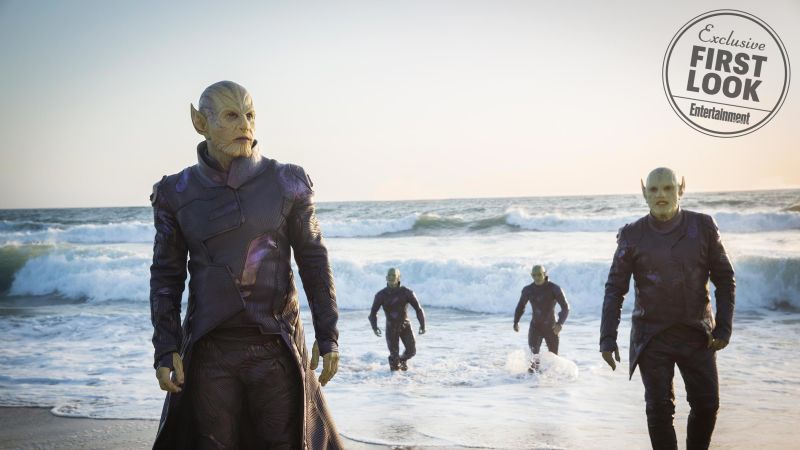 With Captain Marvel's Kree origins (and the trailer reveals a number of Kree soldiers joining the fight on Earth), the Kree-Skrull War seems like a natural fit for the big screen. It's not yet clear if what we'll see in Captain Marvel will be a skirmish in the broader war, or if this will serve as the big screen equivalent of the comic book story by Roy Thomas, John Buscema, Sal Buscema, and Neal Adams, which ran through nearly a year of Avengers comics between 1971-1972. Once the team is done dealing with Thanos in Avengers 4, maybe we can see a version of this in the inevitable Avengers 5…but clearly I'm getting ahead of myself.
Fans have already started speculating that the arrival of the Skrulls will lead to some kind of adaptation of the Secret Invasion story from the comics, where it was revealed that key figures in the Marvel Universe had been replaced by the shape-shifting Skrulls through the years. This seems a little ambitious, even for the movies, although if they did go that route it could potentially be used as a way to recast certain characters (or undo a dramatic death or two). But again, it's a little early to speculate too hard about this.
On the other hand, there is this shot in the trailer that sure does call back to the key moment that kicked off Secret Invasion…a Skrull autopsy after it was revealed that someone we thought we could trust was actually one of them.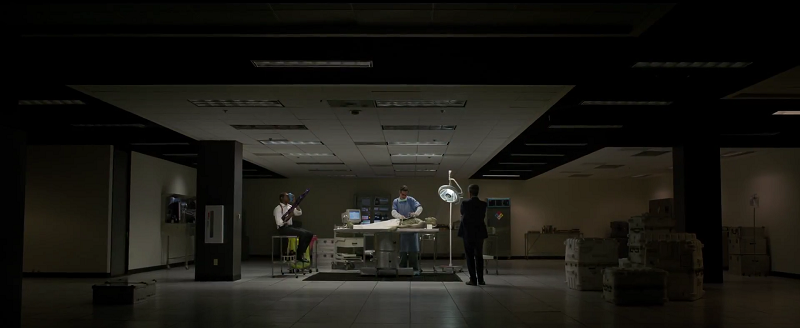 Captain Marvel opens on March 8, 2019. The full Marvel superhero movie release schedule can be found here.