Reviews
Marriage Italian Style DVD review
An Italian classic re-released, as Sophia Loren finds that landing her man can prove the work of decades...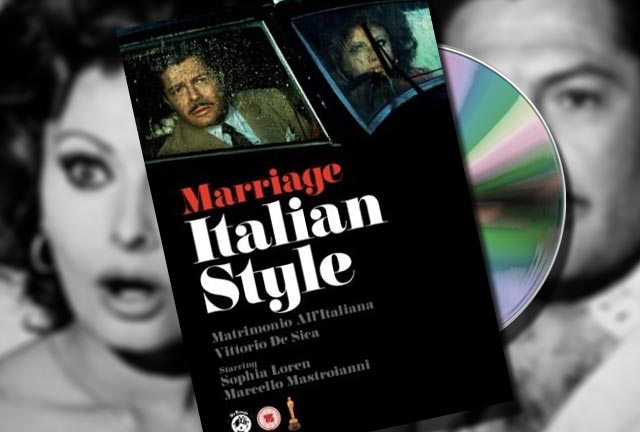 The release on DVD of a classic is always a welcome event, more so when the movie in question has only been previously available as an average-quality copy VHS tape. The cover notes for Marriage Italian Style are not 100% correct and are slightly misspelt, but don't let that put you off.
Adapted from Eduardo De Filippo's stage play Filumena Marturano, the story is simple and resonantly Italian, yet it has a universal appeal because of its themes of love , betrayal and motherhood (it has also been performed on the London stage over the years, as Filumena).
Do not get fooled by the title, which implies some kind of  Carry On-style comedy: this is a drama, albeit one with plenty of comedy touches.
It follows the post WW2 relationship between Filumena (Loren) and businessman Domenico (Mastroianni), an unrepentant womanizer who keeps going back to her without ever committing or admitting his feelings for her (still a relevant theme, this one!).
This is a tour de force for Loren, who has always been at her best when playing fierce mothers, as she ages from the age of 17 into her 40s in the course of the movie. We follow her from her days in a brothel (where she wears iconically sexy outfits) through to her concubine/servant status to Mastroianni and his tyrannical mother.
In love with Domenico, but painfully aware of his shortcomings, she stages a deathbed wedding – recovering almost instantly – thus scuppering her lover's plans to marry his 20-year old girlfriend. As Domenico is outraged and insults fly, she drops a bombshell: over the last 22 years she has been providing for her 3 grown-up sons, one of which is Domenico's, and she won't reveal which one…
Loren is outstanding in the role of Filumena, crossing a whole gamut of emotions and taking you with her for the ride: she is in turns vulnerable, determined, in love, funny, strong, sexy. It's a shame they rarely write roles like these nowadays.
The team of Loren-Mastroianni and director De Sica was a winning and much loved formula during the golden years of Italian cinema. The well-rounded Neapolitan characters had broad appeal, the script was near-perfect and the big screen has rarely seen such good chemistry as that shared between Loren and Mastroianni.
De Sica's direction was strong but avoided corny sentimentality, allowing his stars to shine brightly and act each other off the screen, Loren with a wholly Neapolitan fiery impetuosity which was close to her roots and Mastroianni with a sardonic, sometimes understated, selfish and vain character. A masterpiece of Italian cinema with a never-bettered team.
EXTRASThe sad thing about this release is that there are no extras apart from subtitles and 3 language soundtracks (Italian, English and German). The good thing is the outstanding movie itself, which was, at the time of its release, an award winning success – it even got Sophia Loren another well-deserved Oscar nomination. The sound is best in the Italian version, the English dubbing seems to have 'cleansed' the film of a lot of ambient noise which made the original sound more real. Impressively, Sophia Loren appears to have dubbed herself in the English version, but I still urge you to watch it, if you can, in the original Italian with English subtitles.
FILM
EXTRAS
Marriage Italian Style (Matrimonio All Italiana) is out now