News
Marjorie Prime Trailer Envisions Jon Hamm as a Caring AI
Lois Smith reprises her stage role as Marjorie Prime, Jon Hamm plays her dead husband's loving hologram.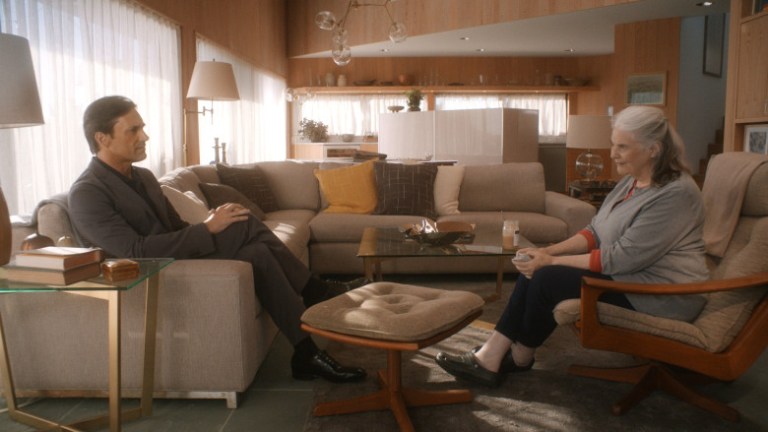 "You're still too old for me," 86-year-old Marjorie (Lois Smith) tells the still-young living memory of her dead husband, who promises the age isn't a concern, so long as they do it together. In a romantic twist on the current slate of Artificial Intelligence movies, this is a healing hologram. Played by Jon Hamm, Walter is a therapeutic tool programmed to bring memories back to life with more care than any human can. Writer-director Michael Almereyda adapted Jordan Harrison's 2014 Pulitzer Prize-nominated stage play Marjorie Prime which starred Smith as the title character.
The hologram at the center of the story helps Marjorie connect with her past as she begins to lose her mental stability to age.
According to the official synopsis:
"In the near future, a time of artificial intelligence: 86-year-old Marjorie – a jumble of disparate, fading memories — has a handsome new companion who looks like her deceased husband and is programmed to feed the story of her life back to her. What would we remember, and what would we forget, if given the chance?"
Marjorie Prime also stars Tim Robbins and Geena Davis, who aren't as thrilled with Walter as Marjorie is. The new humanism is more caring than real humans, who have jealousy and self-doubt. The AI is the ideal and people just can't measure up.
You can watch the trailer here:
Marjorie Prime premiered at Sundance. It will open at a limited number of theaters in New York and Los Angeles on Aug. 18 and roll out national over the following weeks.