News
Marion Cotillard: Public Enemies press conference report
Still best known for her Oscar-winning turn in La Vie En Rose, Marion Cotillard told the assembled throng in London about working on Michael Mann's Public Enemies...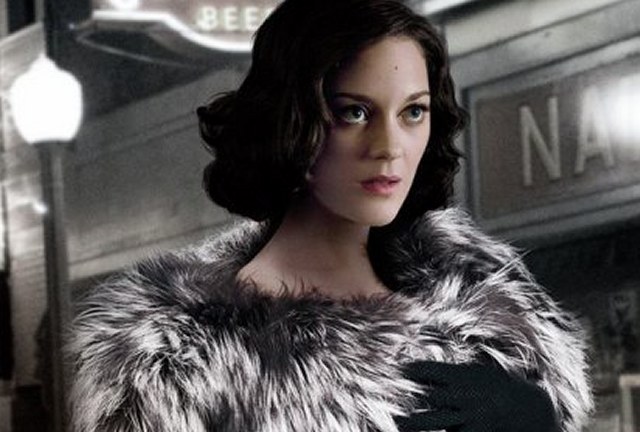 At the recent press conference for Michael Mann's summer crime blockbuster Public Enemies, the throng of scribblers and hacks were given the chance to chat with lead actress Marion Cotillard. Gracious and winsome, the French Academy Award winner was only fazed by a particularly energetic audio-sensing microphone hooked up to one of the many digital recorders placed in front of the stage.
The quick chat covered many bases, from how she decided to portray John Dillinger's lover Billie Frechette, her in-depth research and preparation for the role, and her relationship with co-star Johnny Depp, and director Michael Mann. Check out the transcript below.
After La Vie En Rose, you must have been inundated with offers for other films. So why did you choose to go with Public Enemies? Because I'm a great fan of Michael Mann, and when he asked to see me I couldn't believe it and I was very happy. And I met him, and I read this beautiful script – I didn't know anything about Dillinger, but I really fell in love with the movie, and the role.
How was it doing the American accent? It was a technical issue. It was very hard, actually, and when I started, I thought it wouldn't be possible at all. But I really tried to do my best. Well, fortunately, she's half French – but she's not supposed to have a French accent, though, because she lived in North Dakota and Wisconsin. It's very technical, you really have to work and work, and practise. And it's about using your whole face, jaws, tongue, body, in a total different way. And it was very interesting – I love the English language, it makes it easier. It was very interesting, but really, really hard. I would spend hours in front of the mirror with my dialect coach to observe my tongue [laughs]. Because, when you speak, you don't think about all the things that happen in your mouth and your jaw, how everything reacts. And suddenly you start to think and to watch, all those things. And you realise that we have a totally different use of our tongue and jaw.
There are so many men in this film, how was it being one of the only women on the set? Did you feel excluded? No, absolutely not. Michael Mann has a great respect for women, he is surrounded by women in his life. And I think that is why the women in his movies – all his movies, are very strong. They have a really strong personality, and they have a very special place in all his movies. So I felt really welcomed.
Michael asked you meet some real life gangster-girlfriends and wives. How was that?They were actually convicts' wives. Some of them were not with real gangsters. They were so generous to share their stories with me, their experience – and very painful experiences they had. And we spent a few hours together, and it was very emotional. Because they were emotional, going through the whole story of their life, and actually I have to say that more than the stories – the stories were important – but what they felt when they told me the stories, they went back through all those feelings – the fear, the extreme pain, because you don't know what's going to happen. You are alone, some of them have kids. I could see and feel their pain and their fears – because you don't know if your husband is going to be alive the next day. It helped me a lot – you know, you gather some emotions and feelings, and you learn a lot of things, and it creates your character. And those women really helped me.
You said you didn't know about Dillinger at all. Of course, he's an American folk hero – is he known in France at all? I'm not very sure, but I think that my generation doesn't know Dillinger. And I didn't even know his name, actually. So, the first thing I read about him was the script, and then I read the book, Public Enemies. I didn't do a lot of research about him. My research was more about the period, American history, the Indian history too, because Billie Frechette was half-Indian. Because I really wanted to know about American culture and Indian culture – I knew the era. I mean, I went to school, so I learned about the crisis of the 30s, and the crash of 1929, but I didn't know that much about American history, and Indian history. I watched a lot of pictures of him, but my research was really on Billie Frechette – the 30s, the American and the Native American culture.
So, more generally – Dillinger isn't known in France, but how about Johnny? Is he an honorary Frenchman? Well, he's known all over the world. And especially, he's one of our sweethearts – husbands… Although, are they married? [laughs]. We do know about him, of course, and more about him because he's Vanessa Paradis' husband.
Do you think, as he's the main star of the film, French audiences will flock to see it? Well, I hope! [laughs]
Can you tell us about the process, about how you took the historical research, and your emotional research, and then built the character? The first thing, the main thing about how I work is that I need to understand the character. So, especially for real people, everything I could read about her, and I met some relatives of her in Wisconsin, and they talked about her childhood. You can understand many things about someone, if you know how they were as a child. And Michael Mann is a perfectionist, and he gave me a lot of things. the first time I met him before I had to go back to do the screen-test – an hour after, someone came the hotel and gave me this big box, and inside this big box there were movies, music, some books, some information about the Menominees, about Indian culture. There were some newspapers from the '30s. Many, many things. I love to work this way – this type of preparation, when you meet someone, and you have this special relationship, where you have to be this person for two months, three months, four months. And if you feed yourself, in a way, with all that information, you get to understand who she is, then you can be her.
You said the reason you took the role was to work with Michael Mann. What did you take from working with him? I've been a great fan of his work. And, when I met him, right away, when I came in his office, I felt that there was a connection between the two of us. A really strong connection. and I'm always 100% committed to the character, the story I'm in and the director. With him, it was 1000%. I don't know how to explain this, because it's really hard – sometimes you don't have to explain why you care and you love someone so much. I really love him, as a person, as a director. I wanted to be perfect for him. I wanted to give the best of my best of my best. I don't know if I did, but I was really touched by him.
How different was it working on a Hollywood production, than working in the French movie industry? You know, when you're on a set, it becomes just 'this'. There's the same difference between an American movie and a French movie, that there is between a French movie and a French movie, or an American movie and an American movie. Because it's a different story, it's a different director. The industry in the United States is much bigger, but in France, there are also big movies, especially when it's a period movie. Well, the set is a different time, so you really feel like you're doing a movie. But then when it comes to the work, it becomes very intimate.
What was it like filming the [particularly intense, gruesome] interrogation scene? The difficulty of the scene was that, when you have very emotional and violent scene to do, you really can't think of the technique. And I had to keep this Mid-Western accent. So it was very difficult, as I had to give up the technique – like, really let it go – but at the same time, not think about it, but feel it. And, actually, I really kind of love extreme scenes. I would say that after this kind of scene I feel empty – but, also filled in…?
Fulfilled…?
Fulfilled! Thank you. Fulfilled. I think it might be like when you do sport, and you have a competition like the 100m. And after that, you feel tired, and empty, but fulfilled because you did something that was intense. And it might feel the same way. And I really love it, so it's not difficult.
Obviously, Christian Bale is quite into his method acting, and staying in character between takes – were there any others like that on set? Well, I didn't work with him. We had just this little scene. There's an atmosphere in the movie, that even when you're not rolling – especially in a period movie because we're all dressed like in the 30s, and all the sets are of the 30s. I think that there's something that stays in you – for example, if you have a German accent, and you may keep it in between the scenes, because it's hard to get there. So when you're there, it's better sometimes to stay there, even when you're not shooting, because if you totally get out of it, to come back is the same journey.
So, before, I did La Vie En Rose, I thought that it was dangerous to stay in character – more than dangerous, I thought it was kind of ridiculous, and I had a kind of judgement, because I didn't know that it's really hard to go back there. And after La Vie En Rose, my opinion – it wasn't even an opinion, it was a stupid judgement, because I didn't know what I was talking about – but, now I know, and I didn't force myself, when I did La Vie En Rose, I didn't force myself to stay in character. It was easy, and I couldn't stop in between the takes because it was so much work to get there – the preparation in the morning, it was a whole process. So I really do understand this now.
Public Enemies is out this week.