Reviews
Magpie DVD review
Smarter and sexier than Blue Peter, this 70s children's entertainment show had an occult theme tune and an ex-Bond girl...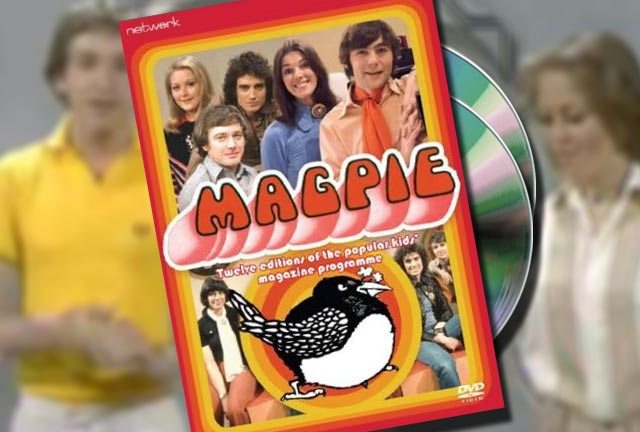 "One for sorrow, two for joy, three for a girl and four for a boy…" ran the famous signature tune by the Murgatroyd Band of archetypal seventies show Magpie. ITV launched the show in 1968, ten years after its BBC rival Blue Peter. Initially a forty minute programme transmitted once a week, Magpie then ran twice a week on Tuesdays and Fridays until the summer of 1980. The presenters were Susan Stranks, the late Tony Bastable, Pete Brady, Douglas Rae, Mick Robertson, Jenny Hanley and Tommy Boyd. Sadly only about 10% of all the programmes made still exist. This collection features twelve of the best episodes from 1972 to 1980.
As one would expect from Network, the DVD is well presented with a range of extras. The shows are arranged in chronological order, each one prefaced by the famous Thames "river and skyline" ident. The first from 1972 is something of a landmark as Tony Bastable, who later fronted ITV's Eighties computer show Database, takes over as producer and is replaced on the studio floor by Mick Robertson, looking like a cross between Brian May and Marc Bolan.
An item about a new football boot is followed by a rather dry historical scene about Puritans and Royalists fronted by Susan Stranks (once Juke Box Jury's "typical teenager"). Things suddenly feel very educational, a criticism often levelled at Blue Peter. It seems Magpie wasn't averse to cramming in as many facts as possible when it suited them. The next item about horse-drawn ploughing, would hardly grab the kids of today. The final item features a hilarious looking (from a modern technology point of view) "portable" studio camera which is so big the cameraman needs to wear a cumbersome support to carry it. The next show was trailed as a Halloween special featuring Peter Cushing, a pity it doesn't feature on the disc.
The next programme moves on to 1975 and is a special on canals. By now, ex-Bond girl Jenny Hanley has replaced Susan Stranks. Jenny and Douglas Rae feature in a filmed sequence taking a canal trip whilst Mick Robertson gets the short straw, remaining in the studio with a model boat and some canal facts. Perhaps the most interesting canal fact is that a Chinaman invented the lock. Like the canals, this show has a very leisurely pace which is fine as a documentary but as kids TV it must have left the children of the day wondering what was on the other channel.
Magpie was very much a product of its time. This is reflected in a show from 1976 which features Mick Robertson spending an afternoon with James Hunt prior to the Monaco Grand Prix. The 1976 Christmas show is included too. Originally transmitted on Christmas Eve it features traditional carol singing, a reminder of the Magpie appeal (which unlike its rival asked for hard cash) and an unusually positive approach to graffiti in Luton.
Disc two features six programmes from 1977 to 1980, beginning with a retrospective of a summer tour of France linked by Mick in a studio set of a French cafe. A heavily-permed Tommy Boyd joins the team in the next show, which has an item on the Titanic, Indian bead craft and Boyd's cycle trip to Amsterdam. Another show features David McKee, creator of Mr Benn, as a judge on a Christmas card competition, an item on Yoga and Tommy Boyd spending a day with the Navy.
The 1979 review of the year looks at the best Magpie moments of the previous twelve months including film of a young Sharron Davies training for the upcoming Moscow Olympics. The highlight of this disc is a live show from Beaulieu, the estate of Lord Montague famed for its Motor museum. Cue lots of dressing up, vintage cars and a close-up look at Donald Campbell's Bluebird. The final episode on the disc is a mixture of cricket, tap-dancing and yet another retrospective this time of Jenny Hanley's most daredevil moments.
Extras Disc One features a 1971 documentary "My Brother David". which explores the difficulties of bringing up a special needs child. Introduced by Tony Bastable the film is then narrated by David's elder sister with contributions from their parents. The sound quality varies and is a little indistinct at times but the documentary is well made and is a worthwhile inclusion on the DVD.
Disc Two's main extra is around 20 minutes of "orphaned" film extracts from missing shows. Virtually all seem to feature Susan Stranks, though there are a few short extracts of Stranks with her original co-hosts Tony Bastable and Pete Brady, a Canadian ex-Radio One DJ often referred to as the "forgotten star of Magpie" due to the fact most of his time on the show appears to be lost or wiped. The other extra is a PDF of the first Magpie Annual, brought out to compete with the legendary Blue Peter books.
Magpie, although fondly remembered as a programme, doesn't have many stand-out moments. The jaunty theme tune and well-fed mascot called Murgatroyd is perhaps better recalled than any one show. Back in the Seventies some households were actively BBC or ITV. You either watched Blue Peter or Magpie but seldom both. With only twelve years to make an impact against the now fifty year old BBC institution it's almost inevitable which show garners most nostalgia.
This collection serves as a reminder of how well made and above all well researched Magpie was in its heyday. Some episodes stand up remarkably well,  others seem painfully slow. The first four years of the programme are not represented by a single episode which is a shame, presumably this period suffered most from the wiping process. The extras are fine but the opportunity for a decent documentary about the show, which could have placed the orphaned film extracts in context, seems to have been missed.
Show:
Extras:
Magpie is released on 29th June.