News
M. Night Shyamalan Has Two New Movies in Development for 2021, 2023
M. Night Shyamalan and Universal Pictures have dated two new original films for early 2021 and early 2023.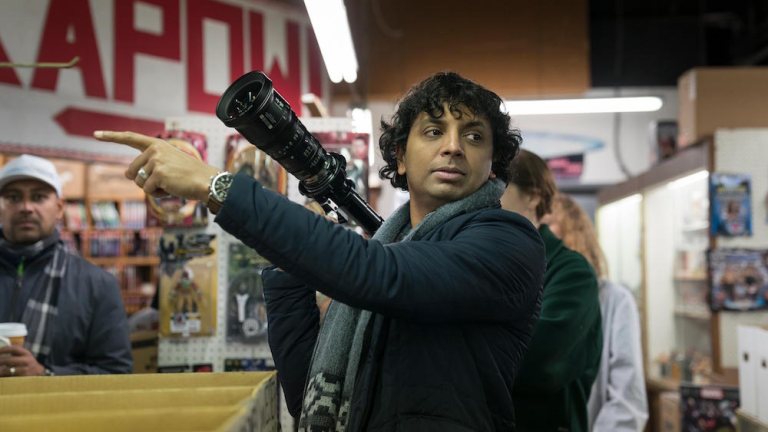 The Shyamalanaissance, or whatever you want to call this late period resurgence in the career of M. Night Shyamalan, continues to thrive. Fresh off Glass earning $246 million earlier this year, Shyamalan has begun concentrating his energies on a new Apple TV+ series, but it seemed inevitable the filmmaker would return to film, especially after three hits in a row.
Hence Universal and Shyamalan announcing Monday that his next two projects are already slated for release dates on Feb. 26, 2021 and Feb. 17, 2023. Details are of course vague about both, but this continues the trends of Shyamalan seeming to have a healthy shop set-up at the studio that released his last three films, which have comprised what the media would dub a comeback: The Visit, Split, and Glass.
Universal Pictures president Peter Cramer said of the announcement, "M. Night Shyamalan continues to create exciting, highly original stories that keep global audiences on the edge of their seats. There is no one like him: he is a master filmmaker working at the height of his powers, and we are honored that he has once again chosen Universal to be the home for his next two incredible projects."
Shyamalan meanwhile added, "There are wonderful studios out there, but Universal has made it a mandate to release original films. They are the best at finding an audience for new stories with unexpected tones. I believe original films are crucial to the longevity of the theatrical experience."
read more: M. Night Shyamalan Movies Ranked
The last bit is interesting given Shyamalan's current work is in the streaming realm with Servant, a new mysterious series that Shyamalan is executive producing alongside its creator Tony Basgallop. That series is about a nanny (Game of Thrones' Nell Tiger Free) being hired by young parents (Toby Kebbell and Lauren Ambrose) who discover things are not as they seem.
Intriguingly, nowhere in the press release is it announced that Jason Blum will be producing Shyamalan's next two efforts. Blum was integral to Shyamalan's career in recent years, giving him the room to reinvent himself in the smaller budgeted, more genre-focused realm.
Universal and Blumhouse's The Visit was technically a found footage movie, but also one of the very best of that format as Shyamalan leaned as heavily into the humor and psychological drama as he did the jump scares about children being left with peculiar grandparents they've never met. He followed that up with what is technically a kidnapping thriller entitled Split, but it operated as a superb acting showcase for James McAvoy as he portrayed about a dozen split personalities in a single movie. It also was a backdoor sequel to Unbreakable, which nearly 20 years later finally had its vision completed in the superhero-deconstruction that is Glass.
With Shyamalan finally telling the full story he wanted to present in 2000 about comic books and the people who obsess over them, it is a curious thing what he has to say next.
David Crow is the Film Section Editor at Den of Geek. He's also a member of the Online Film Critics Society. Read more of his work here. You can follow him on Twitter @DCrowsNest.