News
Lost Doctor Who episode heading for home release
A Doctor Who episode from legendary author Douglas Adams will be finished via animation, featuring the voices of the original actors...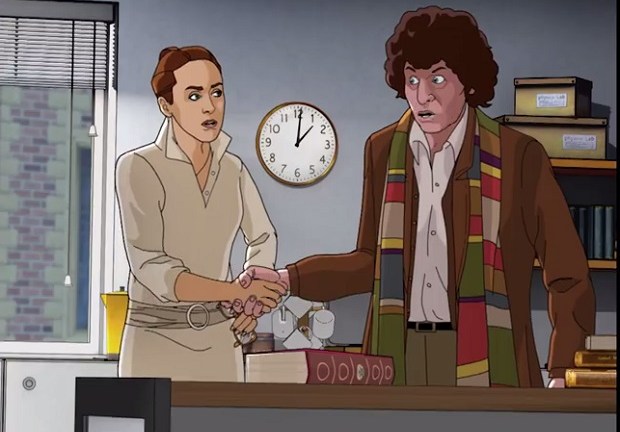 When Douglas Adams unexpectedly died in 2001, he left a monumental void in the world of science fiction. Through works like The Hitchhiker's Guide To The Galaxy and Dirk Gently's Holistic Detective Agency he established himself as a literary idol for an entire generation who would grow up to see many of his seemingly far-out ideas come to fruition. That phone you might be reading this article on is basically a real-life Hitchhiker's Guide, and a small reminder that as bad as things are right now, they aren't entirely terrible.
As you are probably well aware, a pre-fame Adams was a script editor for Doctor Who during Tom Baker's tenure on that series. Along with giving the show some, well, Adamsian humour, he was largely responsible for two of its best-ever episodes 'The Pirate Planet' and the downright glorious 'City Of Death' (which features an ascot-wearing alien, John Cleese and multiple Mona Lisas).
There was another serial that Adams wrote, one that has become the stuff of nerd legend over the years. I am speaking of 'Shada', a 1979 instalment that was meant to air during the original run's 17th season but was never completed due to a BBC strike.
Over the years, the fact that a story written by Adams – about a Timelord-built prison planet and featuring one of the most-beloved Doctors ever – existed in a sort of unacceptable limbo resulted in 'Shada' being spoken about with much reverence. But the project was far from dead. Adams borrowed elements from it for his first Dirk Gently novel in 1987. Then, the existing footage was paired with newly shot wraparound segments featuring Tom Baker in 1992. It eventually became an audio adventure from Big Finish Productions starring Paul McGann and was given some rudimentary animation from the BBC and released to their website. In 2012, a novelisation of 'Shada' based on its original script was written by Doctor Who fan/veteran Gareth Roberts, and it seemed like the strange story had finally been told as much as it possibly could have.
Until now.
Behold!
That's right, 'Shada' lives again!
The BBC are releasing a new version that mixes the pre-existing footage with newly-animated material featuring the voices of Tom Baker and Lalla Ward (who portrays Romana) to complete the story will be released digitally on November 24th, with a DVD/Blu-ray release to follow on December 4th. 
"Shada was one of my favourite Doctor Who stories," Baker said in a statement. "I have many fond memories of shooting the location scenes in Cambridge, and it was disappointing not to finish the story in studio. I'm so glad that BBC Worldwide have found a way to bring fans a complete visual version.
Here are the bonus features you can expect to find on the discs:
Taken Out of Time (25′ 39″)
Now and Then (12′ 45″)
Strike, Strike, Strike! (27′ 50″)
Studio Sessions – 1979 (44′ 38″)
Dialogue Sessions (14′ 16″)
Model Filming (04′ 36″)
Deleted Scenes (01′ 22″)
Title Sequence Films (TBC)
Live Action Reference Footage (02′ 48″)
1979 Gallery (04′ 50″)
2017 Gallery (02′ 52)