Features
Looking back at Tony Scott's The Hunger
Our tribute to the late Tony Scott begins, with a look back at his 1983 vampire feature, The Hunger...
As always, it's a matter of choosing where to begin. But whichever starting point you choose for the film career of the late Tony Scott is going to seem odd in retrospect, for each of them will come as a surprise to those who only know him for his run of cacophonous Hollywood blockbusters from 1986's Top Gun onwards.
His first film credit was at age 16, as the eponymous lead in Boy And Bicycle, the 1965 short directed by his brother, Ridley, which would eventually inspire the elder Scott's much-lauded Hovis advert, 'Boy on Bike'. Three years later, after Tony had followed Ridley to the Royal College of Art in London, he directed his first film, the haunting American Civil War short One Of The Missing.
Loving Memory – directed, written and co-edited by 'Anthony Scott' –  followed in 1970. Shot by Chris Menges, then fresh off Ken Loach's Kes, this odd 52-minute mini-feature told a glum, creepy story of two siblings covering up a car accident in the Yorkshire dales, tending to and eventually burying the young man they kill in the film's unnervingly silent opening scenes. One Of The Missing and Loving Memory were both black-and-white and BFI-funded, and neither received much distribution outside of the Royal Academy and the concrete confines of the National Film Theatre.
And then, nothing. After this promising start, Scott could easily have become an arty contemporary of Ken Loach and Mike Leigh, but despite graduating from college with aspirations of being a painter, he was soon tempted into making adverts with his elder brother's production company, Ridley Scott Associates. It would be over a decade until Scott directed another feature film. 
Following years of cutting his teeth in advertising, the director took the reins on The Hunger, making the leap from ads to films a few years later than his brother and his contemporaries Hugh Hudson (Chariots Of Fire), Adrian Lyne (Flashdance) and Alan Parker (Midnight Express). In fact, Parker was producer Richard Shepherd's (Breakfast At Tiffany's) first choice to direct this big-screen adaptation of Whitley Strieber's erotically-charged vampire novel, but he was soon won over by Scott's stylistic flair.
Billed with taglines like 'Nothing Human Loves Forever' and 'So bizarre… So sensual… So shocking', The Hunger was essentially an art-house update of the wave of unashamedly sexy vampire flicks of the 1960s and 1970s – schlocky specimens like Vampyros Lesbos, The Vampire Lovers and Blood And Roses, which saw the lust for blood intermingle with lust for flesh. But Scott would bring to the material both his art-school chops and his indulgent commercial sensibility, working, as he said in an early Time Out interview, "at the two extremes of the academic and the superficial" and meeting somewhere in the middle.
The Hunger would mix influences and styles encompassing classical and rock, high art and pop, Hollywood and European, starting with its transatlantic cast. For Miriam Blaylock, the vampire queen, Scott cast French star Catherine Deneuve, whose icy sensuality had been a particular fascination for filmmakers since Belle Du Jour in 1967. David Bowie, another ethereal screen presence, was to be her companion, John, while Susan Sarandon, who had just scored an Oscar nomination for Louis Malle's Atlantic City, jumping from Rocky Horror cult status into the big leagues, filled out the threesome as Dr Sarah Roberts, a research scientist studying premature aging disorders.
After centuries together of seemingly eternal life and love, John suddenly starts to rapidly age, accelerating towards the mortality that had been mediated by Miriam's vampiric blood. Seeking help from Sarah proves to be futile, and soon John is a mere fossil, laid to rest in the attic of the couple's fashionable New York apartment alongside Miriam's former lovers. Now she needs another companion, and Sarah seems to fit the bill. 
It's not a complicated plot, and Ivan Davis and Michael Thomas' screenplay dispenses with much of the historical context of Streiber's novel, but Scott's self-conscious stylistic flourishes make The Hunger at times surprisingly hard to follow. His frantic, often confusing cross-cutting and elaborate montage sequences cloud the narrative in favour of visually assaulting the viewer. The opening scene, cut to a performance by the rock band Bauhaus of their appropriately-themed song Bela Lugosi's Dead, sees Miriam and John feeding on a couple of local goths, while caged animals in Sarah's lab tear at each other's flesh. Later, John skulks around the moonlit streets, only to find a lone youth rollerskating in an abandoned warehouse, dancing to the tune of Iggy Pop's Bowie-produced dirge Fun Time. This is a world full of sound and vision, not character or story.
But for all its attempts at cutting-edge style, there's something ever so slightly outmoded about The Hunger. It was released in the spring of 1983, just as Bauhaus were calling it quits, bringing the first flush of goth rock to a close (how fitting, then, that they perform the 1979 single that, to many, heralded the emergence of goth out of punk's shadow). Likewise, Bowie was about to release Let's Dance, the platinum-certified album that spawned multiple hit singles, including the title track, which was number one in the UK when The Hunger opened in April. The album's success, bolstered by a couple of glossy music videos featuring a much more tanned look for the previously-pallid musician, set him on a course that would lead him away from the artier inclinations of films such as Merry Christmas Mr Lawrence and The Hunger (both released in 1983) and towards the likes of Labyrinth and Absolute Beginners (both released in 1986).
In fact, Bowie was probably the film's greatest asset, and his detached performance is a direct link to his coke-addled turn in The Man Who Fell To Earth, and thereby director Nic Roeg. Scott is clearly indebted to Roeg's rather arch form of art cinema, but the decision to dress up one of the film's recognisable stars in layers upon layers of make-up – as John rapidly ages towards decrepitude and death – is nothing but a shame, as we lose sight of Bowie all too soon, only to see him replaced by what looks like Ryan Gosling's prosthetic mask in Drive.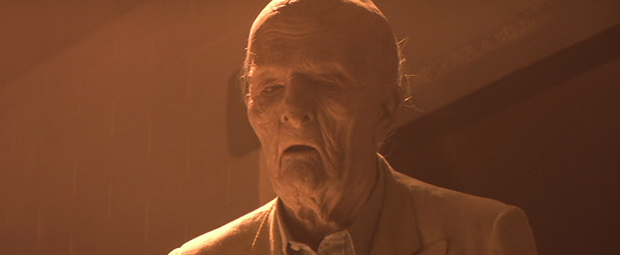 The film is shot through with the notion of pretending to be what it's not. Throughout, ethereal vampires pose as humans, just as the British commercial director poses as a European auteur. An overcast London is dressed up as New York, while operatic art direction, costume design (from Kubrick collaborator Milena Canonero) and cinematography (by Stephen Goldblatt, who later shot Batman Forever, Lethal Weapon and, most recently, The Help) are used to make this trashy Hollywood flick look deceptively like an art film. However, with its billowing curtains, smoke machines and nods to the world of fashion photography, The Hunger looks less like a blueprint for a new, stylish mode of filmmaking, and more like a feature-length facsimile of ultra-kitsch music videos such as Bonnie Tyler's Total Eclipse Of The Heart – yet another product of 1983.
And then there's the lesbian sex scene. After her run-in with John, Sarah confronts Miriam, but after a little chit-chat and a small glass of sherry, she starts to fall for her charms. 'Are you making a pass at me, Mrs Blaylock?' she asks, before accidentally spilling her drink down her blouse and, oh dear, having to change into something a little less sticky. Of course, Miriam – possessing not only powers of vampiric seduction, but Deneuve's captivating poise – need only sit at a piano and pout a little, and before long they're off.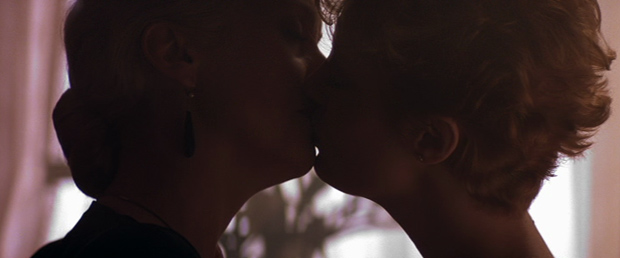 At the time, it was a controversial and groundbreaking moment for a number of reasons, not least of which was that both actresses appeared in the scene seemingly without the use of body doubles, requiring Scott to close the set to preserve his stars' dignity. But what must have been eye-opening, even important at the time (and it is rightly given pride of place in the seminal study of sexuality on screen, The Celluloid Closet), seems rather corny now.
The scene is accompanied by The Flower Duet from Leo Delibe's opera Lakmé, otherwise known to many as the soundtrack for over 20 years of ubiquitous British Airways adverts, the first one of which was directed by Scott himself. He clearly liked the tune, also using it for much more sinister purposes in the famous "You're part eggplant" dialogue between Dennis Hopper and Christopher Walken in True Romance, but Scott's willingness to fritter away such a delicate piece of music on a contract job, and therefore sabotage his artful attempt at a tasteful sex scene for generations to come, reveals that, be it female sensuality or high-class flights, the director is always selling you something. And he'll use every tool he has at his disposal to achieve it.
But many weren't sold on The Hunger. Despite the titillating promise of Deneuve and Sarandon's coupling, the film was a box office failure, and critics were quick to pounce on the young upstart. "The Hunger," noted Roger Ebert, "is an agonizingly bad vampire movie." Variety, on the other hand, noted a familial similarity: "In his feature debut, director Tony Scott, brother of Ridley, exhibits the same penchant for elaborate art direction, minimal, humorless dialog and shooting in smoky rooms." 
Every single criticism hit home for Scott, who vowed never again to read reviews of his movies, and retreated, for the time being, back into commercials. Looking back on The Hunger for the film's DVD release, he said, "The studio and the producers were concerned that I could handle style and visuals, but didn't have an understanding of handling performance and actors and story." 13 years after Loving Memory, Scott was back working for RSA.
However, two people took notice: producers Jerry Bruckheimer and Don Simpson. Through the indulgent haze, they could see an extroverted mode of filmmaking, one that could be used to revamp the Hollywood blockbuster, to bring the exalted energy of advertising to mainstream cinema. For their next film, a high-speed action flick about the testosterone-fuelled adventures of modern-day flying aces, they'd found their director – the man who turned a run-of-the-mill TV spot for Saab into a sensation by pitting the car against a jet plane; the director who had left the grim north behind, and had tried, and failed, to find a middle between the academic and the superficial in The Hunger. Now, at last, Scott had found his true calling: he'd make a feature length advert for the US Navy.
Our lookback at the work of Tony Scott continues over the next few days.
Follow our Twitter feed for faster news and bad jokes right here. And be our Facebook chum here.