News
Looking back at Kevin Smith's Mallrats
The most maligned of Kevin Smith's films? Possibly, but for some of us, Mallrats is also one of his finest...
"Listen, not a year goes by, not a year, that I don't hear about some escalator accident involving some bastard kid which could have easily been avoided had some parent–I don't care which one–but some parent conditioned him to fear and respect that escalator!" – Brodie
1994's Clerks had firmly put Kevin Smith on the map as a hot young director with his own sense of style and storytelling. In 1995 he was given a much bigger budget by Universal Pictures and took it to go and make his second film. It was a project that almost cost him his career, but has over time turned into a cult classic.
Mallrats is the second of Smith's films that is set in the 'View Askewuniverse', bubbling down to a series of interlocking films set mostly in New Jersey with re-occurring characters. This time we are introduced to T.S (Jeremy London), who is preparing for a trip to Universal Studios in Florida (nice bit of product placement right there) with his girlfriend Brandi (Claire Forlani), whom he is preparing to propose to on the Jaws ride.
When T.S arrives to pick her up, Brandi informs him of the death of Julie Dwyer, whose wake Randal and Dante attended in Clerks. Julie was due to be a contestant on her father's dating show Truth or Date. Brandi is now going to take her place and thus can no longer go on the trip. Knowing that this is due to the fact that her father doesn't want T.S and Brandi to be together, they argue about her decision and break up. As you do.
Across town T.S' best friend Brodie (Jason Lee, in his first feature film) is in the process of being dumped by his girlfriend Rene (90210 star Shannen Doherty), who has had enough of having to sneak in and out of his mother's basement to sit and watch him playing videogames and reading comics. She needs somebody with a future.  Broken-hearted the pair decides to cheer themselves up with a trip to the mall.
When T.S and Brodie arrive they discover the Truth or Date set being constructed inside the mall. Still fuming from his argument and break-up with Brandi, T.S and Brodie soon go to local stoners Jay and Silent Bob (yay) for their help to destroy the set. The two, who had been planning to do that already, are more than happy to help out.
Brodie also comes across Rene who is shopping in the mall and tires to make amends, but she is now being persued by Shannon Hamilton (Ben Affleck) who runs the Fashionable Male clothing store. Shannon also happens to hate Brodie, as he only hangs out at the mall and doesn't have a shopping agenda. They later find out though that Shannon is only after one thing from Rene and it involves a very uncomfortable place.
Along the way they meet a guy who just cannot see the magic eye picture, have their fortunes told by a bare breasted palm reader and Brodie has a life changing encounter with Stan Lee.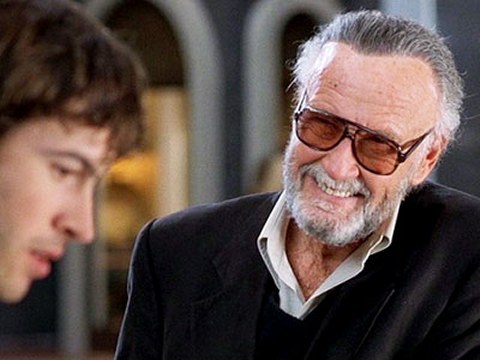 When Mallrats was released it bombed at the box office, as reviewers held it directly up next to Smith's first outing Clerks. And this is where the problems began.
Mallrats is not trying to be a Clerks II (that would come later), it was trying to crash the teen movie party that was happening around the time and be almost a boy version of Clueless. But it was a little bit too sarcastic to fully be appreciated by the audience at the time, who would rather pay their hard earned cash looking at Hollywood hotties than two comic book loving scruffs. The battles Smith had with Universal over the picture are unlikely to have helped, either.
The leads are personable and likeable, and Jason Lee really shines through as Brodie – it is easy to see why he soon became a Kevin Smith staple. Jay and Silent Bob take a much bigger role from their debut in Clerks and keep the slapstick comedy flowing. Highlights are their failed attempts to knock the Truth or Date stage over, and Silent Bob's constant attempts to make things move via Jedi mind trick.
It is very difficult to believe the story that Universal was majorly opposed to Jason Mewes playing the role of Jay again, and even though I am a fan, potential replacement Seth Green wouldn't have been able to fill the shoes. Also watch out for a very young My Name is Earl's Ethan Suplee as the magic picture guy, his progression throughout the movie is classic.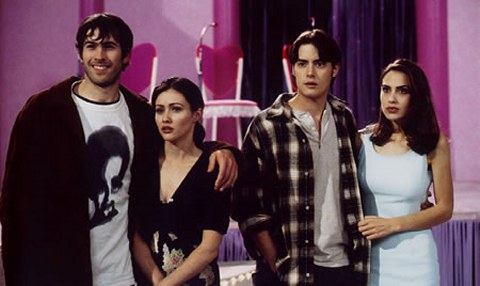 The weakest link in the cast is in fact the main lead Jeremy London. Well known at the time for appearing in TV's Party of Five, he just doesn't seem to gel as well with the rest of the cast and not surprisingly he was never cast in a Kevin Smith movie again.
The only trouble with Mallrats in my opinion, and this actually is a very minor point, is that it is a Universal movie and you can almost see them squeezing Smith out of the picture to try and produce a more generic movie. What they got however was a Kevin Smith movie and thank goodness for that.
The humour, the set pieces and the dialogue are what make the movie what it is. For much of the 90s, teen movies were all about carbon copy characters basically playing out the same story. Mallrats gave the genre a breath of fresh air and on repeat viewings is still as funny as the first time I watched it.
After getting his fingers burned on this picture, Smith's next move would be back into territory he had previously had success in and with a studio that understood where he was coming from. We'll come to Chasing Amy next week…
Mallrats key info:Released: 20th October 1995Distributed By: UniversalBudget: $6,100,000US Box Office Gross:  $2,028,211Best DVD Edition: Mallrats 10th Anniversary Extended Edition