News
Looking back at Kevin Smith's Clerks
Kicking off our Kevin Smith retrospective, Carley looks back to the film that started it all: the majestic Clerks...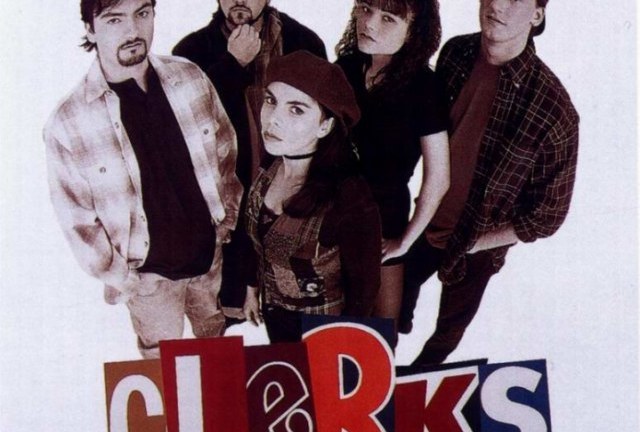 "There's a million fine looking women in the world, dude. But, they don't all bring you lasagne at work. Most of 'em just cheat on you." – Silent Bob
Of all the places to be introduced to the work of Kevin Smith, I got my first taste as a 17-year-old in a film studies class. How Smith would feel about being paraded in such academic quarters is up for debate, but the film I saw that day, Clerks, would mark me as a firm fan of his for many years to come.
Set over the course of a day, the plot is based around Dante Hicks (Brian O'Halloran), an employee of the Quick Stop convenience store who has been called in on his day off. When he arrives at the store, he finds the shutter locks have been jammed up with gum so is forced to put up a shoe polish painted sign assuring customers that the store is, in fact, open.
He is soon joined by his best friend Randal Graves (Jeff Anderson) who runs the video rental store next door, and is kept constant company by two drug dealing stoners, Jay and Silent Bob, outside the store. Most of Dante and Randal's day is spent conversing about life, the universe and the Death Star, but Dante's day falls into a downward spiral with a series of unfortunate events.
Firstly, his relationship with his girlfriend Veronica (Marilyn Ghigliotti) is going nowhere and she is fed up with being struck in a rut that Dante seems more than happy to stay in. His relationship misery is then further compounded when he finds out his ex-girlfriend Caitlin (Lisa Spoonhauer) is getting married.
To try and cheer himself up from this news, and take his mind off the fact that he is stuck in the store, he arranges for his hockey game to take place on the roof of the Quick Stop, only to have an irate customer throw away their only ball. Back in the store, Dante finds out that his high school girlfriend, Julie Dwyer, has died and that her memorial service is today. At the insistence of Randal, he closes up the store and they both go to the wake.
Although the audience is not privy to the events that take place during the wake, we do find out afterwards that Randal managed to knock the casket over. Later that evening , Caitlin makes a surprise visit to Dante and assures him that she isn't actually engaged, her mother had just been very eager to see the pair settle down. It soon becomes clear that Dante and Caitlin still have feelings for each other and they arrange to meet up later for a date.
The date ends sooner than expected, though, when Caitlin has sex with a dead man in the employee's bathroom (thinking it was Dante who was in there), and she is taken away in shock with the corpse. Randal lets slip to Veronica about Dante's date with Caitlin and she promptly breaks up with him, just as he realises that she is the woman for him. Dante and Randal fight about this but end up making up.
The movie ends with Dante finally finishing his shift and Randal throwing the 'closed' sign at him.
Filmed in black and white on a shoestring budget of around $27,000 (colour film cost more, but black and white works so much better in this mockumentary style film), Clerks became the little film that could, making headlines and gaining praise on the awards circuit.
Setting up a world populated with characters that would run across the length of a further five movies, including a sequel, Clerks 2, you can't help but feel, after about ten minutes of watching the movie, that you know these characters already. That's the strength of Kevin Smith's writing right there. And although a lot of what happens in the course of the day wouldn't happen to the average person in the course of their lifetime, you do feel like you have spent a couple of hours with your slacker friends rather than watched a film. Personally, I think that speaks very highly of Smith's ability to connect with his audience.
Smith's expert and legendary use of dialogue is quickly established in this movie, and again, is something that follows through the rest of his catalogue. Completely profanity-laden for the most part (a good example of this is the scene in the video store with Randal and the customer who is after Happy Scrappy Pup), there is also a sense of intelligence between the F-bombs. Even though there are a lot of F-bombs.
The simplicity of the plot also works wonderfully for this film, from the discussion of whether innocent contractors died while working on the Death Star in Star Wars, to the customer who had hit a short fuse and was looking for the perfect dozen eggs. It all interlinks with the plot formation and the sense of how bizarre Dante's life really is.  Say what you like about shoestring budgets, but there's skill here to the structure, and many, many, gut-bustingly funny moments.
The original ending of Clerks had Dante meeting his maker in a robbery gone badly. Smith, fortunately, scrapped the ending (which can still be found on the Clerks X release on DVD) but you can't help but wonder what is worse, finding yourself at a barrel of a gun or being stuck at the Quick Stop forevermore. We'd have had no Clerks 2, though, if he'd pressed ahead with his original plan, and that would not have made the world a better place.
Next up, we'll be taking a look at arguably Smith's most maligned film, Mallrats…
Clerks key info: Released: 19th October 1994 (US) / 5th May 1995 (UK) Distributed by: Miramax Studios Budget: $27,000 Box Office Gross: $3,073,428Best DVD edition: Clerks X