News
Looking back at How To Get Ahead In Advertising
Bruce Robinson's follow-up to Withnail And I was the less acclaimed How To Get Ahead In Advertising. Zoe looks back at an underappreciated British comedy...
What do you get if you mix Richard E Grant with two heads, madness, paranoia, anti-commercialism and a lot of swearing? A Bruce Robinson film, of course.
Introducing How To Get Ahead In Advertising, then. No doubt you've heard of the cult classic, Withnail And I, the story of two actors who go on holiday by mistake. A flop when first released, the film gained cult status after being rediscovered on video many years later. And now with the recent DVD release of this 80s classic, I think it is about time How To Get Ahead In Advertising got the praise it deserves.
The plot is very simple. Advertising executive, Denis Bagley, played by Richard E Grant, is finding it difficult to create an advertising campaign for boils. Suffering from stress, he gets one himself which, naturally, turns into a head, complete with eyes, ears, moustache and Thatcherite personality.
Bagley appears to be going mad and goes into hospital to have the boil removed. During a scene worthy of The Thing, the boil takes over, resulting in the death of the real Bagley and the birth of a ruthless, remorseless advertising executive prepared to do anything all in the name of greed.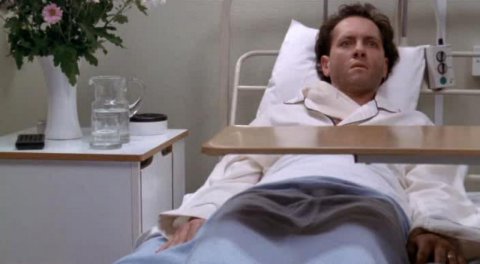 So, not your average comedy, then. But Robinson is hardly your average director or screenplay writer, for that matter. He has described How To Get Ahead In Advertising as "an expression of how I felt at the time" and his feelings are certainly made clear. There is no mistaking Robinson's voice as he makes fun of a 1980s society and ideology pausing to say 'you get it?'.
The film deals with some very important issues, such as materialism, commercialism, Thatcherism and Big Brother. But let's not get hung up solely on the politics of it all, because, despite the strong opinion, the film is brilliantly entertaining.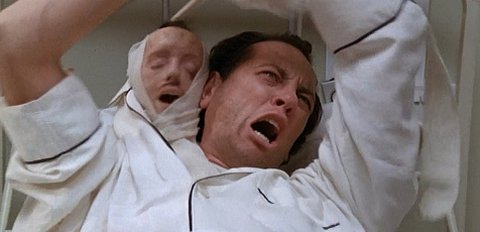 How To Get Ahead In Advertising is certainly an off the wall comedy with a intelligent script full of hilarious one liners. "Maybe the fucker [referring to the boil] wants to go up the Eiffel tower", to name one.
The film also ends with a soliloquy worthy of Shakespeare, as Bagley proclaims his plans for world domination by commercialism and greed, accompanied by a triumphant sounding Saint-Saëns Symphony No 3 In C Minor.
The script is very clever, as a scene at the end demonstrates, as new Bagley, the guiltless ad exec, has a coherent argument with a video he, old Bagley, filmed at the beginning when he was simply a boil. It is a shrewdly scripted scene and slightly creepy, as it's clear there is no stopping evil Bagley until the whole world is standing on a double layer of foot deodorisers.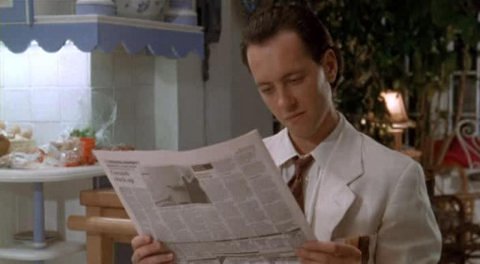 The film really shows off Robinson's ability to create and develop complex and hugely entertaining characters, as we see two Bagleys in the film, which displays what a versatile actor Grant is. Even running around the garden half naked in madness, Grant gives the performance a bit of true British class and his transformation from stressed, guilty ad executive to remorseless, evil, slightly Bond baddie-style, ad executive is perfectly performed.
Sadly, it is only Bagley's character that is really developed fully, as Bagley's wife, Julia, played by Rachel Ward, appears simply to be a loyal wife who ironically looks like she should be in a lifestyle advert.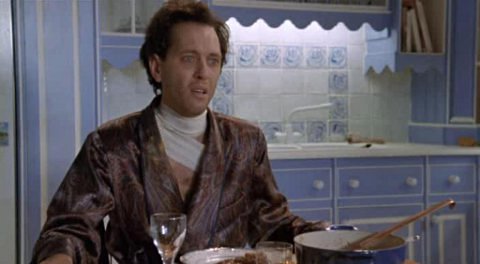 How To Get Ahead In Advertising has a very original plot. In fact, I'd go so far as to say there's not another film like it. However, it does lack direction in parts, as Robinson tends to go off on a tangent.
As tangents go, Robinson's are hilarious and he is particularly good as the voice of the boil. The conversations between Bagley and the boil are great to watch and really embody what the whole film is about.
So, does How To Get Ahead In Advertising have the potential to become a belated hit? It most certainly does. It is a fine example of eccentric, British originality that is well acted, well directed and well written. Yes, it's very political, and yes, the plot does wander off every now and then, but that's all forgiven.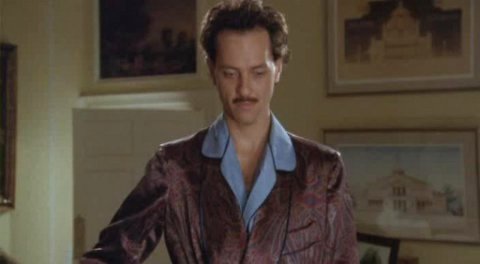 How To Get Ahead In Advertising is still a divisive film, that you'll either applaud at the end or turn off ten minutes in. But, either way, you certainly won't be forgetting it fast.
Follow Den Of Geek on Twitter right here.