Features
Looking back at Ernie Kovacs
Neil McNally looks back at the short but seminal career of TV comedian Ernie Kovacs, an unsung icon whose influence can still be felt throughout modern comedy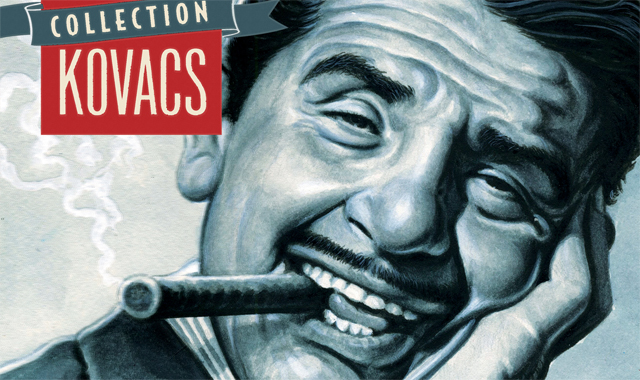 "Television. A medium. So called because it's neither rare nor well done."-Ernie Kovacs
More than fifty years ago, with a flick of his trademark cigar, Ernie Kovacs took a proverbial sledge hammer to the new medium of television. Amid the wreckage, he pushed television further through ground breaking visual effects, music videos, and surrealistic comedy. Along for this wild ride were a stable of nutty characters like Percy Dovetonsils, The Nairobi Trio, Chef Miklos Molnar, Eugene, Wolfgang Von Saurbraten, and Auntie Gruesome. His influential footprints still reverberate in places like the mad worlds of The Muppets, Monty Python, David Letterman, The Simpsons, and Terry Gilliam. In fact, Gilliam allegedly told the other Pythons "This is a guy you stole everything from, but never heard of before!"
Generations in the United States always seemed to find their way back to Ernie. "Best Of" television specials, museum retrospectives, and home videos were there to help guide a new crop of fans to Kovacsland. However, rather than eliciting strong laughs and fond memories, Ernie Kovacs' name over the past fifteen years has elicited blank stares and quizzical looks. It seemed his large body of work had begun to fade into the world of television's past. How do you re-introduce a television icon who at one time needed no introduction?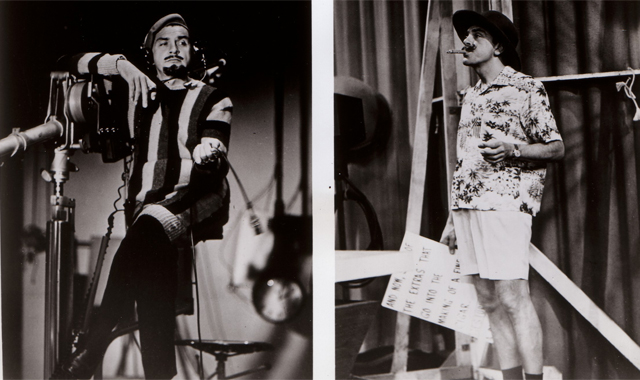 Enter Josh Mills. As the son of famed entertainer Edie Adams, Mills knew of Kovacs, not just by his wild reputation, but as his mother's first husband. During our recent conversation, he spoke of his mother's passing in 2008, and the realities of Ernie's reputation "It was very hard to inject Ernie into conversations. I realized right around the month that she died, there was something on PBS about the history of comedy and Ernie wasn't included." He continued "I just realized I had to really make an effort to kind of bring him back in a way that we hadn't done in a really long time."
But, before we can talk about the present, let's delve into the past. Ernest Edward Kovacs was born on January 23, 1919 in Trenton, New Jersey. Born to Hungarian parents, his early family life was tumultuous and ruled over by a domineering mother. Longing for an escape, Kovacs turned to acting in high school plays. According to Edie Adams's autobiography Sing a Pretty Song, one of his friends from the time said "My first experience was when I shook hands with him and he had one of those hand buzzers on. He was always putting matches in the soles of people's shoes and lighting them…He just turned everything into being funny." After he was accepted into the famed New York School for the Theatre, Kovacs headed to the City that Never Sleeps. However, after his second year he contracted pleurisy and pneumonia and found himself in hospital very close to death.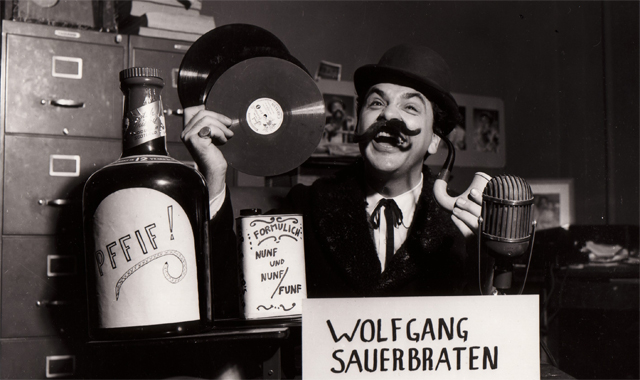 When I asked Josh Mills what allowed Ernie to later see the vast possibilities of television, he felt these events were connected "My mom seemed to think that it came from a time when he spent in the hospital, where he had a year literally to sit there and contemplate his fate. But, also was probably bored to tears, and was just dreaming up these crazy ideas." He added "You hear this a lot about some super creative people. When there was a time in their life when they weren't able to go outside and do the things that normal kids do. They had to find something, and I think that was kind of where Ernie got his world view, dreaming it up in his bed."
He recovered significantly enough to return to Trenton, where from 1941-1952 his life was a whirlwind of professional and personal activity.  He was a disc jockey/director of events, was married, had two daughters, wrote a column for the local paper, and his marriage dissolved. However, fate had other plans in store when he sent in a demo to WPTZ in Philadelphia, and was quickly hired. Kovacs soon flexed his creative muscles with the morning show Three to Get Ready!  
Viewers were treated every day at 7:30am to, well, whatever Kovacs felt like doing. He auditioned goats for the show, sang a Polish version of Mona Lisa, attempted to "de-pants" a newsman live on the air, broadcast live on the city streets, and dressed like a gorilla and ran through a restaurant. He even had time to coin an on-air expression that has since become the epitome of 50s/60s coolness "It's Been Real." WPTZ brought many things to the early life of Ernie Kovacs, but, most importantly, Edie Adams. The young Juilliard-trained actress and singer was hired to work as a performer on his summer replacement series Ernie in Kovacsland. It didn't take long for Adams to be Kovacs's partner onscreen and off. They were eventually married in 1954.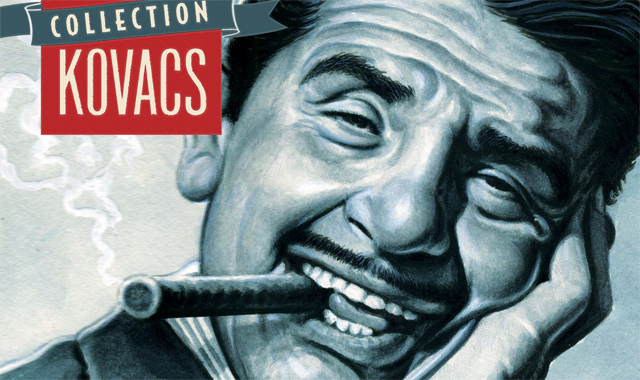 After he left WPTZ for New York, he crisscrossed American networks creating a huge amount of programming. This creative output makes up the six-disc The Ernie Kovacs Collection from Shout! Factory. Josh Mills explained the project "I just realized this stuff has got to get out there. Shout! Factory ironically contacted us. I didn't contact them, but they were my first choice." He continued "We have all this great stuff and we should go through it. It just came to be." When asked if there are plans for a Volume 2 set, Mills reiterated "I'll put it this way, there are 150 half-hours of television and only fifteen on that boxed set. You can draw your own conclusions from that, but you might be on the right track." (After this interview it was indeed announced that a Volume 2 will be released on October 23, 2012. For more info please follow this link.)
From start to finish, this DVD set is quintessential Ernie. But, don't take my word for it:
Ernie Kovacs loved cigars. So, it came as no surprise to anyone when he became the spokesman for the brand Dutch Masters. Every segment was a meticulously crafted, unique, and well–thought-out short film. The commercials were so respected that a sampling of them appears as a bonus feature in the set.
Three of Ernie's most popular characters are featured on the discs: Percy Dovetonsils, The Nairobi Trio, and Eugene. Percy had been with Kovacs from the start of his career at WPTZ, and was his most enduring trademark. Percy could always be counted on to read a poem of "questionable" literary quality, but his humour was in Kovacs' expert improvisation and a sense that his crew is on the verge of hysterics just off camera. Percy Dovetonsils definitely walks that fine line of political incorrectness, but Kovacs' characterization is a classic and appropriately ridiculous.
Eugene is Ernie at his most tender and sympathetic. This Chaplinesque character never speaks and exists in a world of silence. Sight gags and sound effects are his daily life, and this is never more evident than in the famous Silent Show. As the story goes, Jerry Lewis was offered a ninety-minute comedy special on NBC, but only wanted an hour. With no one wanting to follow Lewis, Ernie premiered the Silent Show in 1957 to rave reviews. Eventually, a second version of the special was produced in 1961, which further opened up Eugene's travels through an abstract world. This legendary tilting table finale from 1961 showcases Ernie's prowess at innovative visual effects.
Beginning in 1957, Kovacs made ten movies over a four year period. Our Man in Havana is notable not just for being a classic spy movie with Ernie in a supporting role, but for starting a friendship between two men who couldn't have been more different. The name Alec Guiness needs no introduction, and his work certainly speaks for itself (The Ladykillers, Bridge on the River Kwai, Star Wars). It was while shooting this movie that Guiness unwittingly dipped his toes into Kovacsland. Josh Mills elaborates "They were staying in the same hotel, and he goes up to where his room is, and there's Ernie's room. The door is wide open, and he walks past the room. There's Ernie naked at a typewriter at his desk typing away, and there's girls naked all over the room. Not doing anything, just with the door open. Guiness was sort of taken aback and said "Oh, I'm sorry I'll close the door." Ernie said "No, no keep the door open. The only way people are going to believe that I had naked women in my room, and nothing happened, was that I was sitting here working."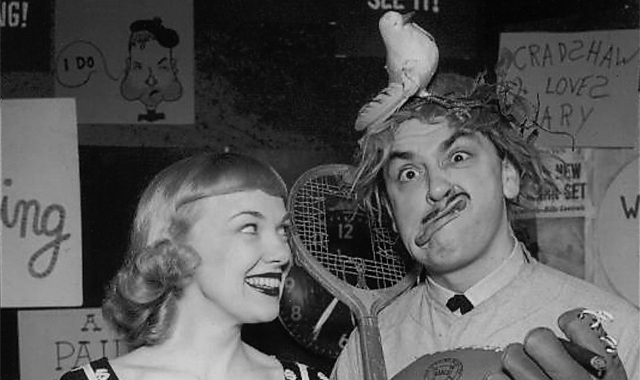 With this, a future Jedi Knight and a kid from Trenton became fast friends. Mills believes that their mutual love of bizarre humor was at the heart of their relationship. He went on to add an interesting side note, "Supposedly Ernie was going to write a script, and direct Guiness as Eugene had he lived" added Mills. "They were going to collaborate on some projects."
The final year of Ernie Kovac's life was filled with the production of eight monthly television specials for ABC. These are widely considered to be his master works, and each one has its own shining gems. But, one of the most notable segments is a solemn adaptation of Bella Bartok's' Concerto for Orchestra. Its cinematography, lighting, and characterization hint as to what may have been for Ernie: directing movies.
On the night of January 13, 1962 Ernie Kovacs left a baby shower at director Billy Wilder's house. They say a mist was falling in Los Angeles when he lost control of his car, and struck a light pole, killing him instantly at the age of forty-two. His death not only robbed the world of a creative genius at his peak, but the promise of what could and should have been, with future projects that never were. Or was that really the case? Surely, the vast Kovacs video and sound archive that Edie Adams accumulated after his death would reveal some unheard of treasures?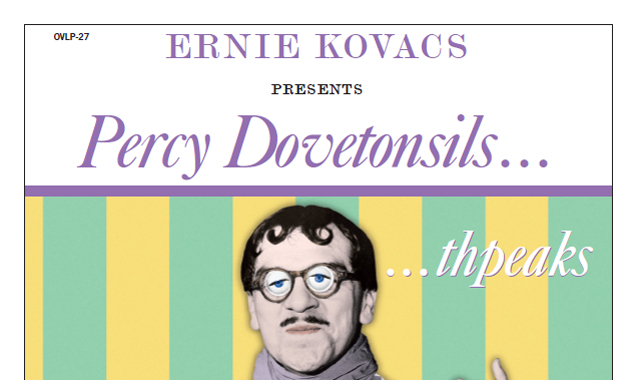 "Unheard" is the best way to describe the "new" album Percy Dovetonsils…thpeaks available from Omnivore Recordings. Josh Mills goes on to explain how his mother's preservation efforts gave voice to Percy once again. "One of those things (she saved) was a mislabelled or wrongly labelled tape recording that was in our archives…We pulled it out, and low and behold, it was the Percy Dovetonsils…thpeaks record." He goes on "It's interesting how people are reacting to Percy's character not having seen him, because Ernie was obviously very visual…So, it's an interesting kind of take on how people look at something they kind of didn't think about in a context that no one would have known for the last forty years." The album encompasses twenty-two tracks of the best of Percy's poetry, with such selections as Ode to Stanley's Pussycat and Thoughts While Falling off the Empire State Building. Prepare yourself for a very irreverent and smooth early 1960s good time!
With much more material to work with, the reputation of Ernie Kovacs is in good hands. More museum retrospectives are on the cards, and audio recordings of lost Kovacs programs may yield new avenues to explore for Josh Mills and the Kovacs estate. However, with so much discussion regarding his work, it's hard not to wonder how the man himself approached each day. Josh Mills summed it up this way "My mom said that basically he had a lust for life. He would wake up every single day saying "These are the best eggs I've ever had, this is the best coffee I've ever had, this is the best breakfast I've ever had. I can't wait!" He packed in a lot in his short forty-two years."
The Ernie Kovacs Collection is available in the UK here, and the US here.
Percy Dovetonsils…Thpeaks is available in the UK here, and the US here.ITunes: Available for download in all regions.