News
Looking back at Disney's The Hunchback Of Notre Dame
Seemingly lost in the recent history of Disney, Simon salutes what he argues is one of its finest and most interesting animated films: The Hunchback Of Notre Dame…
In 1995, Toy Story changed modern day animation. There's no question about it. Released to ecstatic reviews, and equally ecstatic box office returns, it pretty much instantly had two ramifications. Firstly, it gave audiences a real thirst for CG-animated movies. And secondly, it suddenly left hand drawn features, in the eyes of some, looking like yesterday's news. Whichever hand drawn movies were released in 1996 were going to be in serious trouble.
The Hunchback Of Notre Dame, then.
To some within the no-doubt labyrinthine headquarters of Walt Disney Pictures in the 1990s, The Hunchback Of Notre Dame was not a welcome project. It did less than a third of the box office business of The Lion King had done two years earlier, and paled even in comparison to the commercial performance of Pocahontas. It also had a distinct lack of cute and cuddly characters, which in turn meant that the lucrative toy market couldn't make up the shortfall.
In short, it's a project that came and went, and there's not been much sign of a Diamond Edition Blu-ray of this one, yet alone any kind of re-release. And that's a real pity.
Unusual Disney
In hindsight, it's hard to see how it even got through the Disney machinery at all, and surely, it's only the commercial confidence the firm had at the point it was greenlit (with Beauty & The Beast, Aladdin and The Little Mermaid all delivering) that allowed it through.
For there's nothing soft and welcoming about the story of The Hunchback Of Notre Dame, and there's little attempt made by co-directors Kirk Wise and Gary Trousdale to change that. This was their follow-up film to their debut directorial effort, the mighty Beauty & The Beast, and that in itself raised expectations. And you don't need to be a film expert to begin drawing parallels between the two films.
Both open, after all, with a sizeable song that introduces the geography, character and central personality of their respective films. Both also pose the key question of "who is the monster and who is the man" (in song, in the case of Quasimodo). And both, ultimately, follow a fairly similar narrative path, if you want to pare things down to very bare bones.
Yet there's nonetheless a loud distinction to The Hunchback Of Notre Dame, and one that's always left me thinking that it's one of Disney's more sorely underappreciated films. It's not without its share of admirers, certainly. But at a point where Disney is keen to roll out many of its familiar classics, I do wonder if it might spare some love for a rough diamond in its vaults.
Darkness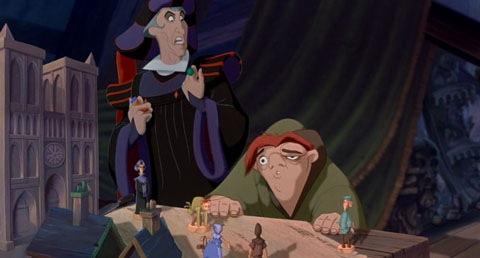 The first thing to note about The Hunchback Of Notre Dame, then, is that it's dark. Often really very dark, both visually and in tone, and this is right from the off. The Disney of the early 80s would have struggled with this, too, and the Disney of the 90s sometimes offsets this darkness a little too much (the A Guy Like You sequence seems ill-fitting, for instance, as do most attempts to lighten the mood). But it gets far more right than wrong.
Considering it went out with a U or G certificate (depending where in the world you live), the film simply doesn't shy away from some of the less family-friendly elements of the source material, even if it does knock some of the edges off. And the result remains a massively ambitious, and heavily successful, piece of American mainstream animated cinema.
On a technical level, the animation here is just beautiful. Some of the broad shots of Paris that the film employs, and when it tracks past the wonderfully-realised buildings, gave me goosebumps when I first saw them on the big screen. I love the scale of it, and it's not just in the exteriors, either. When the film switches to inside the cathedral, the angles are brilliantly chosen, and full of impact. Throughout, there's a gothic theme, and a love of Paris, that underpins the visuals. It's stunning to look at.
Wise and Trousdale sustain the unnerving tone for much of the film, too, even in putting together Disney's biggest ever crowd scene (at the time) for the fabulous Festival Of Fools sequence. With the technology of the time at its disposal (Toy Story hadn't been released when production on Hunchback began), the Festival is a bright, staggering piece of work. And at first glance, it's the lightest, happiest segment of the film.
Brutal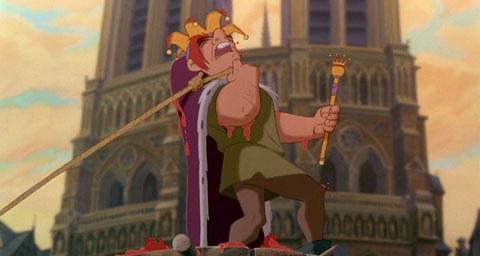 Yet it takes what I still feel to this day is one of the most brutal turns I've ever seen in an animated family movie (Babe: Pig In The City remains on a different plain for terrorising children, but that's not animated, so doesn't count).
For the humiliation of Quasimodo, as he's tied up, laughed at, and pelted with fruit, is really quite harrowing. This is the part where I'd have expected a Disney production to pull back, but the scene is held for a surprisingly long time, before Esmerelda ultimately intervenes. It drags Quasimodo right down to rock bottom ("no face is hideous as my face" the music runs a little later), and he never comfortably fully recovers for me.
And then there's the song Hellfire, which puts antagonist Frollo through a similar kind of torture (it certainly makes him a far more rounded villain, one who suffers greatly himself). It's a stunning piece of work, with the visuals and music working in complete tandem. It's the moment where Frollo confronts his lusting for Esmerelda (yup, a Disney film addressing lust), blaming her for turning towards darkness, and pleading to be saved.
"This burning desire is turning me to sin", he sings, begging "destroy Esmerelda, and let her taste the fires of hell, or else let her be mine and mine alone" (and we're coming to more of the music shortly). Meanwhile, on screen, the character of Esmerelda is provocatively dancing in front of him. I'd love to have seen parents trying to explain it to their kids on the way out.
There's still more, too, that you simply wouldn't expect from Disney.
Few concessions are made to make Quasimodo a visually attractive character. The eyes are about it (whereas, for me, the bright green eyes of Esmerelda never had anywhere near the level of impact). Many animators will tell you that animating the male lead in a Disney production is the job that nobody really fights for, but I'm pretty certain that wasn't the case here, although the more traditional hero, Phoebus, is inevitably a lot less interesting.
Esmerelda, meanwhile, is designed as part smouldering-temptress, part-heroine, and while I always felt that she could have used the voice of someone other than Demi Moore (who doesn't sing her songs, to be fair), she's hardly traditional Princess material. I've been to Disneyland, and I couldn't find a picture of her anywhere. In fact, I suspect most of The Hunchback Of Notre Dame's characters are locked away in the spare cupboard with The Black Cauldron cast. And, as we're about so see, you won't hear any of the film's music while traversing the theme parks, either.The Music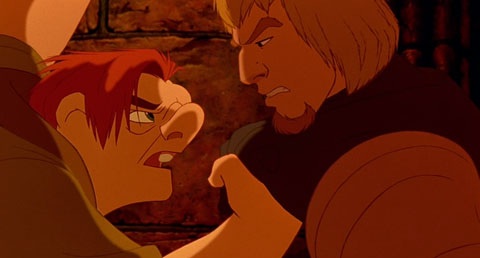 The tragic death of Howard Ashman left a real gap that Disney never really managed to fill, at least when it was trying to replicate what he did as a lyricist. Given how insanely a gifted a writer Ashman was, that's hardly surprising.
One side effect, though, is that those who followed him don't always get the credit they deserve, especially when they were willing to take risks with slightly different directions. There are, then, one or two songs in The Hunchback Of Notre Dame that fit a traditional Disney template. But there are many that don't, and for that, Alan Menken and Stephen Schwartz deserve credits. I never really warmed to the lyrics of Pocahontas that Schwartz penned (that was his first Disney project), but his words have real bite in the songs of Hunchback.
Let's contextualise this for a minute. When we think Disney songs, most of us think of the music that gets played over and over on numerous compilation CDs. We think Jungle Book, The Lion King, The Little Mermaid, projects such as those. It's family friendly.
The opening song from The Hunchback Of Notre Dame, The Belles Of Notre Dame, not only features a quite sinister chorus, but is talking about "See there the innocent blood you have spilt, on the steps of Notre Dame". Originally, the plan was to have all of this spoken, but in the end, the decision was made to go with music, just a year or two before Disney would follow the Pixar-driven trend and drop songs from most of its films. In this case, it made the right call.
We're already talking about just how dark the song Hellfire goes, but there's also the earlier duet in Out There between Frollo and Quasimodo. It runs:
"You are deformed""I am deformed""And you are ugly""And I am ugly"
Moving on to..
"Out there they'll revile you as a monster/Out there they will hate and score and jeet/Why invite their calumny and consternation?"
It's hardly High School Musical, is it? And the whole soundtrack is packed with material such as this.
The Hunchback Of Notre Dame also, I might add, boasts one of Alan Menken's very best scores, a triumphant, dark, brooding piece of music. It's up there with his Beauty & The Beast and The Little Mermaid work for me, and it's a pity that he and Schwartz have only collaborated once since, on the charming 1997 hit, Enchanted.Changes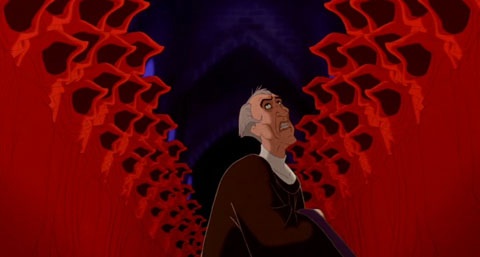 It's perhaps little surprise that its take on The Hunchback Of Notre Dame isn't utterly faithful to the source material. You can read the Victor Hugo novel as many times as you like, but you won't find three talking Gargoyles (which sort-of-take-on the Lumiere and Cogsworth roles from Beauty & The Beast), nor will you find the same ending. There's some character shuffling, too, and if you're after a literary adaptation of the text, then cinema offers other, more suitable, options.
Yet this is what's required to fit everything into a big budget Disney summer animated movie, and looking back at it now, I don't see a major studio with the courage to go quite this dark and intense.
The end result isn't the definitive big screen take on The Hunchback Of Notre Dame, but then it wasn't supposed to be. Instead, it's bold, courageous movie making, one where the lead guy doesn't get the girl (they just stare at him with slightly kinder eyes), where the shops aren't bulging with toys at the end, and where the narrative stays closer to the tone of the book that you could have ever realistically expected.
Granted, it's tidied up in slightly more conventional fashion at the end (Frollo explaining to Quasimodo what he'd done, another Disney villain falling to his doom), but that's a very small price to pay for one of the 90s' very best blockbuster movies of any genre.
Visually striking, and rewarding as many rewatches as you can give it, it's crying out for a proper, comprehensive DVD and Blu-ray release.
Can we have one, please?
See Also: