Features
Looking ahead to Studio Ghibli's next releases
The first footage from Ghibli's next two films has emerged, along with details of a documentary that shows the Japanese studio at work...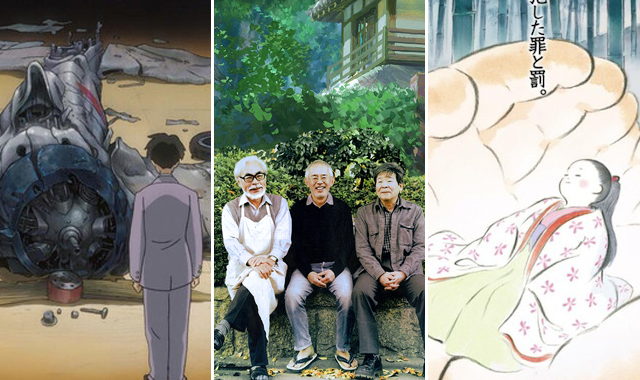 A significant year for Studio Ghibli, 2013 is the 25th anniversary of two of its most significant feature films: My Neighbour Totoro and Grave Of The Fireflies. And to mark the simultaneous release of those landmark pieces of animation, studio founders and respective directors Hayao Miyazaki and Isao Takahata have been working on two new movies – The Wind Rises and The Tale Of The Bamboo Cutter.
Originally timed to be released as a double bill, just as Totoro and Grave were in Japan all those years ago, their timings have, unfortunately, since slipped: while the release of Miyazaki's The Wind Rises is still scheduled for the 20th July in its native country, Takahata's The Tale Of The Bamboo Cutter has edged back to the autumn, with the studio citing incomplete story boards as the reason for the delay.
The lengthy process of translation, subtitling, dubbing and distribution will likely mean that we won't see either film for at least a year in the UK – 2008's Ponyo, for example, didn't appear on these shores until February 2010. Instead, we have Goro (son of Hayao) Miyazaki's From Up On Poppy Hill out later this summer – a feature that originally came out in July 2011 in Japan. A slight, gentle yet sublimely animated period drama, Poppy Hill is another charming release from Ghibli, even if its lack of fantastical creatures and machines may wrong-foot viewers who are more used to its more outlandish work.
The past few days have seen the first few glimpses of the studio's forthcoming movies emerge from the mists of the internet. And while it may be a long time before we get to see the finished products, it's never too early to get just a little bit excited about the Ghibli's magical output.
The Wind Rises – Kaze Tachinu
Hayao Miyazaki's love for flying and aeroplanes is readily found in much of his work, from the ethereal gliders of Nausicaa to the daredevil pig in Porco Rosso. The Wind Rises is based on a manga (itself an adaptation of a short story) about the designer of the Mitsubishi Zero Fighter, a plane whose extraordinary engineering earned the respect of even its enemies during and after World War II.
If that sounds like a somewhat dry premise for an animated feature, rest assured that Miyazaki's humanity and lightness of touch is all over the first look at the film enclosed above. The swooping flying machine, use of light and sense of wide-eyed awe recall the wondrous fantasy of Castle In The Sky as much as a period drama. This YouTube clip is The Wind Rises' first Japanese teaser trailer, and we can't wait to see more.
The Tale Of The Bamboo Cutter – Kaguya-hime no Monogatari
Looking very different yet no less captivating, this first look at Isao Takahata's Bamboo Cutter – which comes to us via our friends at Bleeding Cool – has the delicate line work and colours of a Japanese ink drawing come to life. It's a lot like the technique Takahata used before in the 1999 feature, My Neighbours The Yamadas, a series of gentle vignettes about an ordinary Japanese family. There's far more detail and depth in Bamboo Cutter, though, and the look of it could be described as a mid-point between The Yamadas and the richness of the heartbreaking Grave Of The Fireflies.
Based on a traditional Japanese folktale of the same name, the film's about the titular cutter who finds a tiny infant inside a stalk of bamboo. The traditional quality of the animation is entirely of a piece with its subject matter, and while its roots in Japanese myth and history may make it a tricky sell to western audiences – compared to its more commercial output like Spirited Away, for example – it nevertheless looks like another lovingly-made, individual piece of work.
The Kingdom Of Dreams And Madness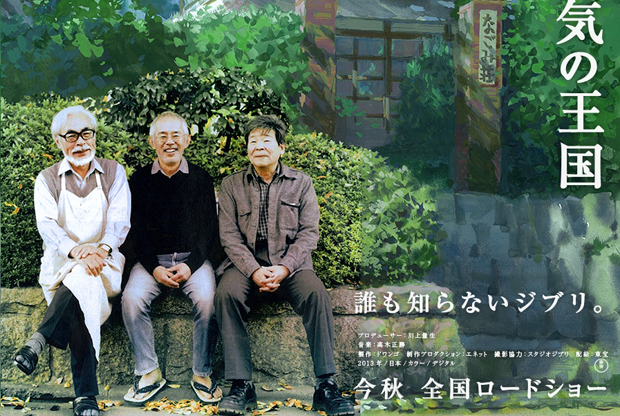 Studio Ghibli's passion for animation will be brought under the spotlight in this potentially electrifying documentary by filmmaker Mami Sunada. Going behind the scenes at the studio as Miyazaki and Takahata work on The Wind Rises and The Bamboo Cutter, it could provide a unique insight into the day-to-day workings of these famously exacting filmmakers. The title itself is a reference to Miyazaki's single-minded quest for perfection; according to First Showing, Sunada said of it, "I think that having a dream entails having a bit of madness, no matter what the profession. There are times when you will go to extremes, and times when you are feared by others for that."
It isn't at all clear when we'll get to see any of these movies, but each one, for its own individual reasons, is an absolute must-watch for us. When we find out some more about them, we'll be sure to share our findings with you right away.