News
Look Who's Talking Reboot in the Works
Screen Gems is angling to reboot '80s classic Look Who's Talking for modern audiences.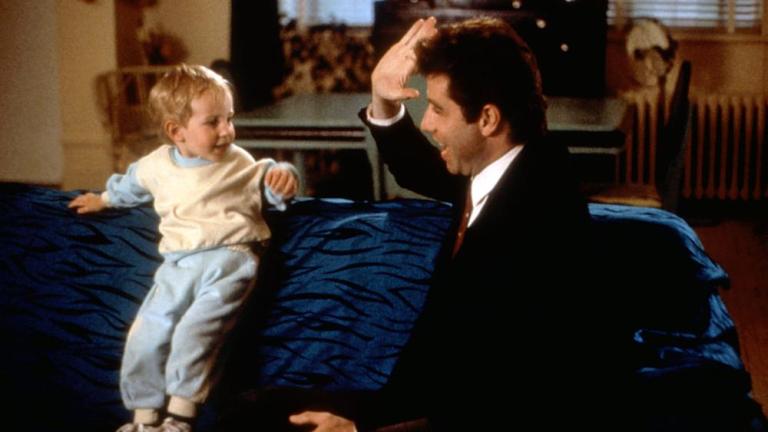 Look Who's Talking is in line for the reboot treatment at Sony Pictures' Screen Gems. Via Deadline, Jeremy Garelick (The Wedding Ringer) is attached to write and direct the project.
Amy Heckerling's original 1989 TriStar rom-com starred Kirstie Alley and John Travolta as mismatched pair Mollie and James, who fall in love after meeting accidentally when heavily pregnant Mollie catches a ride in James' cab to the hospital to give birth. Mollie has been having an affair with married exec and total garbage man Albert (George Segal), who doesn't want much to do with her or their baby. In the film, Bruce Willis voiced the internal monologue of their sprog, Mikey, to give the audience a perspective on how life and love looks to a fresh member of the human race.
"What excited me about doing this is, I have four kids, including twins, and this is something they can watch, and share some of the experience I had with my wife," Garelick said in a statement. "Like, figuring out how to raise these kids, with all the mistakes that happen. Add in the voices that are keyed to facial expressions, it just really seems like a fun idea. Everyone can relate to babies. The challenge is, that was a really good movie, Travolta and Kirstie Alley had great chemistry and Amy Heckerling wrote a great script. We're in the early stages of figuring out what the story is for the modern version of the movie."
Two sequels to Look Who's Talking followed the first sleeper hit, which made $300 million off a $7.5 million budget. 1990's rushed-out Look Who's Talking Too and 1993's Look Who's Talking Now did, shall we say, less well at the box office. A two-season TV series called Baby Talk starring none other than George Clooney, which took some ideas from the films and ran with them, followed in the early '90s.
More on this as it happens.