News
Long Shot Trailer Shows Charlize Theron and Seth Rogen Fall In Love?!
Check out the trailers for Jonathan Levine's Long Shot, a comedy with the unlikely pairing of Charlize Theron and Seth Rogen.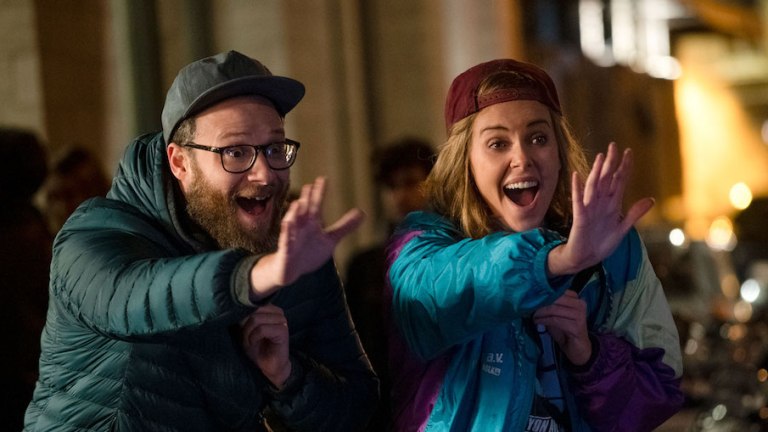 There are unlikely couplings and then are those that have to live up to the lofty title of Long Shot. The Charlize Theron and Seth Rogen-starring comedy seems to be just that as it pitches the unlikely idea of Charlize Theron, working in the film as Secretary of State, having an unexpected romance with her speech writer, a bearded gentleman played by none other than Seth Rogen. Yeah, we thought that would get your attention too.
The film, directed by Jonathan Levine (Warm Bodies, 50/50), is a summertime comedy that stars Theron as Charlotte, a D.C. insider who only somewhat remembers Fred Flarsky. Back in the day, she used to be the teenager babysitter for Fred when he was very young; today he's played by Rogen as a struggling journalist looking for a change of pace. Remembering Charlotte from his childhood, he applies to become her speechwriter, which inadvertently leads to an unlikely romance when a consulate they are visiting comes under fire. As bullets fly, so apparently do the sparks. – O'Shea Jackson Jr., Alexander Skarsgård, and Andy Serkis also appear.
Long Shot Trailer
Here's the latest clips and teasers for Long Shot.
Below is the debut trailer, which arrived back February.
Long Shot Release Date
Long Shot will be released on May 3.
The film had an advance screening premiere on March 9 at South by Southwest. This would suggest Lionsgate has confidence that this both old-fashioned but high-concept romantic comedy has some staying power with audiences. Given Levine's previous success with laughs in the most awkward of situations—including a romance of zombies—this wouldn't be too surprising. The film is also borne from a screenplay co-written by Liz Hannah, who co-wrote the script to Steven Spielberg's The Post, suggesting the movie could have some meat beyond the humor. Dan Sterling (The Office, The Interview) also co-wrote the screenplay.