News
Logan Will Get a Black and White Theatrical Release
You'll get one more chance to see Logan in theaters, but this time with a twist.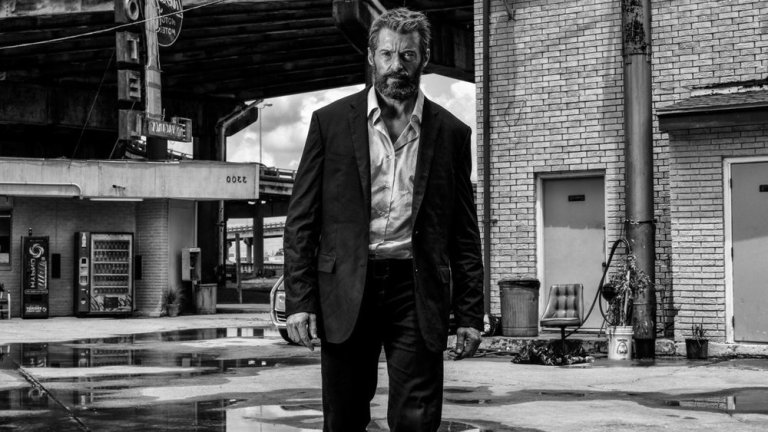 Was Logan perhaps not bleak and cinematic enough for you? Do you think that it could, perhaps, if it tried a little harder, be a little bit more hardcore? Well, we've got good news: Logan will get one more night in theaters, but this time in black and white.
Logan isn't the only desert set critical darling to get the black and white treatment, as Mad Max: Fury Road is getting the same treatment. But Logan will also benefit from the black and white look, especially if it's an excuse to see it on the big screen again.
Director James Mangold broke the news with a tweet:
— Mangold (@mang0ld)
April 28, 2017
He also confirmed that the black and white version will be included on the Blu-ray and DVD release.
The teaser that was shown during the Super Bowl isn't much in the way of new footage, but it's heavy on the atmosphere with "Amazing Grace" adding a sense of finality.
Logan Rating
Now, the R-rating has been confirmed by Mangold himself, who took to Twitter to share in the good news:
— Mangold (@mang0ld)
January 23, 2017
For those who wonder if this was a quick decision made to cash in on Deadpool, think again. Our sources with knowledge of the film's production from before Deadpool's opening, said the intention was always to strive for that "brutal violence." 
If the final poster were any grimmer, it could read, "No Country for Old Mutants."
Wolverine 3: Logan Story
Hugh Jackman finally revealed an official synopsis for the movie, too.
In the near future, a weary Logan cares for an ailing Professor X in a hide out on the Mexican border. But Logan's attempts to hide from the world and his legacy are up-ended when a young mutant arives, being pursued by dark forces.
There's also a pretty detailed plot synopsis now…
In 2024 the mutant population has shrunk significantly and the X-Men have disbanded. Logan, whose power to self-heal is dwindling, has surrendered himself to alcohol and now earns a living as a chauffeur. He takes care of the ailing old Professor X whom he keeps hidden away. One day, a female stranger asks Logan to drive a girl named Laura to the Canadian border. At first he refuses, but the Professor has been waiting for a long time for her to appear. Laura possesses an extraordinary fighting prowess and is in many ways like Wolverine. She is pursued by sinister figures working for a powerful corporation; this is because her DNA contains the secret that connects her to Logan. A relentless pursuit begins…
Also last February, we reported that the then-untitled Wolverine 3 from director James Mangold would boast an R-rating, and be at least loosely based on the Old Man Logan comic book story. Eventually, X-Men movie executive producer Simon Kinberg has come out to confirm the former and hint pretty strongly at the latter.
Speaking with Collider, Mr. Kinberg said that Wolverine 3 "takes place in the future" and "it's an R-rated movie." That future setting is one of the hallmarks of Old Man Logan. "It's violent," he continued, "it's kind of like a western in tone. It's just a very cool, different film."
I wouldn't expect this to be any kind of literal translation of the Old Man Logan comics. As we've seen with other superhero movies that boast titles related to famous comic book stories (Days of Future Past, Civil War), these films tend to be inspired by their source material but not beholden to them.
We also can thank James Mangold for giving us the second full page of the screenplay to read, which indicates healthy violence to come and the beginning of a grim action scene.
— Mangold (@mang0ld)
October 5, 2016
Director James Mangold (who helmed 2013's The Wolverine, as well) and Hugh Jackman are adament about doing things a little bit differently in regard to Logan, and that goes for the marketing too. In addition to the widely popular trailer with Johnny Cash, the filmmaking team continue to not mince words on emphasizing that this is a different kind of superhero movie.
For instance, while speaking to Empire, Jackman tellingly talked about how the film is about legacy while Mangold side-eyed recent superhero fare.
"The goal was to make something human," Mangold told the magazine. "We made an effort to scale back on the gloss and greenscreen."
Similarly, Jackman said, "It's essential you see this as the story of a man who is struggling with mortality and legacy, and whether the world has been better off with him or without him."
This ties into the second page of the Logan screenplay that Mangold tweeted onto the internet last month. There, Mangold produced a sort of mission statement, which included the following colorful words:
Now might be a good time to talk about the 'fights' described in the next 100 or so pages. Basically, if you're on the make for a hyper choreographed, gravity defying, city-block destroying CG fuckathon, this ain't your movie.

In this flick, people will get hurt or killed when shit falls on them. They will get just as hurt or just as killed if they get hit with something big and heavy like, say, a car. Should anyone in our story have the misfortune to fall off a roof or out a window, they won't bounce. They will die.
As you saw in the trailer, things are certainly different for Patrick Stewart's Charles Xavier this time around. Like Jackman, this will be the last time Stewart plays this role…
— Mangold (@mang0ld)
October 6, 2016
Wolverine 3: Logan New Character Details
Some more images from the production have made their way onto social media. Some of them we're not sure what to make of, but the latest batch seem to indicate that a familiar mutant will be in on the party this time.
Looks like we're getting the mutant-hunting Reavers in this one, too…
Many of the roles in this movie have been kept tightly under wraps, but it appears that Stephen Merchant is playing a mutant we recently met in another X-Men movie. Check out these pictures:
— Mangold (@mang0ld)
October 17, 2016
He sure looks a bit like Caliban, who featured in X-Men: Apocalypse, although the character was played by Tómas Lemarquis in that film.
And then there are these badass storyboards from Gabriel Hardman…
— Mangold (@mang0ld)
October 13, 2016
And then here are those weird location shots…
This one asks…where are all the mutants?
Sienna Novikov is playing "Laura." Wolverine's female clone, known by the codename of X23 has gone by the name of Laura in the past. There's more smoke to this fire, as Richard E. Grant is apparently playing Dr. Zander Rice, who was responsible for X23's creation in the comics.
Logan Villain
Boyd Holbrook (Gone Girl) joined the cast last year under a shroud of secrecy about his character, but a new image from James Mangold reveals who he's playing: Donald Pierce.
Check it out:
The comic book version of Donald Pierce is a cyborg, and a nasty piece of work who's a member of the Hellfire Club and The Reavers. Given the futuristic setting of Logan, his mutant-exterminating mission with the Reavers is likely to take front and center.
It's also possible that Mr. Sinister, who was hinted at in the post-credits scene of X-Men: Apocalypse, is the big baddie, but speculation that it's Richard E. Grant's character may be premature. But statements from Simon Kinberg on the X-Men: Apocalypse Blu-ray commentary would seem to indicate that he's at least a factor in this film.
Logan Score
Here's a quick snippet of the film's score:
— Mangold (@mang0ld)
January 23, 2017
Wolverine 3: Logan Images
Some other images from the set have started making their way around, too:
— Mangold (@mang0ld)
November 1, 2016
— Mangold (@mang0ld)
November 1, 2016