News
Logan Lucky Trailer, Clip and Release Date
Channing Tatum and Adam Driver headline heist movie Logan Lucky, joined by Daniel Craig, who's in rare form.
Logan Lucky appears to be the shaggy, whiskey-soaked misfit cousin of the star-studded Ocean's Eleven heist films; something attributed to fact that director Steven Soderbergh steps behind the camera for the upcoming effort, having ceded his director's chair in the Ocean's film franchise to Gary Ross for 2018's female-cast-showcasing Ocean's Eight. Indeed, Logan Lucky puts a grittier, funnier spin on the heist movie genre, while brandishing some star power in its own right.
Logan Lucky Trailer
While the Logan Lucky trailer has properly conveyed the Southern-fried insanity of two brothers attempting a grandiose heist of NASCAR money, a full clip has been officially released, showing the surreal sight of current James Bond star Daniel Craig sporting a Southern accent and living up to the derisive, fan-given nickname "James Blonde," while making a monologue that's mirthfully monumental.
The scene in question, which was briefly brushed upon in previous trailers, shows brothers Jimmy Logan (Channing Tatum) and Clyde Logan (Adam Driver) turning to the help of Craig's momentarily incarcerated Joe Bang to mastermind their elaborate NASCAR heist, centering on the racing organization's usage of pneumatic tubes to transport cash. This full scene, in which Craig plots out the heist for the Logans, is certainly a sidesplitting spectacle that should help sell the film.
Fans of Star Wars should also take note that Logan Lucky serves as a reunion of sorts. In 2015's Star Wars: The Force Awakens, Adam Driver's role as the tantrum-prone Dark-Side-addled antagonist Kylo Ren was complemented by a cameo by Daniel Craig, who played the random stormtrooper who, thanks to a Jedi Mind Trick, was manipulated into freeing Rey from the custody of Kylo; an occurrence that led to one of Kylo's most destructive lightsaber-dealt tantrums.    
Here is the Logan Lucky trailer, a hilarious and intense montage of tomfoolery depicting the hapless, yet, elaborate, heist to rob the cash-filled pneumatic tubes of a major NASCAR event. Indeed, it makes one want to relax with a nice game of toilet seat Horseshoes after all of that planning and hard work.
The stacked Logan Lucky cast also consists of Riley Keough, Katherine Waterston, Seth MacFarlane, Katie Holmes, Hilary Swank, Dwight Yoakam and David Denman.
Logan Lucky Poster
The Logan Lucky poster is as appropriately rustic, while literally rolling in cash, as the film it promotes, showing Channing Tatum and Adam Driver as the titular Logan brothers Jimmy and Clyde, with Daniel Craig's Joe Bang and Riley Keough's Mellie Logan standing behind them.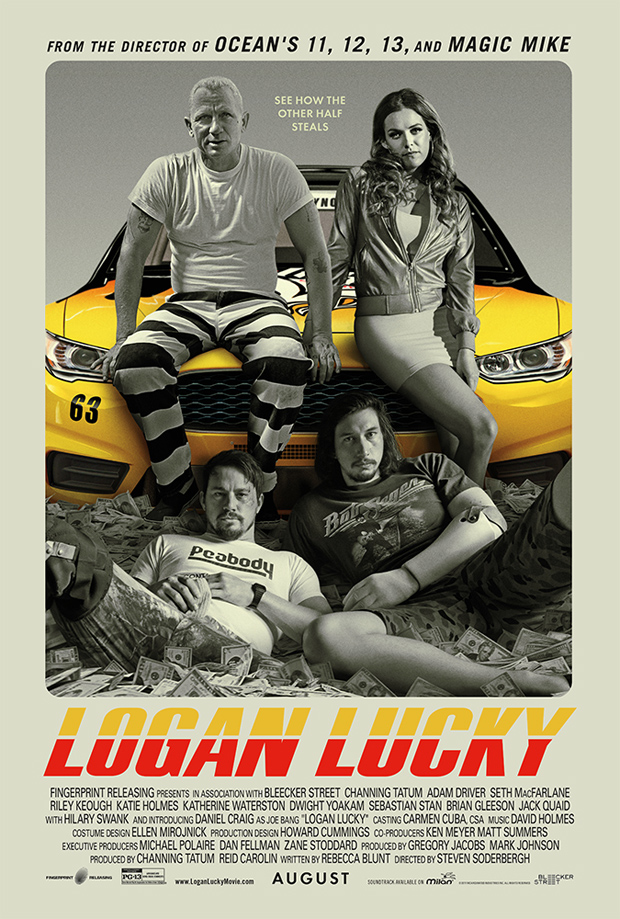 Logan Lucky Story
Per the official synopsis:
The Logans are a blue-collar family from the hills of West Virginia, and their clan has been famous for its bad luck for nearly 90 years. But the conniving Jimmy Logan (Channing Tatum) decides it's time to turn the family's luck around, and with a little help from his friends, the Redneck Robbers, he plans to steal $14 million from the Charlotte Motor Speedway on the busiest race day of the year.
Logan Lucky Crew
Steven Soderbergh is in the driver's seat as director of Logan Lucky, working off a script by Rebecca Blunt.
Soderbergh, of course, was the director for star Channing Tatum's household-name-level breakthrough role in 2012's original stripper drama Magic Mike. Following the release of his HBO Liberace biopic, Behind The Candelabra, the Academy Award-winning writer and director, and Ocean's Eleven heist movie franchise maestro Soderbergh, revealed that he was stepping away from movies, and instead exploring the likes of the small screen. Of course, that turned out not to be the case.
Logan Lucky Release Date
Logan Lucky arrives on August 18, 2017.