Reviews
Living In Oblivion DVD review
A Steve Buscemi movie that it's been borderline impossible to get hold of for years, Martin checks out Living In Oblivion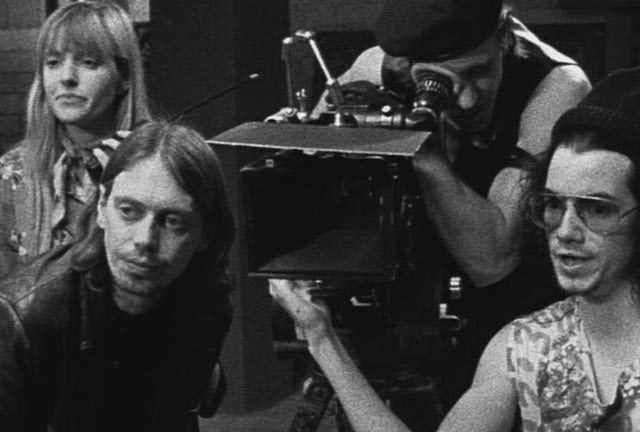 However strong a film fan's convictions may be that filmmaking itself must be a glamorous pursuit, movies about movie-making can quickly vanish up their own fundaments: Woody Allen has bored many a patient fan on this subject in many a film; RKO 281 was an overly whimsical account of the making of Citizen Kane; Kiss Of The Vampire only narrowly avoided a total descent into self-reference; Gods And Monsters managed to leaven the introspection with invented characters  to move the plot forward and fascinating biographical details about Frankenstein director James Whale; whilst Bowfinger and Ed Wood won their audiences over with humour.
Jim Jarmusch collaborator Tom DiCillo wisely followed the comic road in Living In Oblivion, a thinly-veiled look behind the scenes at the making of his first (and previous) feature, the early Brad Pitt vehicle Johnny Suede. Here an on-form Steve Buscemi stands in for DiCillo as Nick Reve, an independent film-maker on a low budget and a tight schedule who is struggling to get a flaky and exhausted cast and crew successfully through a night shoot at a makeshift studio in an otherwise-abandoned factory.
It's no picnic: Wolf, the arty and opinionated cameraman (played by Dermot Mulroney) has been poisoned by bad milk in the coffee and fails to get the only good take out of twelve of a critical emotional scene, because he's throwing up in the bathroom; Wolf's girlfriend is about to make things worse by abandoning him in pursuit of lothario and arch-narcissist Chad Palomino, the film's star (and a patent skit on Brad Pitt himself); the leading lady (Catherine Keener, then Mulroney's wife) has just emerged from Chad's overworked bed and is out for blood at being dumped; to make matters worse yet, Nick is in love with her himself and must pull off an impossible shoot with a broken heart.
Oblivion veers with abandon – but also with a meaningful plan – between colour and black-and-white footage, and through different grades of film-stock, as well as in and out of 'reality' by painting the early disasters as the nightmares of various members of the cast and crew. If it sounds confusing in theory, it isn't in practice, and the film tells the story of the difficulties of shooting three particular scenes in a pragmatic manner despite these gimmicks and stylisms. It even mocks proto-stylist David Lynch a little by making the third scene a Twin Peaks-esque dream sequence, where the requisite dwarf proves to be something of a prima-donna, complaining of typecasting: "I don't even have dreams with dwarves in them!".
Though the final two-thirds of the movie were shot six months after the initial 'scene shoot' that was originally intended to comprise one half-hour short film, the tripartite structure hides the join nicely, even if the 'dream sequence' shoot is a little heavy on broad comedy compared to the stories of filming the previous two scenes. Threaded through moments of comic madness and exasperated hysteria (particularly from Buscemi in one explosively hilarious break from his Herculean diplomacy) are vignettes of tenderness that endear us to all but the vilest characters.
It's difficult to say if the disappointment at the film's seemingly abrupt conclusion is a result of bad pacing in a retro-fitted script or simply sadness at leaving this engagingly neurotic bunch of misfits who are trying to put dreams on the screen whilst haunted with their own fantasies and nightmares.
This is a very funny cult film and a must-have for movie-buffs fascinated with the process. Extras include a fairly insightful director's commentary, deleted scenes and an interview with DiCillo and Buscemi after a special showing of Living In Oblivion at the Golden Age Of Cinema film festival in 2002.
DiCillo has won a place in the heart of small (and large) film-makers the world over with this humble little comedic love-letter to movie-making. Even if it assured he would never work with Brad Pitt again.
Dir: Tom DiCillo, 1995Distributor: Second SightDiscs: 1Runtime: 86 minutesExtras:· Interview with Tom DiCillo and Steve Buscemi· Tom DiCillo commentary·  Deleted scenes