News
Little Women: Florence Pugh Comes to Amy March's Defense
Florence Pugh considers why some unfairly hate Amy March in Little Women... and entering a Timothée Chalamet and Saoirse Ronan triangle.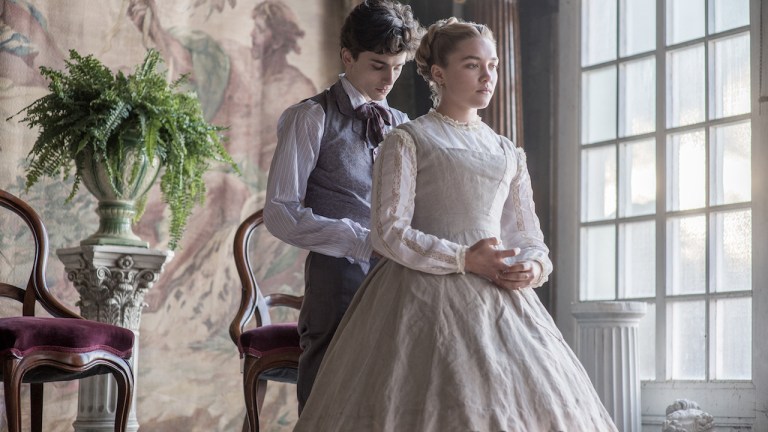 Florence Pugh has an unenviable task heading into Little Women. While the Greta Gerwig-directed film marks an amazing opportunity for the young actor, who is already having a banner year with movies like Midsommar and Fighting with My Family, there remains the fact that she is playing Amy March. In addition to being the youngest of four sisters, beginning the story as a child and ending it as a young woman, she is also a character who is quite antagonistic to her older sister Jo (Saoirse Ronan). She also vies for the affections of Jo's BFF Theodore "Laurie" Laurence (Timothée Chalamet).
Florence Pugh is aware of the challenge.
"Yeah, I had to play a character that everybody hates, essentially is the truth," Pugh laughs when we catch up with her earlier this month for the Midsommar Blu-ray release. "I think Amy's had a tough go, and I think the right thing I've always loved about children is that they don't know how to express themselves. I think something so fascinating about just watching a kid, whether it's at a barbecue or when you're putting a baby to bed, is they don't know how to talk and they don't know how to express this huge anger or this huge upset."
In Pugh's mind that inability to communicate her disappointments or even justified grievances is why Amy gets a bad reputation among many Little Women readers.
"Amy's in that sweet spot of nearly being an adult but also being a child and she doesn't quite know how to deal with it. And she's also very truthful and very blunt. I think that's the coolest and cutest thing about kids; they can tell you just how ugly you look, or just how much you've put on weight over Christmas, and they just say it like it's fact, and you know it's fact…. She's not wrong, she just doesn't know how to say it yet."
But in Gerwig's new vision of Little Women though, Amy is getting her perspective showcased. The beloved Louisa May Alcott novel, which saw its first volume published in 1868, told the story of four March sisters growing up during the Civil War and then later as they enter adulthood. Most films—including the popular 1994 adaptation where Amy was played by Kirsten Dunst at age 12 and Samantha Mathis at age 16—often focus on the younger years where audiences assume Jo's biases.
However, the new movie is set to focus just as much if not more on the latter half of the story with a heavy emphasis on Amy going out in the world as a companion to Great Aunt March (Meryl Streep). It also will have to convince Saoirse Ronan and Timothée Chalamet fans that it's okay to ship Laurie with a different March sister.
Says Pugh, "I think there's something that Saoirse and Timmy do so well, even in that… big argument where Laurie and Jo finally have it out, and he tells her that he loves her and she tells him that she doesn't. I think that the great thing is that Saoirse and Timmy have that unique brother-sister chemistry anyway, and it's there in bucket loads." To Pugh, her co-stars make it obvious Jo and Laurie don't belong to each other, and that Jo cannot love him in that way.
… Pugh then adds, "And of course Amy is always going to get the brunt, because 'she took him away from her,' but I hope people see Laurie's and Amy's love for one another too."
read more: Black Widow – How Florence Pugh Joined the Marvel Universe
For a certain strain of Little Women readers that's a complicated ask, but given how positive early buzz has been about the Gerwig-helmed period piece, it appears Amy may not need to be so eloquently defended for much longer.
Little Women opens on Christmas Day, Dec. 25.
David Crow is the Film Section Editor at Den of Geek. He's also a member of the Online Film Critics Society. Read more of his work here. You can follow him on Twitter @DCrowsNest.