News
Little Monsters Release Date and Trailer for Lupita Nyong'o Zombie Rom-Com
Lupita Nyong'o and Josh Gad star in Little Monsters, a mirthfully undead zombie movie that's set for Hulu.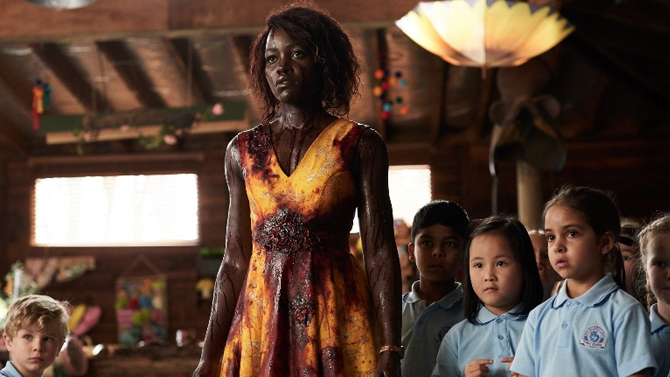 Lupita Nyong'o, the Oscar-winning breakout star of 2013's 12 Years a Slave, continues a tour-de-force of high-profile projects that's seen her – via digital motion capture – as Maz Kanata in the Star Wars Sequel Trilogy (including this December's The Rise of Skywalker,) and as Nakia in Marvel's Black Panther. However, her role in this film, Little Monsters, will be a major change of pace, playing a sanguine, sun-dress-wearing school teacher in a romantic, comedic zombie movie.
Not to be confused with the 1989 Fred Savage/Howie Mandel children's fantasy classic of the same name, Little Monsters is the brainchild of director/writer Abe Forsythe. The Aussie actor-turned-director most recently directed the 2016 Australian comedic crime drama film, Down Under, and an array of Aussie TV shows, notably dark comedy series Laid.
While past genre offerings have tried to merge the zombie genre with comedy and romantic concepts, very few (like Shaun of the Dead and Zombieland) have successfully pulled it off.
In the latest news on Little Monsters, it appears that the film just took a major distribution detour… to Hulu!
Little Monsters Release Date
Little Monsters is now set to bring its zany zombie apocalypse to Hulu, set to stream on Tuesday, October 11.
The Hulu arrival will occur by way of a limited theatrical screening event on October 8. The film premiered on January 27 at the Sundance Film Festival, and is set to arrive in the UK and Ireland on Nov. 15.
Little Monsters Trailer
A new trailer for Little Monsters has arrived, starring Lupita Nyong'o, who seems to be channeling The Sound of Music's Sister Maria as an upbeat guitar-strumming schoolmarm, whose task of looking after a group of kids on a school trip gets interrupted by an ever-inconvenient zombie apocalypse.
You can also check out the first trailer just below.
Little Monsters Cast
Lupita Nyong'o stars here as Miss Caroline, opposite Aussie actor Alexander England as Dave, a washed-up musician who accompanies his nephew on a school trip with designs to spend time with the teacher, for whom he sports an unrequited crush. Yet, his plans for amorous advances are stifled by the loud presence of a famous kid's show host, Teddy McGiggle (Josh Gad), who makes his own plays for her affections. However, in a seemingly random example of deus ex machina, a zombie outbreak abruptly interrupts the romantic competition, forcing the adults to protect the children.
Nyong'o was last seen co-starring in director Jordan Peele's March-released horror film, Us, and will be seen in director Simon Kinberg's action thriller, 355, joined by names like Jessica Chastain, Edgar Ramírez, Penélope Cruz, Sebastian Stan and Diane Kruger. She's also set to star in Jon Woo-directed actioner The Killer.
Alexander England – who appeared in director Abe Forsythe's Down Under – landed a big break here as a male lead opposite Nyong'o, although that's not to say that England is out of his depth, since he recently appeared in franchise revival Alien: Covenant and 2016 big-budget epic Gods of Egypt, while also fielding a regular role on Australian dramedy series Offspring.
They are joined by Josh Gad, Frozen's Olaf voice actor (who reprised the role for November's Frozen II). He recently fielded an onscreen role in 2017's Murder on the Orient Express. Here he plays Teddy McGiggle, a children's entertainer who is also a monstrous diva when the end of the world comes a-knocking.
Little Monsters Story Details
Dave (Alex England) is an out-of-work ne'er-do-well when he moves in with his sister and her son Felix (Diesel La Torraca). He likes the kid, but he likes Felix's kindergarten teacher, Miss Caroline (Nyong'o) even more. He even agrees to chaparone Felix's class, alongside Miss Caroline, to a petting zoo. But wouldn't you know it? Right next door to the idyllic farm is some nefarious government facility that has accidentally released a zombie contaigon as you're wont to do. Now it is a fight for life and death on the farm, all while Miss Caroline tries to shelter the children and keep them oblivious to the fact they're in mortal danger!
Little Monsters Review
Here is an excerpt from our review of the film back at Sundance.
The star of the piece though is of course Nyong'o in what may be her most vivacious starring role to date. Required to find a sophistication in a character who's guiding star is compassion and empathy, she is able to center the entire film in her star orbit as a goodhearted teacher who may from time to time have to impale a bloodthirsty ghoul. Managing to keep the film from devolving into farce or pure camp, it is Nyong'o who makes Miss Caroline, amazing teacher of the year, come alive in a way that's mirthful instead of maudlin. And again, it cannot be overstated how much she clearly adores rocking out to Taylor Swift's "Shake It Off."
You can read the rest of the review here.
Joseph Baxter is a contributor for Den of Geek and Syfy Wire. You can find his work here. Follow him on Twitter @josbaxter.