News
Linda Hamilton for T4?
Guess post-production for Terminator Salvation isn't as advanced as one might have thought...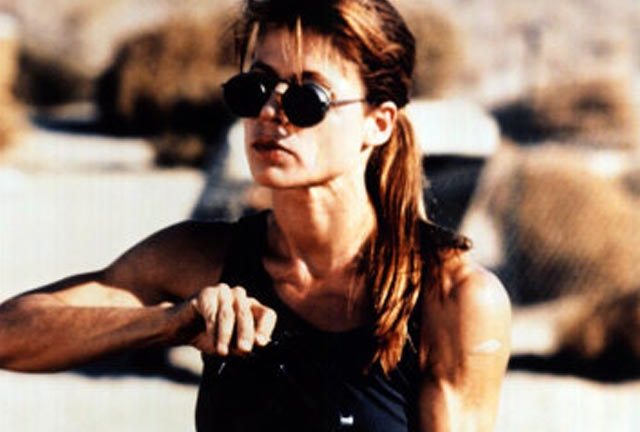 In an interview with MTV, Terminator actress Linda Hamilton has revealed that she's in negotiations to revive her take on Sarah Connor in Terminator Salvation.
"We are talking," said Hamilton, who last played the psyched-out warrior mother in James Cameron's T2 in 1991. "I haven't read it yet. I don't know what direction they will go in. My contribution would be voiceover. I would probably be very happy to loan my voice depending on what the material is. Wait and see. They're already writing it. We've been negotiating it.
McG had already suggested that Hamilton might reprise Connor, at last week's NY Comicon, where the T4 director said of the Sarah Connor character: "She's the greatest. One can imagine she plays an important role."
Hamilton also discussed her non-involvement in Jonathan Mostow's Terminator 3 (2003). "They offered me a part," she said. "I read it and I knew my character arc was so complete in the first two, and in the third one it was a negligible character. She died halfway through and there was no time to mourn her. It was kind of disposable, so I said no thank you."
That version of events is something of a contrast to Jonathan Mostow's T3 commentary, where he said that he couldn't in all honesty see where the Sarah Connor character could go, given the tremendous emotional arc she went through in The Terminator (1984) and T2, and that this was why Hamilton was excluded.
"Originally, when I took this job, I said that I'm only going to do this movie if I can get Linda Hamilton. Because I felt I had to have Sarah Connor in the movie. But the more I thought about it, the more I realised, between T1 and T2, her character went through this big evolution. From T2 to T3, I didn't think she would have really changed that much. She'd still be probably a slightly paranoid, hardened character awaiting the shoe to drop from the future."
from Jonathan Mostow's director commentary, T3
In T3 Connor is shown to have died of cancer, though not before leaving John Connor (Nick Stahl) a useful stash of weapons in the coffin most people thought she had been buried in.