News
Like Father Trailer: Kristen Bell and Kelsey Grammer Netflix Comedy
Netflix comedy Like Father shows Kristen Bell and Kelsey Grammer taking an awkward accidental father-daughter cruise.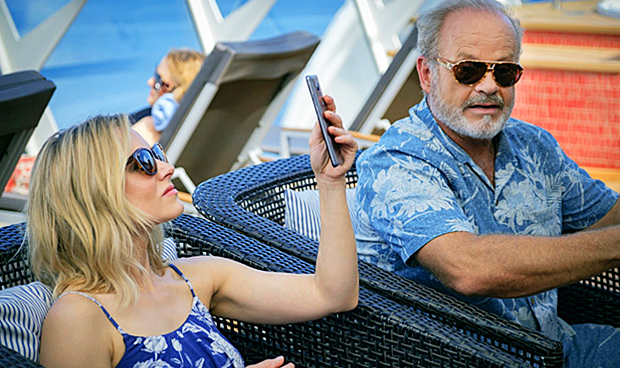 Netflix is providing the platform for a comedically twisted take on both the traditional cruise ship comedy and the father-daughter dynamic with Like Father, which stars Kristen Bell and Kelsey Grammer.
Like Father is the feature directorial debut of Lauren Miller, an actress who's married to comedy star Seth Rogen (who's fielding a supporting role here). Miller works off a script that she co-wrote with Anders Bard.
Like Father Trailer
Netflix has released the Like Father trailer, which starts with the surreal day of a high-strung executive (Bell), who gets left at the altar, reunites with her estranged father (who she hasn't seen since she was five,) and – after a drunken night of commiseration – woke up in a room with said dad on a Caribbean-bound cruise ship to embark on a luxury maritime outing that was intended to be her honeymoon.
Wacky premise aside, the trailer showcases a film that's looking to balance between comedic moments and dramatic – potentially life-affirming – introspection, as both daughter and father use the accidental voyage as an opportunity for self-discovery about the apparently unsatisfying trajectories of their respective career-obsessed lives.
Along with Kristen Bell – whose presence might evoke another similarly-themed sunny comedy in 2008's Forgetting Sarah Marshall – and Kelsey Grammer, the Like Father cast also features Seth Rogen, as well as names like Brittany Ross, Danielle Davenport, Zach Appelman, Wynter Kullman, Lenny Jacobson and Brian McCarthy.
Writer/director Lauren Miller also serves as a producer, joined in that capacity by Anders Bard (the co-writer), Molly Conners and Amanda Bowers.
Like Father Release Date
Like Father is set arrive at its premiere destination of Netflix on August 3.