News
Life Screenwriters Weigh in on Those Venom Prequel Rumors
Rhett Reese and Paul Wernick reveal whether the theory that Life is a Venom prequel has any teeth to it.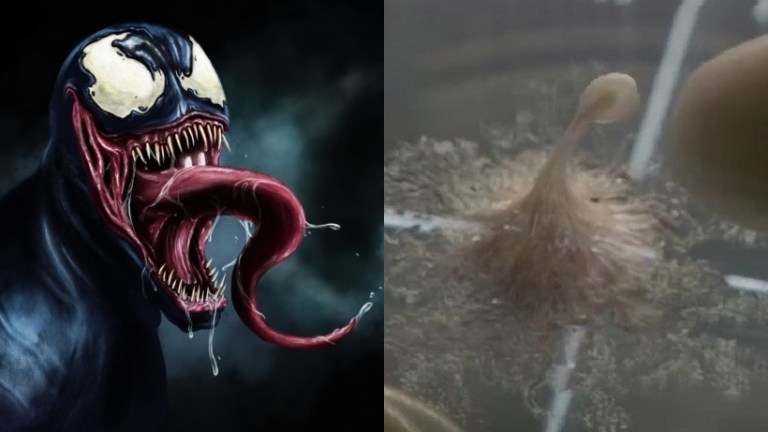 Last week an interesting and crazy theory sprang out of the vast global cloud of rumors, innuendo and conspiracy-mongering known as Reddit: that Life, the new sci-fi film in which an alien organism threatens the existence of a crew of astronauts on the International Space Station, was a secret prequel to the long-in-development movie about Spider-Man villain Venom.
The idea was based on two strands of thought: first, that the alien in Life is a symbiote and attaches itself to other life forms in a way sort of similar to what the Venom symbiote does; and second, that Sony Pictures' final marketing push for Life — which opens this Friday — coincided with the studio announcing that it planned to release a Venom movie in 2018.
Luckily, Den of Geek got a chance to speak with Life screenwriters Rhett Reese and Paul Wernick (Deadpool) about the Life/Venom speculation, and we began by wondering aloud if Venom producer Avi Arad secretly slipped the guys a check to make it happen.
"The irony is that we worked on a Venom script many years ago," said Reese, laughing. "So Avi Arad's already slipped us the check. Unfortunately our draft is in a drawer somewhere, and it's not likely to see the light of day. That said, we think (the theory is) hilarious. Really, really funny and a great fan theory. The great thing about the internet is there's always someone out there who's just a little crazier than you are. We never considered it. That said, if you want to propagate the rumor, please do!"
Wernick admitted that it's not as much of a stretch as one might think, saying, "It's reasonable that this could be the symbiote that ends up back on Earth that attaches himself to Eddie Brock. It's not that far-fetched a theory." Wernick then said in his best movie trailer voice, "Ryan Reynolds…is…Eddie Brock!" adding, "Run with that one."
Well, since Reynolds is in Life and since he already is in business with Reese and Wernick on the Deadpool sequel (more on that soon), could it be…? We'll leave that right there to fester for a while.
Life, not in fact Venom: The Beginning, stars Jake Gyllenhaal, Rebecca Ferguson and Ryan "Eddie Brock" Reynolds and is out in theaters March 24.