News
Legend Of The Guardians: preview footage thoughts
Warner Bros invited us along to take a look at a twenty minute preview of Zack Snyder's forthcoming 3D epic, Legend Of The Guardians. Here's what we thought…
Even the most enthusiastic cheerleaders of 3D will have to admit that, after sitting through the umpteenth terrible after-the-fact stereoscopic cinematic travesty, the novelty's beginning to wear thin. Avatar may have used the process to frequently spectacular effect, but films such as Clash Of The Titans and The Last Airbender, where the 3D process was added late in production, have, in many cases, resulted in drab, unpleasant visuals.
It was, therefore, with a certain amount of jaded weariness that I sat before the preview footage of Legend Of The Guardians: The Owls Of Ga'Hoole, Zack Snyder's CG adaptation of author Kathryn Lasky's series of fantasy novels. Fortunately, it's clear from the first frame that the 3D work in Legend Of The Guardians has been considered early on in its production, and the results are striking.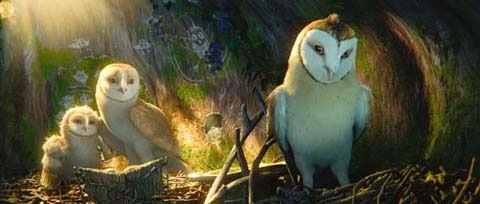 Featuring an all owl cast voiced by the likes of Hugo Weaving, Helen Mirren and Geoffrey Rush, Legends Of The Guardians is a cross between Arthurian fantasy and Avatar, a kind of Owls Of The Round Table, or Owl-vatar, if you will (ouch…).
Soren (Jim Sturgess) is a young Barn Owl who, after accidentally falling from his treetop dwelling with his duplicitous brother Kludd (True Blood's Ryan Kwanten), encounters the sharpened talons of the Pure Ones, a group of evil, masked owls led by Queen Nyra (Helen Mirren). After a narrow escape, Soren heads off to find the Great Tree, the home of the titular Guardians, a race of warrior owls who provide the only chance of defeating the Pure Ones' tyrannical rule.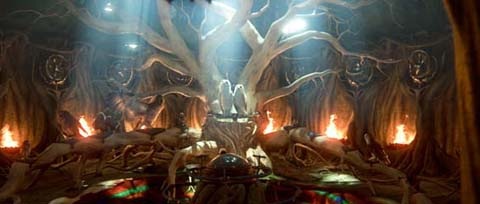 It isn't the plot, however, that Warner is pushing in its preview footage. Instead, the twenty minutes' worth of scenes we're treated to provide a tantalising glimpse of Legend Of The Guardians' visuals, which are, admittedly, impressive.
The film's semi-realistic birds soar and glide among storm clouds, perform barrel rolls among raindrops, and beat the feathers out of each other with their own peculiar style of kung fu. We also learn that all good owls speak in antipodean accents, and that most evil ones talk like London taxi drivers.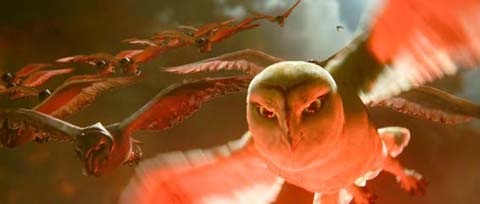 In fact, your overall enjoyment of Legend Of The Guardians will almost certainly depend on your immediate reaction to its avian cast. Its blend of human expressions and almost photorealistic movements is, for this writer, by turns majestic and faintly creepy. If you've ever wondered what a Barn Owl would look like if it could smile, Legend Of The Guardians has the answer.
In fairness to Snyder and his army of CG wizards, Legend Of The Guardians is a mightily impressive looking film, at least from what I've seen so far. Its visual style is a brave step away from the more traditional, cartoon-like aesthetic of Pixar and DreamWorks, and its usage of 3D is both individual and dizzying.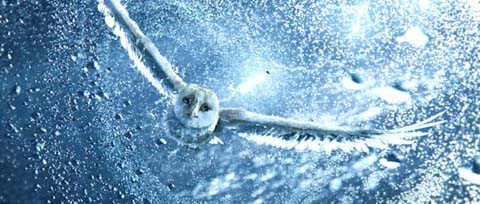 Whether or not Snyder has succeeded in working in an entertaining family movie between the swirling, airborne imagery, only time will tell, but having seen Warner preview, I can safely say it'll be stunning to watch, at least.
Legend Of The Guardians: The Owls Of Ga'Hoole opens in UK cinemas on 22 October.