News
Led Zeppelin Reunion Unlikely, But New Live Music Coming
Jimmy Page says Led Zeppelin is coming out with a book and a live CD, but no reunion shows.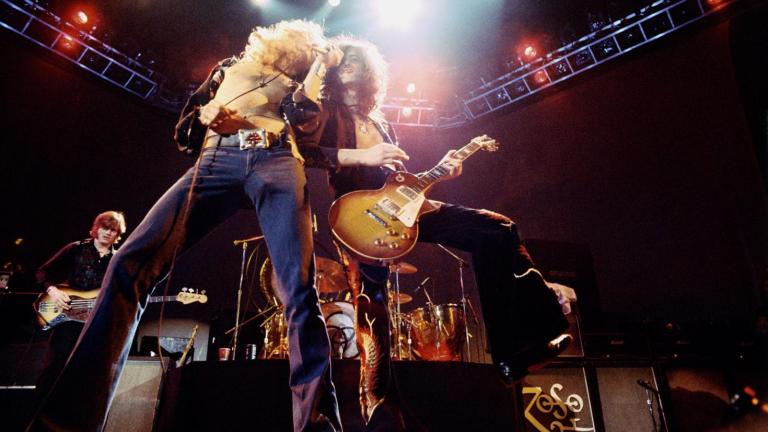 It's been a long time since Led Zeppelin rock and rolled. Guitarist Jimmy Page, Robert Plant and Paul Jones haven't performed together since they played London's O2 Arena in December 2007 as part of an Ahmet Ertegun tribute. Jason Bonham, the son of John Bonham who died in 1980, sat in on drums, But the surviving members of the British heavy rock band have taken some time to do the Stroll down memory lane. In an interview with UK radio station Planet Rock, Jimmy Page revealed that Led Zeppelin is working on a new live album, according to Music Week.
"I can't give the game away, but there's a recording that's another multi-track that we'll release," Page told Planet Rock. "It's so different to all the other things that are out there. It's another view compared to How The West Was Won or The Song Remains The Same. I'm looking forward to people hearing that. There's a lot of stuff to come out, a number of releases. I'd like to say that they'll be coming out over the next 10 years. There's more to come for sure."
How the West Was Won was culled from two concerts Led Zeppelin performed in Southern California in 1972.
Page also revealed Led Zeppelin's surviving members collaborated on a special book commemorating their 50th anniversary that's coming out in October.
"I'm really pleased that we're all doing it collectively, because there are so many other people doing books," Page said. "There's about 10 that I know of that are coming, which is pretty ridiculous! It will be really good to have an authoritative book, where the band are actually contributing to it rather than being ripped off."
Even though the band came together to put the past in perspective, Page doesn't think Led Zeppelin will reunite on stage.
"I very much doubt it," Page told Planet Rock. "You've just got to face facts. We've gone past the 10th anniversary of the O2 [show], where we managed to do one serious concert. That's the only thing that we've done for such a long time, so I very much doubt we'll do anything else. I really think the time has gone."
Robert Plant, who is currently on tour in support of his latest album, Carry Fire, has been a long-time holdout to the reunion. Last October, Plant told the Daily Telegraph "you can't ever really go back.  It's tough enough repeating yourself with something that's a year old, never mind 49 years old. I've got to keep moving."
The 15th-anniversary edition of How the West Was Won will hit shelves on March 23 as a three-CD. This will also be the first time it is available on vinyl.