News
Last Flag Flying Trailer Starring Bryan Cranston, Steve Carrell, and Laurence Fishburne
The Boyhood director is back with a film about the legacy of war, fatherhood, and male friendship.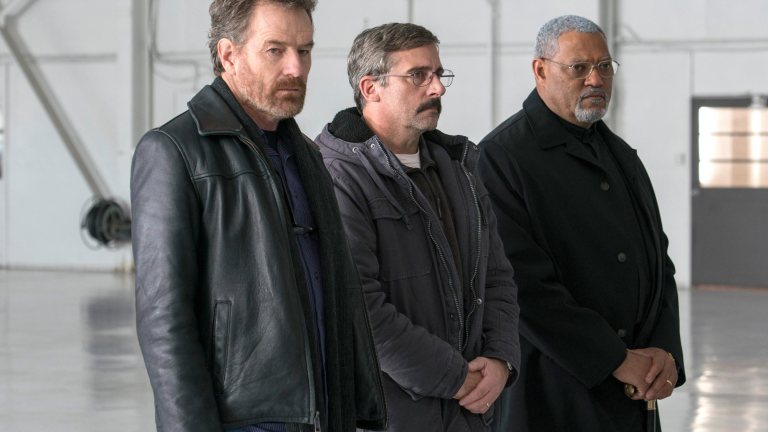 Netflix may get more of the conversation when it comes to the creation of original content, but Amazon Studios, in partnership with Lionsgate, is about to release a heavy-hitter. Last Flag Flying comes from Boyhood director Richard Linklater and stars Bryan Cranston, Steve Carell, and Laurence Fishburne. Any one of those names would catch our attention, but all four together? This movie has our attention.
Last Flag Flying is about three Vietnam War buddies (Cranston, Carell, and Fishburne) reunited after 30 years apart following the death of one of their sons in the Iraq War. Linklater, who wrote the script with Darryl Ponicsan, is known for his quietly powerful films that deal with the effects of the passage of time. Last Flag Flying also seems poised to delve into issues like American militarism through the years and how we honor our fallen heroes.
Check out the trailer…
And here's the full official synopsis:
In 2003, 30 years after they served together in the Vietnam War, former Navy Corps medic Richard "Doc" Shepherd (Steve Carell) re-unites with ex-Marines Sal (Bryan Cranston) and Mueller (Laurence Fishburne) on a different type of mission: to bury Doc's son, a young Marine killed in the Iraq War. Doc decides to forgo burial at Arlington Cemetery and, with the help of his old buddies, takes the casket on a bittersweet trip up the East Coast to his home in suburban New Hampshire. Along the way, Doc, Sal and Mueller reminisce and come to terms with shared experiences of the war that continue to shape their lives. Director Richard Linklater and author Darryl Ponicsan collaborated on the screenplay which follows the trio as they wrestle with the pangs of war both past and present.
Last Flag Flying will hit select theaters on November 3rd.