News
Lando Calrissian Star Wars Movie is Not the Next Spinoff
Reports about Donald Glover's Solo: A Star Wars Story role as Lando Calrissian getting a spinoff are false... for now.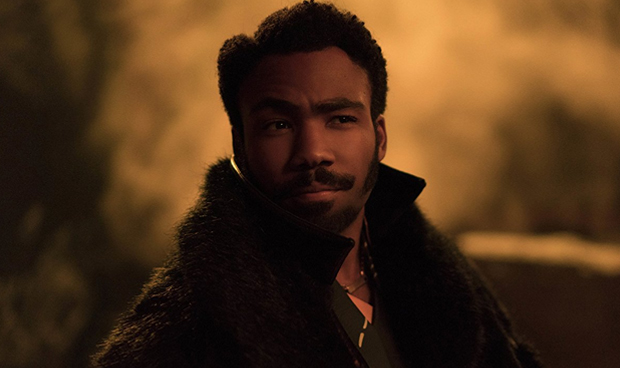 Solo: A Star Wars Story may still be waiting to hit theaters, but the reviews are already in (and that includes our own review), and there's a general narrative out there that's saying that Donald Glover's version of young Lando Calrissian is an enigmatic scene-stealer who just needs better things to do. Consequently, when a report surfaced that supposedly revealed Glover's Lando as the focus of the next spinoff movie, it had a ring of truth, especially since it supposedly came from Lucasfilm's top tier. However, it seems that it was all a misunderstanding caused by bad translation.
Lucasfilm president Kathleen Kennedy made waves when speaking at the Solo: A Star Wars Story premiere at the Cannes Film Festival. There, she fielded an interview with French magazine, Premiere, which attributed some potentially crucial comments about the immediate plans for the Star Wars "Anthology" spinoff movies. However, a major English-to-French translation error led to the publishing of an incorrect narrative about the Lando spinoff movie. Here's the corrected quote (translated via Google):
"We would love to tell one day a story dedicated to Lando Calrissian, but it is not. It would also be fun to tell the story of Han and Chewie."
…And here's how the publication originally published the quote:
"We think the next spin-off will be dedicated to Lando Calrissian. Of course, there are still many stories to tell about Han and Chewbacca, but Lando will be next."
The ever-sly Lando Calrissian has always been a popular character, as played onscreen by Billy Dee Williams in Original Trilogy films The Empire Strikes Back and Return of the Jedi and via voice in an assortment of multimedia projects, most notably in a duo of episodes of the beloved animated series, Star Wars Rebels. However, as mentioned, Glover – formerly best known from TV on NBC's Community – is riding some Midas-touch-like momentum at the moment, not only with the Solo movie Lando role, but his hit FX television drama, Atlanta, increasing momentum in his Childish Gambino rapping side hustle, as well as recent roles in major films such as The Martian and Magic Mike XXL. He's also set to voice the role of Simba in Disney's upcoming live-action The Lion King movie.
Of course, the spinoff film talk has taken several twists and turns over the years. The post-Disney effort kicked off with 2016's Rogue One and now Solo, and the news cycle has pointed to projects (now up in the air) focusing on characters such as Jedi Master Obi-Wan Kenobi (as played by Prequel Trilogy star Ewan McGregor); the wheezing black-clad Sith Lord himself, Darth Vader; as well as a perennial cult-fan-favorite, the stoic Mandalorian bounty hunter, Boba Fett.
There would have been plenty of room in the official Star Wars canon for more Lando stories, likely set after the events of Solo. Yet, with the 2015 Star Wars Rebels Lando appearances seemingly bridging a gap between his gambler/smuggler phase, as seen in Solo, a spinoff movie showcasing the events that facilitate Lando's transition into a legitimate businessman and administrator of the Bespin tibanna gas mining colony, Cloud City (his status in Empire), would have been intriguing. Indeed, fans would have been delighted to see how – as Han famously explained – Lando "conned somebody out of it" before reinventing himself as "the respectable one."
…However, for now, it's just not happening.
Solo: A Star Wars Story is making its own Kessel Run toward theaters on May 25.
This article was originally published on 5/16/18 and has been updated with crucial new information.