News
Lady and the Tramp Remake Trailer Arrives
Disney's live-action Lady and the Tramp will stream on Disney+, with Tessa Thompson and Justin Theroux as the vocal leads.
Lady and the Tramp is yet another animated classic that Disney is turning into a live-action movie. The iconic original animated feature was released in 1955, adapted from Ward Greene's Happy Dan, The Whistling Dog. The new version is set to premiere on the imminently-launching streaming service, Disney+, mixing live-action and CG, with Computer Chess' Andrew Bujalski penning the script. Furthermore, Charlie Bean (The LEGO Ninjago Movie) is directing.
Here's everything else we know about the movie:
Lady and the Tramp Remake Trailer
The first trailer for the live-action Lady and the Tramp remake is here!
And take a look at the adorable poster: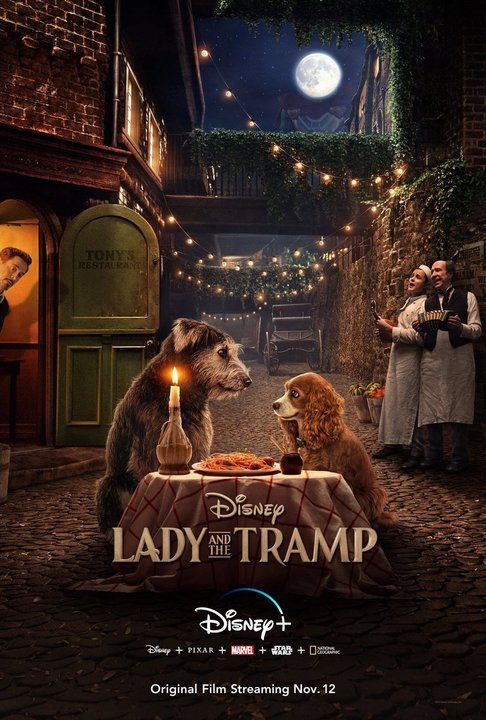 Lady and the Tramp Remake Release Date
Lady and the Tramp will release on Nov. 12 on Disney+.
Lady and the Tramp Remake Cast
Disney announced in 2019 that Tessa Thompson will provide the vocal performance of Lady, an upscale Cocker Spaniel who is a wee bit jealous of her owners' new baby when she crosses paths with a mutt from the wrong side of the tracks. That, of course, would be Tramp, who will be voiced by Justin Theroux. Interestingly, while contemporary filmmaking practices might make one assume that the duo's onscreen canine manifestations would come via CGI, it turns out that Disney is going old-school…ish, with the use of real dogs.
There is some major star wattage here, even only in vocal form, which suggests Disney's streaming service that will compete with Netflix, HBO, and Amazon is coming out of the gates swinging.
Tessa Thompson is especially seeing her career surge with a series of remarkable roles in recent months, including as the duplicitous Charlotte Hale (and more) on HBO's Westworld and a lead role in Sorry to Bother You. She, of course, also recently starred in another film for Disney that had a little theatrical release: Thor: Ragnarok. Justin Thereoux, of course, comes off a long career of eclectic work, including HBO's The Leftovers and, more recently, in Netflix's Maniac with Emma Stone and Jonah Hill.
They are joined by a strong cast that includes Ashley Jensen (Agatha Raisin) as the voice of Jackie, a new take on the dog called Jock in the original 1955 film. Kiersey Clemons (Dope) was cast in the part of Darling, the human owner of Lady. Additionally, Janelle Monáe (Hidden Figures) will voice Peg, Benedict Wong (Doctor Strange) will voice Bull, Thomas Mann (Kong: Skull Island) will play Jim Dear, and Yvette Nicole Brown (Mom) will play Aunt Sarah.
Joseph Baxter is a contributor for Den of Geek and Syfy Wire. You can find his work here. Follow him on Twitter @josbaxter.