Reviews
L A Confidential Special Edition DVD review
One of the finest films of the 1990s, L.A. Confidential has also benefitted from one strong special edition DVD. So does this new disc improve it?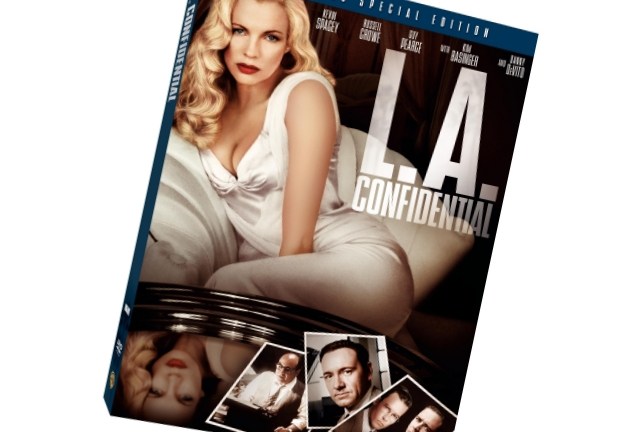 Often imitated, rarely bettered, LA Confidential is one of the great crime dramas of the 90s and one that only gets better with multiple viewings. Curtis Hanson's adaptation of James Ellroy's novel may have been made just 11 years ago, but it channels the spirit of the great film noirs of decades gone before, surveying what they have to offer, liberally borrowing and deciding – and proving – that it could do better.
As with all good noirs there's a soft centre to this hard nut and Russell Crowe's Bud White – the violent cop with a bigger brain and heart than he gives himself credit for – sums this up perfectly. Guy Pearce's bookish Edward Exley may be the hero, but it's White who takes us on this unflinching journey through a complex corruption case in the LAPD.
After a seedy exposition introduction from gossip journalist Sid Hutchings (a wonderful supporting turn from Danny DeVito) that evokes memories of Sunset Boulevard, we first see Bud White simmering in a police car on a Christmas Eve about to dish out a beating to a violent husband. This sets out a tone for Bud for the rest of the movie – prepared to dish out his own form of justice, often deserved, without worrying too much about the consequences.
At the same time, ambitious young sergeant Exley, son of a hero cop, is taking charge of his first duty shift under the watchful eye of Captain Dudley Smith (James Cromwell) and it isn't going well. First, Jack Vincennes (Kevin Spacey), a detective who advises TV show Badge Of Honour and who has a habit of making high-profile arrests, turns up with a young movie star he's busted for drugs, in full view of the press. Then a group of Asians, alleged to have badly beaten two police officers, are hauled in and the station explodes as the force decides to dish out their own form of justice in front of a local reporter.
Exley, the uncorruptable straight guy, immediately offers to testify against the officers responsible and, after leaving an uncomfortable Vincennes no room to manoeuvre, Bud White's partner is offered up as a scapegoat, and pretty soon said partner turns up dead in a horrific bloodbath at an all-night cafe. Exley, Vincennes and White are soon individually drawn into a web of double crossing that involves blackmail, corruption, and a prostitution ring that alters hookers to look like famous movie stars, one of which is Kim Basinger's terrific femme fatale, Lynn Bracken.
What follows is a masterclass in how to slowly simmer a plot and characters. It's often easy to spot where the film is taking us, which is what makes the few unexpected, sudden violent twists all the more shocking. The three officers all slowly start piecing together different aspects of the shooting and, almost without realising it, stumble upon something much bigger than a gangland killing.
As the story slowly unravels we get more of the characters and it becomes clear this case is as much about redeeming themselves as it is getting justice. In one classic scene, Exley reveals to Vincennes exactly why he followed in his father's footsteps and made the decision to work as a detective, when he could have easily shot up the ranks. Exley then asks Vincennes why he joined the force only to be met with a blank stare and "I don't know".
This moral / amoral battle keeps surfacing and, as we get to the heart of the story, the performances go up a notch. The big name supporting cast of Basinger, Spacey and DeVito are brilliantly pitched and never upstage the two leads, while Crowe's performance as White channels the spirit of the likes of James Cagney from start to finish.
Indeed, it's hard not to write about LA Confidential without bringing in references to other classic films in the genre. There's flashes of the aforementioned Sunset Boulevard, Chinatown, and any number of Bogart, Cagney and Jimmy Stewart dramas throughout. Yet this liberal borrowing of styles fused with a very modern sensibility means, although there's plenty of homages in there, LA Confidential is more than capable of standing by itself and showing it most certainly isn't less than the sum of its parts (unlike The Black Dahlia, another Elroy adaptation that shows how to get this style so very very wrong).
By the time the film builds to its final, bloody shootout that is on a par with the best Westerns and gangster flicks, Hanson has shown his audience that classic cinema and storytelling remains the same no matter what era it recalls or is made in, and can stand the test of time years down the line.
Extras As befitting such an epic film, the makers haven't skimped on cramming everything you'd ever want to know about the history of LA Confidential over two discs. The commentary on the first disc isn't overly interesting, despite having seemingly everybody involved with the making of the film giving their insights. Sadly, this makes the commentary a little disjointed and occasionally hard to follow, with James Ellroy and Russell Crowe the most interesting of those involved.
But it does act as a nice warm-up for the second disc which expands on a lot of commentary and pieces everything together more coherently. There are no less than five twenty-minute documentaries on everything behind the scenes. While the documentary from Curtis Hanson and Dante Spinotti, the cinematographer, on the lighting and visual style may be one extra too far, and of interest to cameramen and wannabe directors only, the rest give such a complete picture that, by the end of it all, you feel you know the history of the movie as well as Hanson.
Indeed, the pieces on the making of and casting of LA Confidential are a fascinating insight into how a major studio thinks and why they're weren't keen on the idea of a period noir. At times it seems lifelong LA-er Hanson's enthusiasm was the only reason why the film was made and that may not be too far from the truth. Judging from the comments on the documentary, shot on set compared to the more recent interviews, everybody involved seems to have an even greater affection for the film than they did on set.
In common with most extras, we hear what a great time the cast and crew had and why they bought into Hanson's vision, but this time you feel it's truly meant. Hanson didn't actually pitch the film to the studio, as such, but put together a photo presentation of old postcards, personal images, and prints from the era that would evoke the style of LA Confidential, which we see in the photo pitch. Appropriately, for people working in a visual medium, Regency and Warner Brothers accepted this more readily than they would have done a straight pitch.
Hanson is the guiding voice through the four featurettes made for the special edition, along with the documentary recorded on set. Each part of the movie-making process is taken gradually as we get the complete picture of the set. We follow the idea from the book, to Hanson and co-screenwriter Brian Helgeland's head (interestingly the feature of adapting the book reveals the pair didn't take their script to James Ellroy until they completed it), to the cast being slowly assembled together. There's even a map to the locations in the film, so we get a true sense of how all aspects of the plot tie together.
But perhaps most interesting of all is the 45 minute 1999 LA Confidential TV pilot, which was originally intended to act as a spinoff from the film. Watching it evokes memories of Stephen King's made-for-TV version of The Shining but with a bit more to it, as it takes its source material from the large amount of background plot Hanson and Helgeland jettisoned from Ellroy's novel.
Here the focus is on Jack Vincennes as the main character, with Keifer Sutherland playing the sergeant as a downtrodden soul with plenty of inner demons, a complete world away from Spacey's suave glamour-addicted cop (plus it feels wrong to have Sutherland playing a character called Jack who isn't killing everything in sight). Bud White comes across as dull and Exley as incredibly unsympathetic and unambitious, while Melissa George's Lynn Bracken is a new arrival and far more of a wide-eyed innocent.
The TV pilot may well be closer to Ellroy's original novel (and, oddly, in places evokes the mood of Twin Peakes minus the Lynchian weirdness), but it also proves many of the points Hanson and the team make in the earlier features – the tone, mood and casting have to be spot on with a story such as LA Confidential otherwise a truly great story will end up as something we've all seen a hundred times before.
Film:
Disc: