News
Kung Fury 2 Cast, News, Details and Everything to Know
Kung Fury 2, a sequel to David Sandberg's quirky 1980s-inspired action-comedy short, is bringing major star power.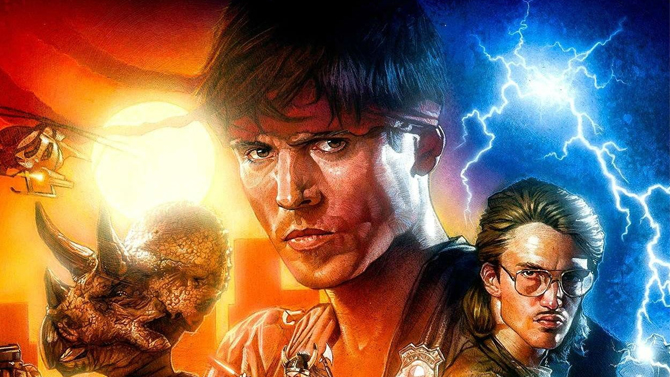 Kung Fury 2 is certainly a curiosity, seeing as average moviegoers would, upon exposure, ask, "What the hell is Kung Fury?" However, said moviegoers will know soon enough when it heads to the big screen.
The film, as its title implies, is a sequel – just not to anything theatrically-released. Rather, it follows up the 2015 action-comedy short, Kung Fury. The short saw David Sandberg (not the Shazam director,) serve as director and star as the titular character, a 1980s-era kung-fu-fighting Miami police detective who – thanks to a buddy's technical wizardry to "hack time" – is on an action-packed, ostentatiously '80s-style hunt for Adolph Hitler (a.k.a. Kung Fuhrer), as played by The Lonely Island's Jorma Taccone. – Yes, it's damn hilarious.
After a tremendous reaction, the seeds were sown for a feature-length sequel, Kung Fury 2, with Sandberg back as director/writer/star, this time with A-list-level company in Michael Fassbender and Arnold Schwarzenegger!
Here's everything we know so far about Kung Fury 2!
Kung Fury 2 News
With filming underway in Germany and Bulgaria, Kung Fury 2's Arnold Schwarzenegger has provided the very first image from the film, in which – as the photo reveals – he lives out what's likely an unrealized aspiration, playing the president of the United States (The Presinator?). Indeed, he's seen laying back in the Oval Office with a stogie, looking ready to engage in a monumentally macho handshake with old army buddies before being hunted by an alien creature in a Central American jungle. (Okay, maybe not that last part.)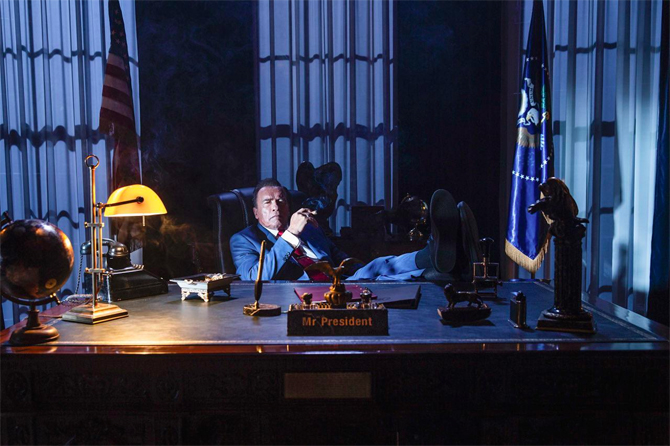 He also posted a set photo of himself with star/director David Sandberg.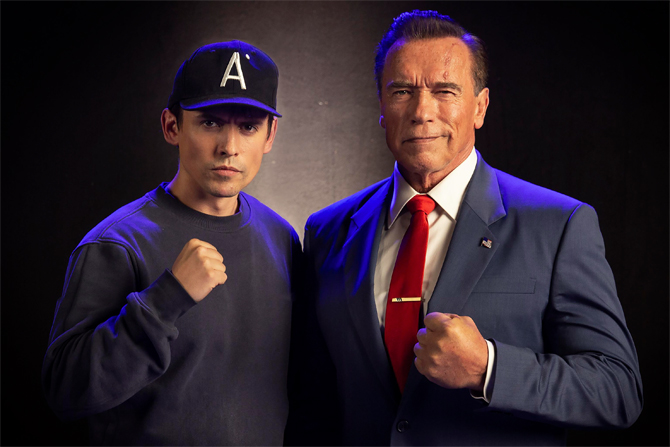 Kung Fury 2 Cast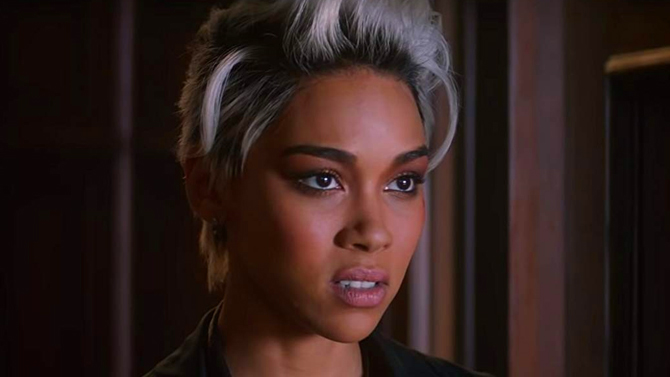 Alexandra Shipp is the latest addition to the Kung Fury 2 cast, reports Deadline. Shipp is stepping in to replace the departing Eiza Gonzalez as news anchor Rey Porter, a character that's being described (generically,) as someone "who will do anything to get the best story."
The casting of Shipp, of course, sets up a quick reunion with star Fassbender, with whom she has appeared in two of the X-Men films as the weather-weaving mutant, Storm, most recently in this past June's Fox-Marvel film franchise closer, Dark Phoenix. She recently appeared in June's Shaft sequel, along with films like A Dog's Way Home, Dude, Love, Simon and Straight Outta Compton. She debuted as Storm in 2016's X-Men: Apocalypse.
Shipp joins a cast that, for now consists of David Sandberg, Michael Fassbender (who was announced back in February 2018) and Arnold Schwarzenegger, whose addition was also revealed back in February 2018, reported by THR. Additionally David Hasselhoff will reprise his role as the voice of Hoff 9000.
Kung Fury 2 Details
David Sandberg, as mentioned, is back as director for Kung Fury 2, working off a script that he co-wrote with Tyler Burton Smith, who worked on the recent Child's Play reboot film. He is also expected to reprise his role as Kung Fury.
While Sandberg's 2015 Kung Fury short was crowdfunded on Kickstarter, its feature-length sequel will be financed and produced by Argent Pictures, joined in the latter capacity by Creasun Entertainment USA.
Partners on the project also include executive producers in Drew Brees, Michael Finley, Derrick Brooks and Tony Parker. The film is in production in Bulgaria, after which it will move on to shoot in Germany. CAA and Endeavor Content will handle the North American rights.
In the meantime, if you're unacquainted with Kung Fury, and have 31 minutes to spare, check out the original short, as posted for free in all its glory.
We will keep you updated right here on Kung Fury 2 as news arrives!
Joseph Baxter is a contributor for Den of Geek and Syfy Wire. You can find his work here. Follow him on Twitter @josbaxter.