News
Kristen Wiig Reunites With Bridesmaids Writer for Barb and Star Go to Vista Del Mar
Bridesmaids writers Kristen Wiig and Annie Mumolo will team up to write and co-star in new comedy, Barb and Star Go to Vista Del Mar.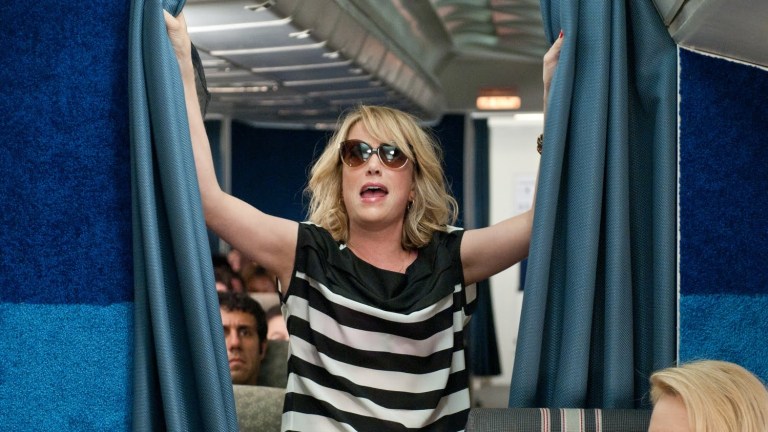 It's been nearly eight grueling years since Bridesmaids first debuted. Now the writers of Bridesmaids, Kristen Wiig and Annie Mumolo, are re-teaming for a comedy follow-up.
The new film, Barb and Star Go to Vista Del Mar, isn't a direct sequel to the 2011 comedy hit starring Wiig, Maya Rudolph, and Melissa McCarthy, but it does sound like a spiritual successor.
Per Lionsgate press release, Barb and Star Go to Vista Del Mar will follow the titular heroes Barb and Star, to be played by Wiig and Mumolo. Barb and Star are best friends who decide to leave their Midwestern town for the first time and embark upon a vacation to Vista Del Mar, Florida. There they find themselves in the middle of an unlikely adventure that somehow involves a villain's evil plot to kill everyone in town. 
In addition to embodying Barb and Star, Wiig and Mumolo co-wrote the film. Josh Greenbaum (Fresh Off the Boat, New Girl) will direct. Gloria Sanchez Productions, the female-focused production company will produce alongside Wiig and Mumolo. Notably, Gloria Sanchez's "brother" company, the Will Ferrell and Adam McKay-created Gary Sanchez Productions, just disbanded but apparently Gloria lives on! Lionsgate will distribute the film.
"It is such an honor that Kristen and Annie have entrusted us with their follow up to Bridesmaids. Their projects offer a rare combination of big laughs, big heart, and female empowerment that everyone will love – men and women, young and old," Lionsgate Motion Picture Group President Nathan Kahane said. "Barb and Star are true cultural icons in the making, and as they embark on this hilarious adventure, we are more than thrilled to partner with Kristen, Annie and Gloria Sanchez on what we know is going to be a great ride."
In the time since Bridesmaids premiered, Wiig has become a sought out actress, starring in projects such as The Martian, Ghostbusters, and the upcoming Wonder Woman 1984. Annie Mumolo has appeared in About a Boy, Angie Tribeca, and This Is 40. She's also wrote the story for the 2015 Jennifer Lawrence/David O. Russell film Joy.
There's no release date set yet for Barb and Star Go to Vista Del Mar.
Alec Bojalad is TV Editor at Den of Geek and TCA member. Read more of his stuff here. Follow him at his creatively-named Twitter handle @alecbojalad