News
Kong: Skull Island Release Date, Trailer, & Everything Else We Know
Everything you need to know about Kong: Skull Island in one place!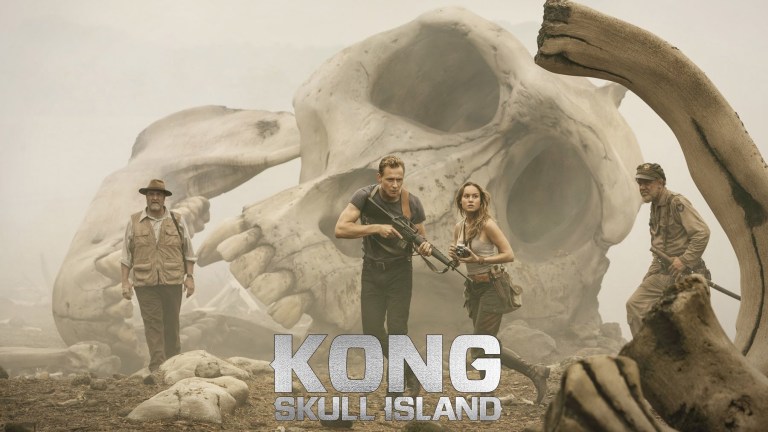 Kong: Skull Island is coming! This is the King Kong origin movie that actually takes place in the same universe as the new Godzilla films. That's right, Kong: Skull Island will help set up the giant monster shared cinematic universe that will culminate in a King Kong vs. Godzilla flick.
Here is a TV spot raving about what critics think!
Check out the new final, final trailer too.
Here's everything else you need to know:
Kong: Skull Island Release Date
Kong: Skull Island will arrive in theaters on March 10, 2017.
Kong: Skull Island Review
And here is an excerpt of what our own Don Kaye favorably thought about his viewing experience with Kong.
The Skullcrawlers are at the center of some of the movie's most intense action pieces, and the plentiful monster action and colossal battle scenes are what really drive Kong: Skull Island. The fact that the human characters, the story and the overall pacing and tone are all handled well is a pleasant bonus. Above all, the movie is fun — it's hard to say whether it will linger in your memory very long but it will keep you glued to your seat (and yes, make sure you stay until the very end because there's some post-credits business to take care of). Sorry, Godzilla, but Kong has the edge for now.
Kong: Skull Island Clip and TV Spots
The first clip has Samuel L. Jackson holding John Goodman at gunpoint. Is there any reason for you to not watch this?
And in the latest international TV spot, showcases all the things that can kill you on Kong: Skull Island. Somehow, we suspect that Tom Hiddleston is forgetting about a few threats.
Enjoy Kong: Skull Island spots that make a direct connection to the 2014 Godzilla film!
Kong: Skull Island Trailer
We have a new trailer for Kong: Skull Islandand it's the best yet: funny, horrifying, and defined by some incredible sound editing. Also, if this is an accurate tonal representation of what Kong: Skull Islandwill be like, then we're in for a treat. Check it out…
Well it's here, like a 200-foot gorilla towering over Apocalypse Now era Vietnam, the Kong: Skull Island trailer is here, and it is immense!
And here's the earlier trailer that arrived at SDCC 2016…
Legendary has also dropped some viral marketing videos that give glimpses into characterization… and connections to 2014's Godzilla remake.
The first gives us our first real glimpse into whom Tom Hiddleston is playing. As revealed in the first tweet, he is James Conrad. Clearly, he's named after Joseph Conrad, the Victorian and Edwardian-era British author who penned Heart of Darkness, which served as the basis for Francis Ford Coppola's Apocalypse Now (and perhaps not coincidentally, an influence on Peter Jackson's own 2005 King Kong remake). Further, it looks like he and this surveying crew is working for Monarch, the same shadowy company that was behind the insidious metldown cover-up in 2014's Godzilla remake, which was also from Legendary. He also appears to suffer from PTSD following covert services in the Vietnam War…
— Kong: Skull Island (@kongskullisland)
December 30, 2016
The next tweet again hints at the evil machinations of Monarch, which clearly will be aware of Kong's Skull Island after the events of this film, and will likely be instrumental in eventually bringing the big ape and the big lizard together in their inevitable "versus" movie down the road.
— Kong: Skull Island (@kongskullisland)
January 1, 2017
Kong: Skull Island Post-Credits Scene
Now with a confirmation that the film will have a post-credit scene that versus movie, or at least Godzilla 2, definitely appears poised to have some kind of tease in Skull Island. Indeed, thanks to SciFi Japan, we have the complete credits for the picture, which includes this telling copyright:
Characters of "Godzilla," "King Ghidorah," "Mothra" and "Rodan" created and owned by Toho Co., Ltd.
By all accounts, that would signal that in addition to there being a post-credit scene, that it will also potentially feature Godzilla and all the monsters expected to appear in Godzilla 2, including King Ghidorah, Mothra, and Rodan. After all, the title of the movie is Godzilla: King of the Monsters In that vein, Scified is speculating that it will be some version of the teaser for Godzilla 2 that played at San Diego Comic-Con in 2014, featuring Monarch personnel (who contract Samuel L. Jackson and Tom Hiddleston's characters to go to the island in Kong) looking at files on monsters known as Rodan, among others.
Could we actually see the creature designs revealed in Kong: Skull Island? It seems a tad unlikely, but we'll know for sure in a few weeks. In the meantime, we can expect something in the post-credits since WB/Legendary had to seek legal clearance from Toho.
Kong: Skull Island Plot
Director Jordan Vogt-Roberts teased that Kong: Skull Islandwould be set in the '70s, "a time where it was believable that we could still be confronted with myth." It stars Hiddleston as an ex-British SAS tracker and Larson as a war photographer who venture to the island when a NASA-based world mapping program finds a mysterious island… Skull Island. 
"We're very explicitly not telling the beauty and the beast story," Vogt-Roberts told EW. "From the size of the skull [in the photo above], you can tell that things on this island are much bigger than audiences are used to with traditional Kong lore. Our Kong is by far the biggest Kong that you've seen on screen, and that translates to a lot of different things on the island."
How big, you may or may not ask? Vogt-Roberts insists that Skull Island'sKong is the biggest in the history of cinema. While Peter Jackson's Kong was on the smaller side around 25 feet and the original Kong varied in size from 25 to 50 feet, depending on whether or not he was hanging off the Empire State Building, Skull Island'sKong is bigger than both of them. Why the size change? Vogt-Roberts says:
The thing that most interested me was, how big do you need to make [Kong], so that when someone lands on this island and doesn't believe in the idea of myth, the idea of wonder – when we live in a world of social and civil unrest, and everything is crumbling around us, and technology and facts are taking over – how big does this creature need to be, so that when you stand on the ground and you look up at it, the only thing that can go through your mind is: 'That's a god.'
Kong: Skull Island Cast
We'll have to wait until the trailer drops to find out just exactly how big the newest Kong is. In the meantime, we can make due with this glorious promo image and the reminder of how great this cast is. Co-starring alongside Hiddleston and Larson is: Samuel L. Jackson, John Goodman, John C. Reilly, Tian Jing, Corey Hawkins, Jason Mitchell, John Ortiz, Thomas Mann, Shea Whigham, Toby Kebbell, and Eugene Cordero.
Kong: Skull Island Vietnam War Setting
While chatting with Empire, director Jordan Vogt-Robert revealed it was his pitch that led to the film being set in the early 1970s during the final years of the Vietnam War. Originally, the film could have otherwise looked very different:
"The script I first read took place in 1917," Vogt-Robert said. "But when I started talking to the Legendary [Entertainment] guys, I was thinking, 'What weird King Kong movie would I want to see?' So I pitched them the Vietnam War connection, literally thinking they were gonna laugh me out of the room. And to Legendary's credit, they said, 'Cool. Let's figure it out.' The aesthetics of that time mixed with King Kong makes for an incredible genre mash-up."
Kong: Skull Island Photos and Posters
Kong: Skull Islandmight not come out until next year, but the 2017 summer tentpole (well, March tentpole) will have a presence at next week's San Diego Comic Con. Warner Bros. and Legendary Pictures are getting a jump start on the hype with the release of the first image from the Tom Hiddleston and Brie Larson-led blockbuster. Check it out…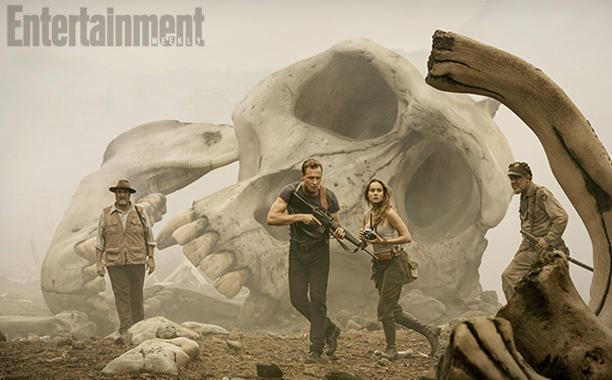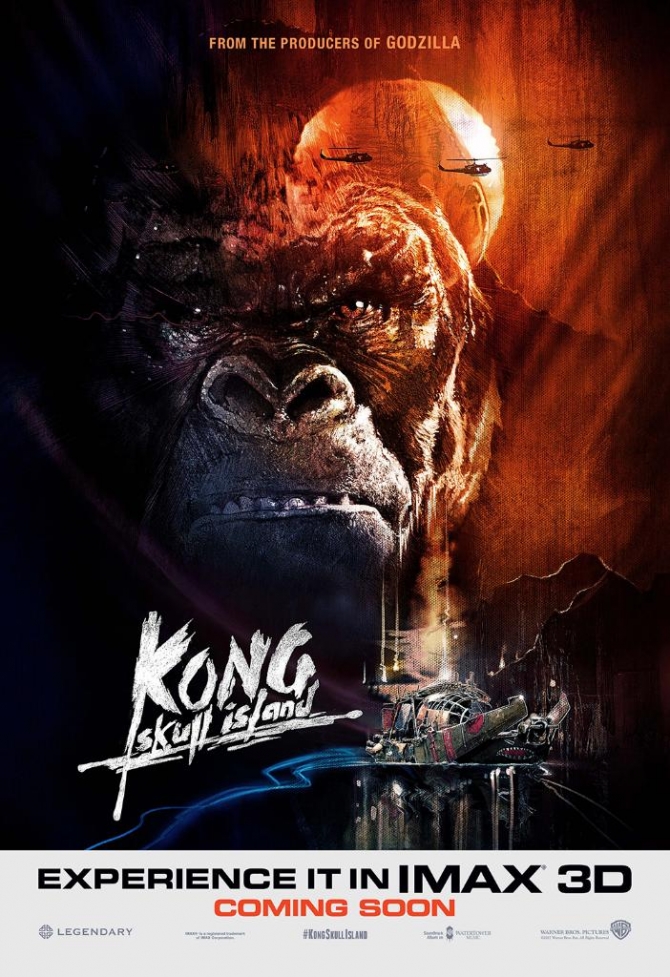 Here is some early concept art that was released to Empire: