News
Kiss Kiss Bang Bang: An appreciation
Film noir has never been so deliciously well written as Shane Black's Kiss Kiss Bang Bang...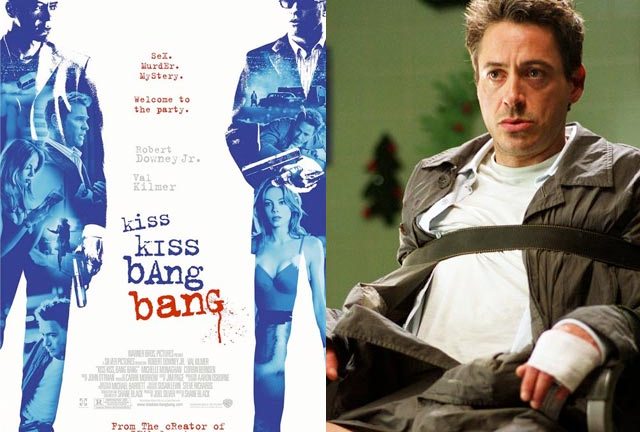 Imagine for a moment that you are Val Kilmer. The year is 1986 and your turn as a cocksure fighter pilot in one of the most iconic movies of the decade is being watched in cinemas around the globe. You're a handsome, well-spoken man with a hell of a lot of charisma. The ladies love you. The blokes want to share a manly pint down the pub with you. You are, in short, a huge star.
The year is now 1993 and while your career hasn't exactly hit the heights of many of your contemporaries you have more than enough hits under your belt to warrant your standing in Hollywood folklore. The Doors was a high point as was the fantasy flick Willow and roles in True Romance and Tombstone have done your bank balance and your career no harm at all.
It's now 1995 and you're being held partly responsible for buggering up the Batman franchise. Never mind, though, as a neat turn in Michael Mann's Heat proves you've still got it.
The year is 2000. Shit. What happened? Red Planet. The Island Of Dr. Moreau. The Saint. The list of your critical and commercial failures is now beginning to outweigh the good stuff. Worst of the lot? The shitstorm romantic flick At First Sight. Hear that? It's the collective sound of all your fans slapping their foreheads in bewilderment at why you took that role in the first place. Really, Val, you can do better.
Fast forward to 2005 and things are about to change. Finally, a film and a performance to rival, perhaps even better, your finest hour. Step aside, Iceman. Gay Perry is in town.
Kiss Kiss Bang Bang is notable for many things but, for my money, the revelatory performance of Val Kilmer takes top billing. He had been forgotten about by many, dismissed as just another actor who once showed promise and had simply failed to live up to his potential. Remember that by 2005 Kilmer was in his mid-forties, not old by any means, but certainly far from the spring chicken he used to be. Remember also that Kilmer was out of shape compared to when he was that magnificent man in his flying machine. He had put on more than a few pounds and was increasingly pushing himself out of contention for the kinds of top roles his wannabe wingman could go for.How great it was then when Shane Black's film noir/action/comedy hybrid elicited a pitch-perfect performance that garnered almost universal critical acclaim? Robert Downey Jr. was given star billing and much of the attention – more on that later – but it was Kilmer who rightly received praise from the critics when it came to discussing the film. Funny, touching and dramatic in places, the role of Gay Perry offered Kilmer the opportunity to put some acting miles on the clock and he ran with them, seemingly, without a care in the world. Perhaps it's down to Black's direction. Perhaps Kilmer felt he had nothing to lose. Whatever the reason, he is almost nonchalant in his delivery and it seems as if he's having the time of his life. Good on him.Black's first directing/writing role follows much the same pattern as his former efforts as a screenwriter. High on violence – albeit of the Boy's Own rather than gritty variety – high on quips and with lashes of self-referential jokes and comments layered throughout, his style is instantly recognisable. His finest hour, in my opinion, remains The Last Boyscout but Kiss Kiss Bang Bang runs it very close. Both, as with his other scripts for The Long Kiss Goodnight and the Lethal Weapon flicks, follow a well-worn path of guns, gags and gasps – the latter coming from audiences marvelling at his witty, no-holds barred approach to the world of the movies. Shane Black comes across as a man who understands Hollywood and the cinema. He also knows exactly what it feels like to be in the audience watching, throwing in comments and jokes that reference other films and letting us all in on the gag, often breaking the fourth wall in Kiss Kiss…The film's plot is classic film noir territory with the Shane Black twist. Downey Jr. plays Harry Lockhart, a bottom-rung crook who finds himself auditioning for a film role after having escaped the long arm of the law. As the lines between reality and fiction are muddied, Harry's über-real 'audition' so impresses that he finds himself at a party in Hollywood and being introduced to homosexual PI Gay Perry who is there to help guide Harry in his big role.
The partying continues and Harry meets up with a childhood sweetheart, Harmony Lane (played very well by Michelle Monaghan) and, just as his big break starts to take shape, a real-life murder mystery that takes in twists and turns a-plenty sucks in all three of them.Without wanting to delve into the mystery too much it is suffice to say that Black's sense of taking the audience on a journey is wonderfully adept. The murders pile up and the mystery deepens as the film rolls on with apparently meaningless encounters and moments taking on a wider significance and if you've ever read an old detective story,, then while the themes follow familiar forms and go down well-worn paths, that's quite intentional. Shane Black wants you to watch and think 'he's not really doing that, is he?'. We're all in on the joke and it works a treat.Kilmer's role in all this has been well noted but Downey Jr. deserves credit too. Without Kiss Kiss… I firmly believe that there would have been no roles in Iron Man, A Scanner Darkly or Good Night, And Good Luck. Without those roles, of course, Downey Jr. would still be on the actor's scrapheap and the more mainstream fare of the upcoming Sherlock Holmes flick would have been way beyond his reach. I don't think it's overstating things to claim that Kiss Kiss… was integral to his comeback and it's fitting that his performance matches the role on paper.
His is, unquestionably, the most multi-layered character within the film, taking on the roles of leading protagonist, storyteller, unlikely hero and romantic interest and he approaches them all with gusto. He's still no Gay Perry, though.Here are just a few snippets of dialogue from the film that demonstrate Shane Black's writing style. Often cutting, always funny, these are why Kilmer's performance stands out for me, although it's worth noting that, without Downey Jr. for him to play off, the lines wouldn't have worked half as well as they do.Harry: Hey, hey, hey! It's Christmas, where's my present, Slick?Perry: Your fucking present is you're not in jail, fag-hag. ** Perry: Go. Sleep badly. Any questions, hesitate to call. Harry: Bad.Perry: Excuse me?Harry: Sleep bad. Otherwise it makes it seem like the mechanism that allows you to sleep…Perry: What, fuckhead? Who taught you grammar? Badly's an adverb. Get out. Vanish. ** Perry: What are you doing?Harry: I'm just trying to wrap up the movie, and leave people with a message.Perry: Oh, I've got a message for you. Get your feet off my fucking desk.Harry: Sorry. [Harry moves his feet]Harry: I work for Perry now, obviously.Perry: [Perry places his hand over Harry's mouth] And stop narrating.Exchanges such as that litter the entire movie and showcase the final, crucial element that makes a Shane Black film: the buddy factor. Mismatched buddy relationships form a key part of all of his movies, whether it's the blokey cop pairing of Murtaugh and Riggs, the sexual tension-fuelled coupling of The Long Kiss Goodnight's Samantha and Mitch, or the high-quip factor of Hallenbeck and Jimmy Dix. Perry and Harry work so well together as an on-screen pair because there is always a palpable sense of tension between the two, together with the fact that one always has to try harder than the other to gain his respect – in this case, Perry's obvious disdain for Harry fuelling the fire.Kiss Kiss Bang Bang was a perfect response to the big budget blockbusters and the serious action films of the new millennium and brought a lot of fun back into the action genre. Bringing back memories of the heydays of the comedy-action-thriller flicks of the 90s, it struck a chord with me and many others like me on its release and holds pride of place in my DVD collection.It's filed under 'G' for genius.