News
King Kong TV Series Planned with Female Lead
After Kong: Skull Island, it appears that the King Kong franchise will scale the small screen with a TV series led by a female hero.
It appears that the King Kong franchise is about to make a dramatic small screen leap for a new live-action series, marking the giant ape's serial television debut. It's certainly exciting news, especially in the aftermath of the recent cinematic release of reboot/prequel Kong: Skull Island. However, the television series might manifest as something different.
MarVista Entertainment and IM Global Television are coming together to concoct the giant ape series, which will carry the title King Kong Skull Island. However, unlike Warner's recent 1973-set Kong: Skull Island film, new series King Kong Skull Island will be a contemporary-set continuation of the Kong continuity, purportedly a story hybrid of director Merian C. Cooper's bellwether original 1933 King Kong and the fantastical Kong artwork of Joe DeVito. The series will center on a female lead character, joined by a multi-cultural supporting cast in a wondrous and frightening exploration of the eponymous island inhabited by giant creatures and, of course, the stupendous simian king of them all.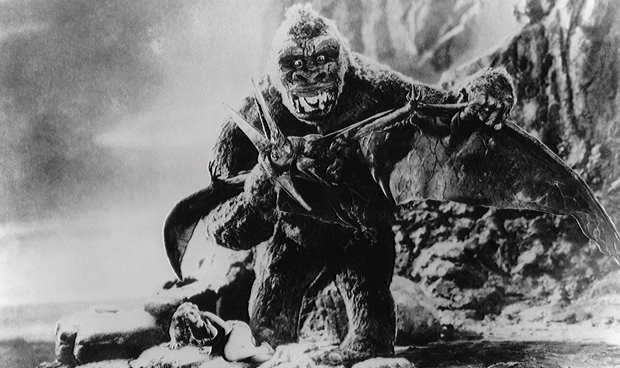 King Kong Skull Island will be written by the husband/wife duo of (former Survivor contestant) Jonathan Penner and Stacy Title, who worked together on this past January's horror movie The Bye Bye Man, which Jonathan wrote and Stacy directed. As IM Global TV president Mark Stern comments in the statement:
"There's clearly a deep and abiding interest in this timeless story. We love Stacy and Jonathan's approach to this adaptation and look forward to partnering with MarVista as we bring this gripping tale of survival and adventure to life for a new generation of Kong fans."
Yet, we might be left with multiple Kong properties existing concurrently, with Warner Bros. and Legendary Entertainment having just delivered director Jordan Vogt-Roberts's star-studded film Kong: Skull Island on March 10 to box-office-topping success, setting the cinematic stage for an ambitious giant monsters universe by acknowledging Kong kaiju contemporaries Godzilla, Rodan, Mothra and Ghidorah. However, at least, based on what's known, it doesn't appear that Warner is involved with this television series, thus separating universes.
Consequently, King Kong Skull Island should be an intriguing peak television offering, prospectively existing outside the realm of the Godzilla/Kong Universe, yet – with nebulous rights variables – benefitting from its momentum. Indeed, with this new series set, everything is coming up Kong with other offerings such as Netflix's recent animated series Kong: King of the Monsters and Warner's movie follow-up Godzilla vs. Kong planned for 2020.