News
King Arthur: Legend of the Sword and the Conor McGregor Connection
At a King Arthur: Legend of the Sword event, Guy Ritchie and Charlie Hunnam consider making an ignoble Arthur in the Conor McGregor vein.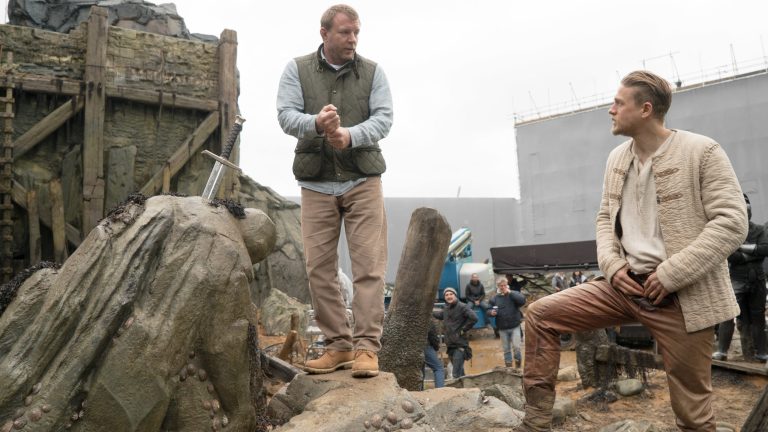 King Arthur: Legend of the Sword has been a longtime coming for director Guy Ritchie and star Charlie Hunnam. Often using the word "exciting" in their answers, a spectator gets the sense that they truly are thrilled with accomplishment after years of work on this very Ritchie-infused take on the Arthurian legend.
Sitting alongside invaluable co-star Djimon Hounsou, and all in appropriately throne-shaped chairs during the King Arthur: Legend of the Sword press conference, they take on the appearance of regality. Yet that classicism is something they specifically wanted to get away from for their film. Indeed, Hunnam himself views this 21st century adaptation of the Arthur myth as a practical one, finding its Arthur on the streets and trying to work his way up like so many Ritchie protagonists before him—with a good hustle and a smart mouth.
"It's a real origin story," Hunnam marvels at the simplicity of telling a gritty kind of Sword and the Stone tale. "There was an opportunity there to go a little bit deeper into what that story would look like. And I loved Guy's instinct that it would be slightly more ignoble. We've all seen the very noble version. I always quote Guy, 'We've seen the story of the noble man who goes on the noble quest to become the noble king,' and we just thought let's do the opposite. And that just seemed exciting in the context of this being an origin story and the true story of the reluctant hero. But where that reluctance would come from starts to become really exciting within that paradigm."
Hunnam's director further illuminates that for him the legend of King Arthur is a universal story, which is why it has survived for centuries and can continue to be elastically changed and molded by each storyteller.
Calling the story of Arthur that of every man, Ritchie says, "The essence of the legend is about transcendence of self and self-reliance if you will. So the journey, the essence of the Arthurian legend, is to go from an infant to an adult. Or from a pauper to a king. From being completely dependent on others to being completely independent, and that's really the essence of the story."
Hounsou certainly sees the appeal of the material. He even relates the idea of a King Arthur narrative to his own experiences growing up and hearing tales of great African kings with magical powers.
"I think his humility as a king, coming from the streets and being raised in a brothel, I think his humility makes him a king, a true king," Hounsou reflects.
And yet, Hunnam reveals another specific influence that is a bit more modern—that of Conor McGregor, a professional Irish MMA fighter who is currently the reigning UFC Lightweight Champion in the world. While Hunnam has previously noted comparisons between McGregor and his cagier Arthur in the past, Hunnam went further in discussing how the mixed martial artist informed his and Ritchie's evolving vision of their hero.
"For me, the thing I could relate to most readily and was most excited about is the idea of the cultivation of self-belief and subduing one's inner-demons in order to strengthen one's disposition to the point of being able to go out and do great things and beat the insurmountable odds," Hunnam muses.
"We spent a lot of time looking at people out there in the world doing that. Particularly Conor McGregor was somebody that I drew a lot of inspiration from and that Guy and I discussed a lot. I saw one interview with him… and he was talking to a journalist, and the journalist asked what specific challenges that he thought [his opponent] would pose to McGregor, and he said, 'There is no opponent. I'm in the octagon by myself.' Which I think is sort of like the Bruce Lee philosophy, you're in there fighting yourself. It's all about self-belief and knowing what you're capable of. And if you're dialed in and focused to your true potential, then any obstacle is going to crumble before you."
King Arthur: Legend of the Sword enters its own theatrical octagon on Friday, May 12.