News
Killing Gunther Trailer: Arnold Schwarzenegger Stars in Action Comedy
Arnold Schwarzenegger combines action and comedy with Killing Gunther, written, directed by and co-starring SNL alum Taran Killam.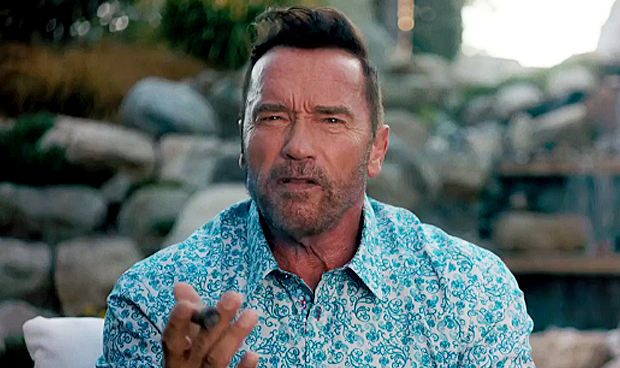 Killing Gunther represents one of the more interesting entries on Arnold Schwarzenegger's contemporary slate of straight-to-VOD actioners and theatrically released classic franchise reboots. While the action icon has also famously dipped his well-defined toes into the realm of comedy, this film – the brainchild of SNL alum Taran Killam – seems to be the first of his to cohesively combine those elements.
Killing Gunther Trailer
The Killing Gunther trailer (arriving via EW,) showcases a film that carries the appropriate amount of self-awareness regarding its campiness and the unmistakable presence of its star. Indeed, Arnold Schwarzenegger's role as Gunther – a legendary assassin – is not going to beat around the bush with any semblance of character depth or nuance. He's Arnold being Arnold – it's what people are here to see and the trailer even showcases some referenced classic Arnold movie lines.
The story centers on a cat-and-mouse game headed by Taran Killam's bumbling mastermind Blake, whose attempts to carry out the titular task of killing Gunther, seems to be destined – in a hilarious manner – for repeat failures. However, he's put together quite the team to do the job, with an explosives man (Bobby Moynihan), a sultry sniper, (Hannah Simone), a ex-militant robot arm-wielder, (Amir Talai) and sibling Russian assassins (Allison Tolman and Ryan Gaul). As the trailer shows for a split second, Cobie Smulders also fields a role.
Killing Gunther Crew
Killing Gunther is Taran Killam's directorial debut, working off his own script. However, besides his SNL tenure, he's been seen on shows such as How I Met Your Mother, Community, Scrubs and MADtv, as well as films such as The Heat and Teenage Mutant Ninja Turtles (2014). In a surprising dramatic turn, he also appeared in the Oscar-winning 2013 historical drama 12 Years a Slave. Interestingly, he made his onscreen debut in 1994's Naked Gun 33 1/3: The Final Insult as a child in the "Geriatric Park" skit.
The film will see Arnold Schwarzenegger back in the realm of comedy, a genre in which he has performed in notable classics like 1988's Twins, 1990's Kindergarten Cop and the less-revered 1994 outing Junior. This will also be his first comedic outing since the 1996 Christmas film Jingle All the Way, in which he rampaged across a city, competing against mailman Sinbad, for the year's hottest Christmas toy for his son, played by future Star Wars: The Phantom Menace Anakin Skywalker Jake Lloyd.
Schwarzenegger has some interesting projects on his docket, notably with the upcoming Russian/Chinese fantasy film Journey to China: The Mystery of the Iron Mask, in which he joins names like Jackie Chan, Rutger Hauer and (his Last Action Hero nemesis,) Charles Dance. However, he's also eyeing a long-gestating sequel to Twins, tentatively titled Triplets, also-long-gestating reboot The Legend of Conan, and he has confirmed his impending return to a new iteration of the Terminator franchise.
Killing Gunther Poster
Here's the fantastically kitschy official poster for Killing Gunther.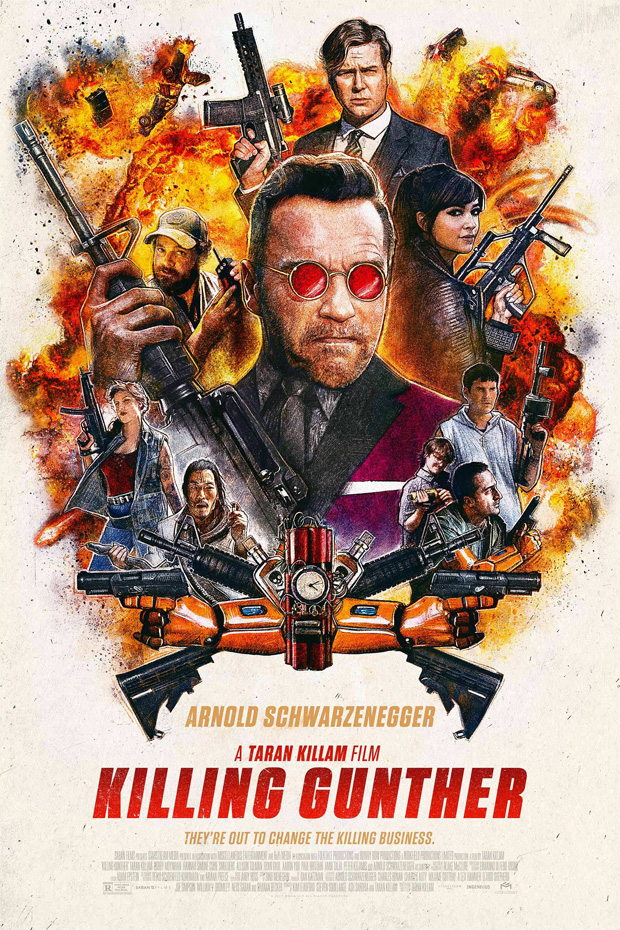 Killing Gunther Release Date
Killing Gunther debuts on Ultra VOD on September 22, with a day-and-date release for select theaters and on demand on October 20.
Read and download the full Den of Geek Special Edition magazine here!