News
Kill Bill 3 May Happen, Quentin Tarantino Says
After 15 years, Uma Thurman and Quentin Tarantino are kicking around the idea of Kill Bill 3.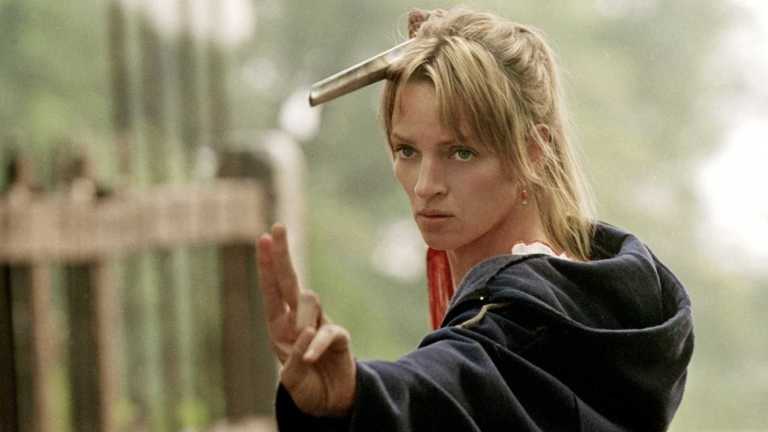 "We have unfinished business," Uma Thurman's character The Bride, Beatrix Kiddo, promised in Quentin Tarantino's martial arts masterpiece Kill Bill. Fifteen years after the ultraviolent Kill Bill Volumes 1 and 2 pulled in $330 million at theaters, the director and star are talking about making Kill Bill 3, according to IGN.
"Me and Uma have talked about it recently, frankly, to tell you the truth," Tarantino said while guesting on the Happy Sad Confused podcast. "I have thought about it a little further. We were talking about it literally last week. If any of my movies were going to spring from my other movies, it would be a third Kill Bill."
Kill Bill Vol. 1 debuted in October 2003. The sequel Kill Bill Vol. 2 hit theaters in April 2004. Tarantino teased about reviving the franchise in 2009 and 2015. Kill Bill Vol. 1 begins with The Bride killing Vernita Green, played by Vivica A. Fox, Vernita Green. Tarantino has mentioned a third installment could focus on Vernita's now-adult daughter wreaking vengeance on The Bride. The arc would bring the film series full circle.
Tarantino and Thurman first collaborated on the film Pulp Fiction. Thurman said she was injured during a stunt on the set of Kill Bill 2 when a defective vehicle she was driving on a sandy road hit a palm tree. She accused Tarantino of not hiring an understudy, which she requested.
Thurman posted a video of the stunt on social media, explaining it had been hidden for 15 years by Harvey Weinstein, Lawrence Bender, and E. Bennett Walsh so she could not file a complaint. She made the incident public during the early stages of the #MeToo movement, as an example of how Weinstein treats talent.
Tarantino told Deadline the stunt incident was "the biggest regret of my life," explaining he was guilty "for putting her in that car, but not the way that people are saying I am guilty of it." Thurman's daughter Maya Hawke, who scoops ice cream and cracks codes as Robin Buckley in Netflix's Stranger Things, plays Flower Child in Once Upon a Time in Hollywood.
Tarantino is on record as saying he plans to retire from filmmaking after his tenth movie. Once Upon a Time in Hollywood is his ninth film, so he only has one movie left before he moves into writing books about film and moving on to theater. He has also been teasing about making an R-rated installment in the Star Trek franchise.
Tarantino's latest film is Once Upon a Time in Hollywood, starring Leonardo DiCaprio, Brad Pitt and Margot Robbie. It is his first feature since 2015's The Hateful Eight. Thurman starred in The Con Is On and Down a Dark Hall in 2018.
Once Upon A Time in Hollywood opens in theaters on July 26.
Read and download the Den of Geek SDCC 2019 Special Edition Magazine right here!
Culture Editor Tony Sokol cut his teeth on the wire services and also wrote and produced New York City's Vampyr Theatre and the rock opera AssassiNation: We Killed JFK. Read more of his work here or find him on Twitter @tsokol.