News
Kevin Smith Turned Down Making Dogma 2
Kevin Smith revealed how he recently turned down an offer from Harvey Weinstein to make Dogma 2. He also talks The Flash and Supergirl.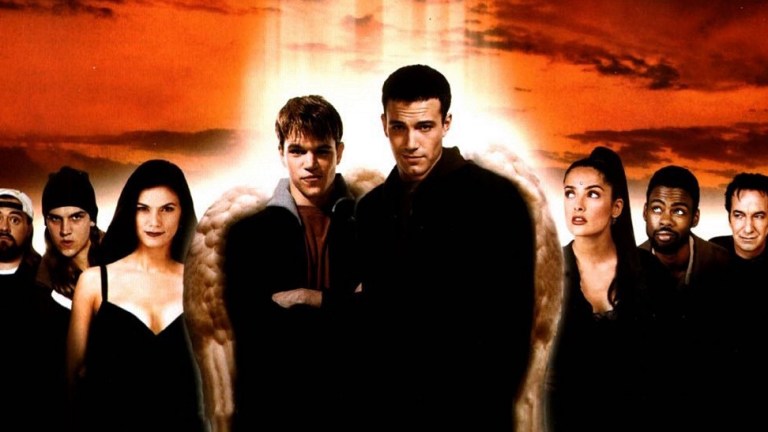 Kevin Smith and the stars of Comic Book Men are practically a New York Comic Con institution at this point. Having appeared during the first day of the con's festivities every year since its second season, Smith, Walter Flanagan, Mike Zapcic, and the rest of the guys returned yet again for their Comic Book Men Season 7 NYCC panel. So it was Geek Mecca, obviously.
During their time in the Hammerstein Ballroom, the conversation veered from the new season—which features among other things cameos by the likes of Mike Coulter, Rosario Dawson, and a strangely cuddly The Exorcist doll of Linda Blair—to the longtime Jersey history shared by the men. Yet no Kevin Smith con experience is complete without at least a solitary reference to projects the Clerks director has in the pipeline… and those he turned down. Indeed, during an illuminating exchange with a fan, Smith revealed that only a few months ago, Harvey Weinstein floated the idea of making a Dogma 2. It's also an idea that Smith had absolutely no interest in taking part in.
During the long fan question-and-answer, one fan came up and revealed that she had been seeking to purchase a copy of Dogma on disc, yet claimed that the only copy she could find online comes at the relatively steep price of $52.
"It's not worth it," Smith initially deadpans to the approval of his reliable fans. He then adds, "When I want to watch Dogma, I usually go to YouTube and someone's uploaded it there."
But after enjoying a few laughs, Smith gives a genuine answer about how, as Dogma was produced by Harvey and Bob Weinstein back when the Hollywood gurus ran Miramax, they actually still own the rights to the picture. And it's a movie that Smith and Weinstein are in agreement of "needing a reissue." However, Smith also revealed he received a phone call on this subject only a few months ago from Weinstein where the producer gently suggested the idea of making a sequel.
"Harvey Weinstein and Bob Weinstein own that movie personally, and what happened is Harvey called up a few months ago and he's like, 'We still have Dogma,'" Smith says. The producer wanted to get Smith onboard for reissuing the movie on home media, which the latter was on board for. But then Weinstein apparently suggested, "And maybe we need to make a sequel." But before the Comic Con crowd could get excited, Smith immediately threw cold water on the idea. "I'm like 'Oh, no I'm not going to do a religious movie ever again.' I mean Red State is a bit of a religious movie… so maybe I have another religious movie in me, but it won't be a sequel to Dogma." It seems that all the controversy and outraged picketing that Dogma spawned in 1999 has made Smith wary of opening up that can of rosaries again.
During the chat, however, Smith did have some amusing insight into his latest directing gig on CW shows like Supergirl and The Flash.
When asked why he has cast Jason Mewes in a cameo role on The Flash but has yet to cast any other Jersey friends on the show, Smith shrugged, "Unfortunately the shows I've directed are CW shows, where everyone is 25 and gorgeous." He then adds about Mewes, "We used him as the loser who owns a Humvee… they barely let me around. To direct there, you have to be in shape."
Smith also fanned the flames on the possibility that by next year's New York Comic Con he will have moved forward on Jay and Silent Bob Get a Reboot, but we think fans are better set at just anticipating the much more immediate Comic Book Men Season 7 premiere, which is due on Sunday, Oct. 22.