News
Kevin Smith's Krampus Movie Regifted As KillRoy Was Here
No, Virginia, there won't be an anti-Claus. Kevin Smith starts shooting KillRoy Was Here.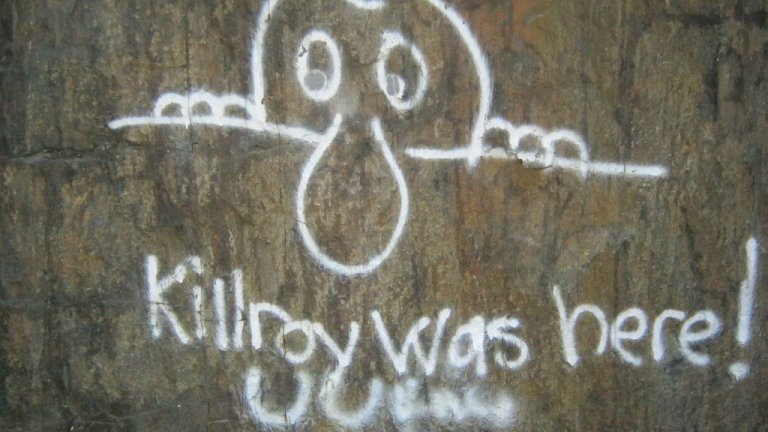 According to the writing on the walls, you can unblock your chimneys this Christmas, Krampus isn't coming this year. Kevin Smith's Anti-Claus movie is being regifted as Killroy Was Here, inspired by a graffiti character that was popular During World War II. Smith wrote the screenplay with Andrew McElfresh.
The Clerks, Dogma and Jay and Silent Bob Strike Back director was slated to shoot a Christmas-themed horror anthology focusing on the mythological holiday beast Krampus, until Michael Dougherty started his own take on the anti-Claus of northern Europe.
"We were gonna make this Krampus movie and then somebody went and made a Krampus movie," Smith said on Facebook Live on June 14.
"Ours was an anthology that played more like Creepshow. Or, to appeal to the modern day kids, Creepshow 2. Or, let's say, Black Mirror. So yeah, it's kinda like that. It's an anthology. So our Krampus movie – which was called Comes the Krampus and then later on, Anti-Claus – it got shelved. So we decided to re-engineer that dopey script. We turned it into a different movie. We just changed the Krampus character – it's almost the same script. Took the Christmas elements out of it. Instead, we're calling it KillRoy Was Here."
Smith, who dipped into the horror genre with Red State and Tusk is shooting KillRoy Was Here in Sarasota, Fla., in partnership with Ringling College of Art and Design and executive producer Semkhor Productions.
"This is a monster movie in the sense of a classic morality tale," Smith explained in a recent podcast.  "No one wants to see you spill the blood of innocents, but when someone crosses the line and goes bad, you get to make them pay in horrible ways, and the audience cheers. We wanted to make an anthology film in the vein of Creepshow. Killroy is like the Golem, the Boogeyman and the Grim Reaper combined."
The special effects makeup will be done by legendary horror master Robert Kurtzman and Creature Corps. They will be done with silicone-and-rubber effects rather than computer graphics, although Ringling College's Motion Design department will provide for supplemental visual effects.
SOURCE: BLOODY DISGUSTING