News
Kevin Hart to Star in Superhero Comedy Night Wolf
The superhero movie genre is getting Kevin Hart comedy Night Wolf, which comes from the writers of Detective Pikachu.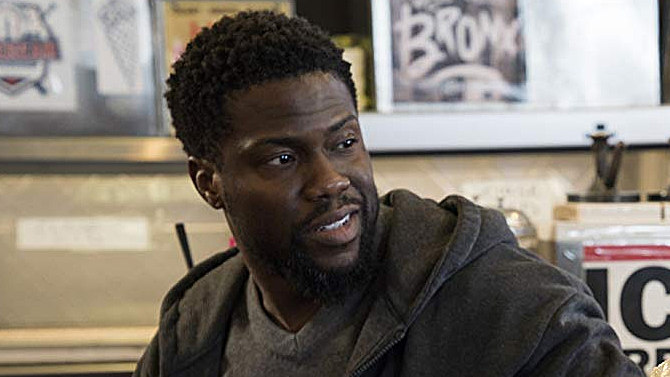 Night Wolf is joining the seemingly-ceaseless deluge of superhero cinema, with Kevin Hart set to star-in and produce the comedic cinematic genre offering.
STXfilms announced its acquisition of the script to Night Wolf, which is being described as a "high concept comic superhero" offering. The early details of the plot describe a scenario that's initially akin to Meet the Parents, in which a man (Hart) meets his prospective father-in-law, eventually discovering the secret that he's the film's eponymous superhero, the Night Wolf.
The Night Wolf project was pitched by writer Dan Hernandez and Benji Samit, a duo who did some work on the screenplay for this past May's live-action/animated hybrid film, Pokémon Detective Pikachu, as well as television comedy work on episodes of Amazon's (recently canceled) The Tick, Netflix's One Day at a Time and NBC's 1600 Penn. STX Entertainment began a partnership with Hart's HartBeat Productions shingle earlier this year, having already greenlit Hart-headlined comedy Black Friday, as well as an untitled rom-com and now, Night Wolf.
As Hart expresses in a statement:
"I am excited to be working with our friends at STX again. They brought us a great project with Night Wolf. I instantly fell in love with this pitch about an everyday guy who is meeting his in-laws for the first time and unwittingly discovers his dad to be is secretly a superhero."
The project was further lauded by STXfilms chairman Adam Fogelson, who adds:
"After we acquired Night Wolf, we submitted it to Kevin Hart and the Team at HartBeat hoping they would love it as much as we did. It is a big, broad comedy and the idea is great fun and perfectly matched with Kevin's comedic talent. We are thrilled to be working on what will now be our fourth film together."
Hart's last onscreen film appearance – barring an uncredited cameo in the recent Hobbs & Shaw and a voice role reprisal in The Secret Life of Pets 2 – was the 2018 comedy Night School. However, last December saw him fall into a bit of controversy over 2010/2011 homophonic tweets, which led to an awkward public apology process that culminated in him stepping down from his hosting gig for the 2019 Academy Awards. Regardless, Hart's backlog remains full, and he'll next be seen in this December's blockbuster sequel, Jumanji: The Next Level, followed by films like Fatherhood, My Own Worst Enemy, Uptown Saturday Night, The Great Outdoors remake, Ride Along 3 and, the most curious of them all, the long-gestating board game adaptation movie, Monopoly.
Night Wolf has yet to announce any significant dates, but we'll keep you updated here as the news arrives.
Read and download the Den of Geek SDCC 2019 Special Edition Magazine right here!
Joseph Baxter is a contributor for Den of Geek and Syfy Wire. You can find his work here. Follow him on Twitter @josbaxter.