News
Kevin Feige Says MCU Plans to Incorporate Ms. Marvel
Kamala Khan is set to join the MCU... in some vague, yet-to-be-defined way—but we're very excited!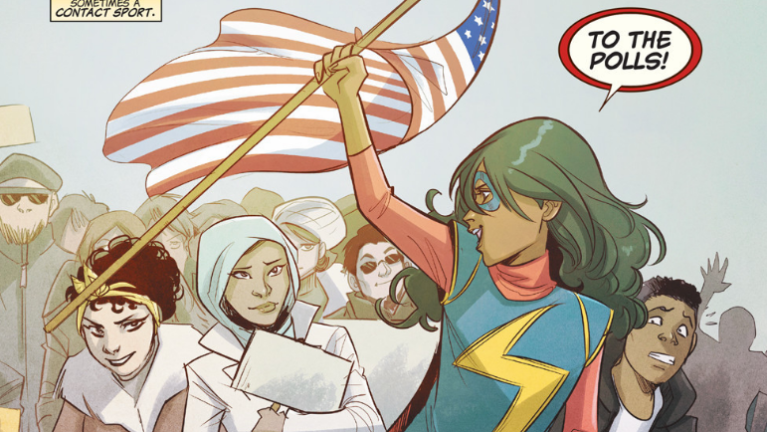 The first few phases of the Marvel Cinematic Universe have a noticeable lack of diversity. Even now, by some definitions, there are more Chrises on the official Avengers team than there are women or people of color. Marvel is slowly starting to incorporate more diverse superheroes into the largest film franchise in the world, and it sounds like Ms. Marvel, aka Kamala Khan, is going to be part of that process.
In a recent video interview with the BBC, promoting Avengers: Infinity War, Marvel Studios President Kevin Feige mentioned that the Marvel has plans to incorporate Ms. Marvel into the MCU, saying: "Ms. Marvel, which is another character in the comic books—the Muslim hero who was inspired by Captain Marvel—is definitely, sort of in the works. We have plans for that once we've introduced Captain Marvel to the world."
While it's unclear what "definitely, sort of in the works" means, this kind of statement coming from someone like Feige, who has shaped the MCU, is a big deal. It's also a great idea for the MCU. Kamala Khan has been one of the best, recent additions to Marvel Comics canon. We've written before about how she deserves her own on-screen story, and the MCU would only become a richer narrative on-screen universe with her in it.
For those who aren't familiar with the character, Ms. Marvel is a 16-year-old Pakistani American superhero first introduced as Ms. Marvel in February of 2014, becoming the first Muslim character to headline a Marvel comic book.
Kamala is a NuHuman living in Jersey City who gains shape-shifting superpowers when she is caught in a Terrigen Mist. Now, Kamala is a polymorph with super-healing powers and the ability to embiggen or shrink herself (or parts of herself) when she sees fit. She uses her newfound powers to protect Jersey City, along with the help of dog friend Lockjaw. Also, Kamala writes Avengers fanfiction. Basically, she's great.
Given that the Captain Marvel film is a period piece set in the 90s, it would be easy to introduce Kamala Khan within the present-day MCU storyline as someone inspired by Captain Marvel's heroic legacy. Kamala could also easily make an appearance in the next Spider-Man film, given that she is around Peter's age and they both live in the greater NYC area. You know you want to see Kamala Khan and Peter Parker be Avengers nerds together. Extra points if they get Shuri in there somehow, too.
More news on how Kamala Khan will be incorporated in the future of the MCU as we hear it.