News
Kevin Feige Talks Goose the Cat's Marvel Future
"Is Goose out there? She could be."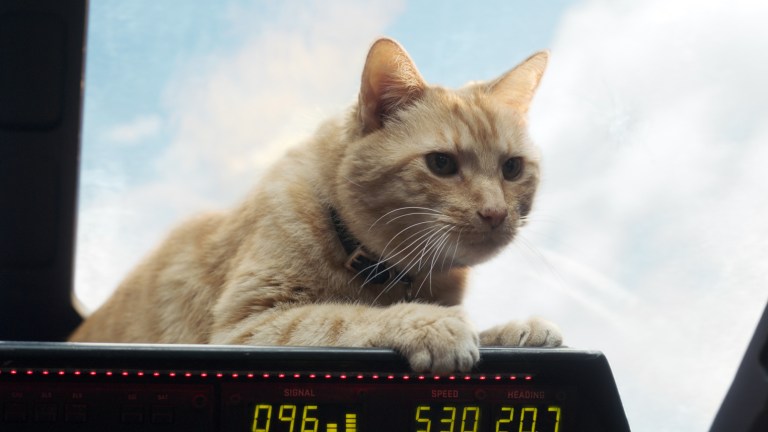 This article contains Captain Marvel spoilers…
When Goose the cat got her own character poster prior to the release of Captain Marvel this month, it became apparent that the MCU was about to have a new star on its hands, a fact that was only amplified after we saw the delightfully important role she would go on to have in the actual movie – savin' lives and snatchin' eyes!
But after Goose puked up a slimy Tesseract from a mysterious pocket universe during the end credits of Captain Marvel, what happened to her? Where did she go? Did she die in the snap, or is she still with us somewhere? And will she be popping up again in the past, present or future? Well, who knows? There's one man that might, and that's Marvel puppet master Kevin Feige.
Slashfilm recently sat down for a chat with Feige and ended up spending a good portion of the interview quizzing him on Goose's future in the MCU – and elsewhere – asking him if she could maybe get her own short film on Disney's forthcoming streaming service, Disney+, in the vein of Marvel's sadly-defunct One-Shots. We miss those!
read more: Captain Marvel Ending Explained
"I love it! And by the way, that's one of the fun things about Disney+ is we could actually do ideas like that," Feige teased. "The fun thing about introducing new characters and all these movies is suddenly going from a character that maybe you'd heard of if you'd read the books, but if you hadn't, you'd never heard of him. And then you see the movie, you go, 'I want to see more of that character.' And the fact that you and other people are asking, 'When do we see more of the cat?' The question is 'how long – what is the lifespan of a flerken?' It's a good question."
read more: Complete Guide to Captain Marvel Easter Eggs
After being informed that the typical lifespan of your average cat is about 15 years, Feige noted that there's a viable way around that, as Goose isn't really a cat, is she? She's a ginger murder machine.
"A flerken might be longer lived. And as we know from the comics, flerken procreate quite a bit. I don't want to say Tribble-esque, but there's sort of points in those comics where they sort of are in terms of how many appear. So I'm sure there are more flerken out there. And is Goose out there? She could be."
Could we see more flerken disguised as cute pets accompanying or hindering Earth's Mightiest Heroes on future adventures? Possibly, but we're definitely enjoying the idea of Loki pretending to be Goose, too…