News
Kevin Costner and Woody Harrelson Bring Justice to Bonnie and Clyde Story
Kevin Costner and Woody Harrelson talk riding shotgun in The Highwaymen, Netflix's film about getting Bonnie and Clyde.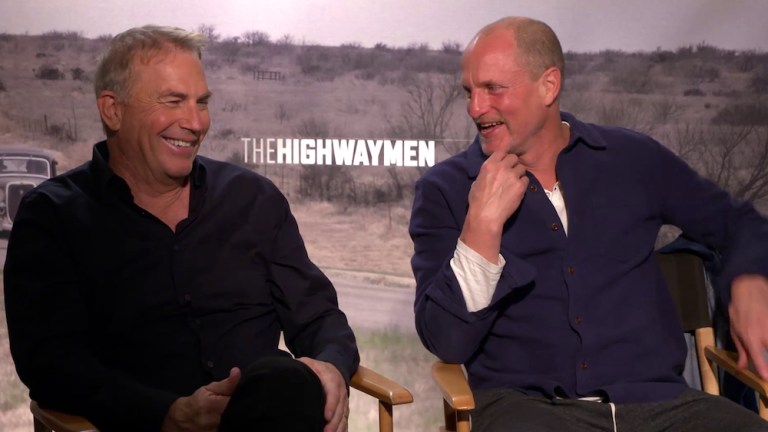 Woody Harrelson knew the Bonnie and Clyde mythology well before joining Kevin Costner to star in The Highwaymen. He did after all spend part of his childhood in Texas, and was there when Arthur Penn's 1967 counterculture classic, Bonnie & Clyde, was released. Hence why he's aware that most folks don't even remember the name Frank Hamer, which belonged to the legendary Texas Ranger who, alongside Maney Gault (whom Harrelson plays), brought Bonnie and Clyde to justice by way of gunfire.
"I loved the '67 movie about Bonnie and Clyde," Harrelson says while sitting next to Costner. They're in Austin the day after The Highwaymen's SXSW, which was attended by, among others, actual Texas Rangers. "I thought [the '67 movie] was really cool, great entertainment, but it's cool also to revisit this and get these characters right, because there's not much made of the lawmen in that original movie. And in this one, you follow the lawmen. Frank Hamer was a phenomenal, interesting, very strong character in Texas history, and probably the best known Texas Ranger. And Maney Gault was also probably a pretty cool guy."
Costner is the actor responsible for bringing Frank Hamer's image to cinematic life, something he nor director John Lee Hancock took lightly considering the Hamer family was disappointed (to say the least) with Frank's treatment in the 1967 movie. Stoic and hardboiled, Costner embodies a more somber lawman than the kind he played at the beginning of his career. Upon reflecting on why he and audiences come back to see him in such roles after films like The Untouchables and Wyatt Earp, Costner is quick to point out that there is more to these men, and his career, than just their badges.
"But he does have an authority kind of thing," Harrelson notes. "It feels like he could play an authority figure."
At the same time, however, Costner later recognizes that it is the versatility of both their careers that made doing The Highwaymen with Harrelson such a thrill for Costner and something of an uncharted trip off-road.
"I've watched Woody's career go from exploding onto the scene in Cheers to becoming a leading man," Costner says. "And there's a moment that's really dark before Cheers comes, and there's a moment really dark before anything happens to me, and then you get Cheers [and people think you're that], and you go, 'No, there's more to me than just being this.' You're going to be leads, so here at this point in your career, we finally line up. You take a role like Maney, and there's a difference between putting the role of Maney with a character actor than putting a lead man in that role, because you know how to command the screen."
read more: Robert Rodriguez Explains From Dusk Till Dawn Ending, El Mariachi Origins
It also helps that The Highwaymen is something of a two-hander between the pair as they drive down the road. And as Harrelson points out, it's damn more satisfying when you're enjoying the company of the guy driving the car.
Says Harrelson, "I liked it a lot, because this guy is one hell of a raconteur, I can tell you he has great stories and he's a great storyteller, and that's really what you want when you're in that car for hours and hours a day. You don't want to be saddled with someone who don't just speak to you—things would be brutal." Costner, clearly amused at Harrelson's scenario adds how horrendous it might be if they just sat in the car during lunch and glared at each other without speaking.
You can find that amusing exchange and the rest of our interview in the video above. The Highwaymen, meanwhile, drives onto Netflix this Friday, March 29.
David Crow is the Film Section Editor at Den of Geek. He's also a member of the Online Film Critics Society. Read more of his work here. You can follow him on Twitter @DCrowsNest.