News
Kenny Baker, the R2-D2 Actor, Passes Away at 83
Kenny Baker, the actor who played the beloved R2-D2 in six Star Wars movies, has passed away after a long illness.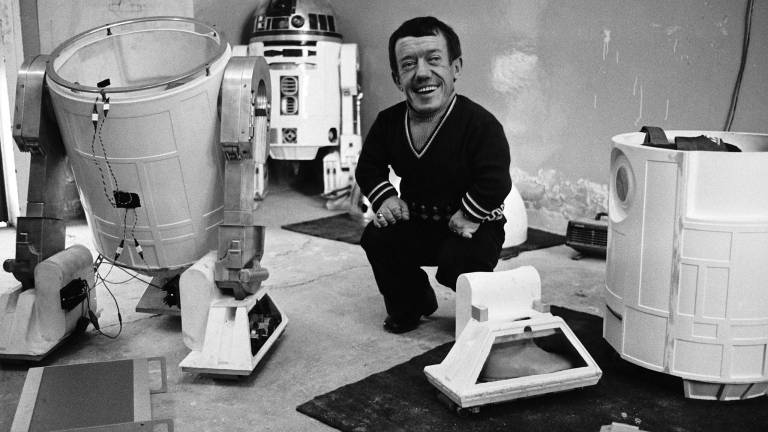 Kenny Baker, the actor and musician who brought R2-D2 to life in Star Wars, passed away Saturday after suffering from a long illness. He was 83-years-old.
Baker, who stood at three feet and eight inches tall, made a monumental impact on culture by playing the beloved robot that beeped its way to glory in 1977. Inhabiting the bucket of bolts that always so bedeviled Anthony Daniels' C-3PO and aided Mark Hamill's Luke Skywalker, Baker portrayed R2 in the original film, The Empire Strikes Back (1980), and Return of the Jedi (1983). He also reprised the role during the prequel films that began with 1999's The Phantom Menace and ended in 2005's Revenge of the Sith.
Born on Aug. 24, 1934, Baker was raised and educated in Birmingham, West Midlands before going to boarding school in Kent. He eventually joined a theatrical troupe of little people, which led to a lifetime passion for show business. Learning to ice skate and appearing in a circus, Baker eventually met George Lucas and was cast in Star Wars. Baker also would appear in a variety of other films, including The Elephant Man, Flash Gordon, Amadeus, Willow, and Labyrinth.
Baker's niece Abigail Shield spoke to The Guardian about his passing, sharing some nice thoughts about her uncle.
"It was expected, but it's sad nonetheless. He had a very long and fulfilled life. He brought lots of happiness to people and we'll be celebrating the fact that he was well loved throughout the world. We're all very proud of what he achieved in his lifetime."
Shield also reflected that Baker's life was one of success and perseverance, having been told during childhood he would probably not survive puberty. Baker had married fellow little person Eileen, whom appeared with him in the 1977 film Wombling Free, however she passed away in 1993. Baker and Eileen did have two children who were not affected by height.