Reviews
Keith Lemon's Very Brilliant World Tour DVD review
Globe-trotting silliness with the Business Man of the Year, 1993 . It's Mr Keith Lemon...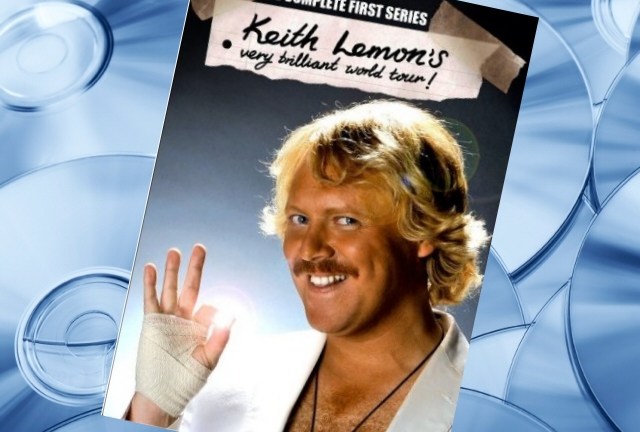 "Welcome to the DVD menu of The Royal Tenenbaums. I am Owen Wilson from Hollywood", declares Keith Lemon, kitted out in a white suit, looking nothing like Owen Wilson. Following a shark-shaped flight path, the Business Man of the Year 1993 embarks on a journey putting his own ludicrous spin on the travel documentary format. Neighbour Roy accompanies Lemon as cameraman, while back at home the business is left in the hands of cousin Gary (Patrick McGuinness). And that, in a nutshell, is the premise for the six episodes of the Very Brilliant World Tour.
Each episode of the World Tour adheres to a formula. Lemon visits a few obvious tourist hotspots in each of the six countries – the casinos of Las Vegas, Egyptian Pyramids, Aires Rock and Icelandic geezers. Then he explores a selection of curios and oddities in each nation, such as Mexican midget wrestling, the Testicle Festival in America (where else?) and peculiar Japanese street theatre. For part of each episode, Lemon is joined by a celebrity guest, some more game than others. Mel B ("Black Spice"), Mel C and Holly Valance enter into the spirit of things, while others like Stefan Dennis laugh along with a look of bewilderment, never quite certain if they are the butt of the joke.
Keith Lemon is more palatable and engaging than Leigh Francis' earlier incarnations as rubber-faced celebrities and Avid Merrion in Bo' Selecta and the creepy bear in spin-off series A Bear's Tail. Looking at the world through Lemon's eyes is certainly unique and frequently very funny; he is simultaneously irritating and endearing. Keith shares many insightful pearls of wisdom with the viewer – Sydney Opera House is "a collection of eggshells", Aires Rock is "a big rock surrounded by air" and Iceland is "the country named after the shop". Mexico is "highly populated by old men with wrinkly old tomato faces, old women with wrinkly old tomato faces and old children with wrinkly old tomato faces." While in Egypt he comments, "Although 64% of Egyptians have got teeth like Sugarpuffs, they're still very nice people." He skirts around the edge of good taste occasionally, but just about gets away with it through utter buffoonery. There's no malice in Keith Lemon and it is always him, rather than the people he encounters, that we laugh at. It does not make for uncomfortable viewing as Borat's overseas expedition did; the people in the series are complicit and not duped into thinking it is "real".
Is Keith Lemon's Very Brilliant World Tour very brilliant? There are some very brilliant moments, but they total around 9 minutes out of approximately 180. One such moment occurs in Australia when Keith worries he'll sweat so much he'll be "reduced to the size of Prince." On the whole, it's a case of extreme and prolonged daftness, so how much you enjoy Keith Lemon very much depends on your daftness tolerance level. The sheer idiocy of Keith Lemon becomes fairly exhausting after a while. Watching more than two episodes at a time may result in severe adverse side effects like adopting a shrill Leeds accent and donning a Jimmy Savile wig. You have been warned.
ExtrasAll the usual extras are included on Disc 2 – Audio Commentary, Bloopers, Video Diaries, Deleted Scenes etc. The Deleted Scenes are certainly worth a look, particularly the trip to the Spam Museum. There's also a great scene in which Juliette Lewis runs rings around Lemon; he is almost, almost, lost for words, having grown accustomed to more docile guests on the show.
If you were hoping the extras might provide a glimpse of the man behind Keith Lemon, you'll be sorely disappointed. Leigh Francis doesn't break character, not even for a second. The audio commentary is all Lemon, even in the bloopers when lines are fluffed and the scene has disintegrated into giggles, there's still no sign of Francis. At the end of each show, Lemon is credited as director, executive producer and a host of other roles; no Leigh Francis in sight. It's quite possible that Francis has been consumed by his carnivorous alter-ego.
Series:
Extras: